Theater
Biederman's Match at UCSB's Performing Arts Theatre
New Musical Based on Swiss Work Debuts on Campus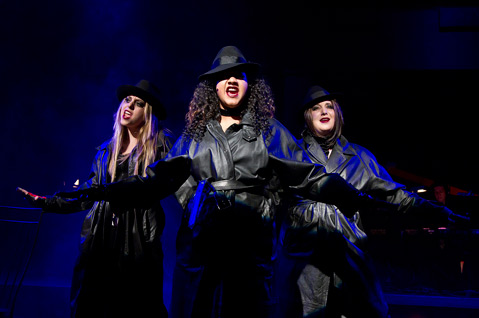 The passage of time can erode the relevance of an artwork, but it can also, as the inventive new show Biederman's Match demonstrates, add to its interest and appeal. When Swiss writer Max Frisch first created Match in 1958, the idea that the attics of the upper middle class might become havens for terrorists was just one of the possible scenarios that the Cold War suggested. Today, a decade into an era largely defined by new levels of terrorism and the security measures taken by Westerners in response, the material now reeks of inevitability. Julian Rubel is Jack Biederman, the capitalist at the center of this continuously contracting circle of danger. When Said (Jordan Holmes) forces his way into Biederman's comfortable bourgeois apartment, his approach appeals to the man's sympathy, but there's already a hint of the threatening directions things will be taking. Biederman's household revolves around his abusive behavior toward his maid, Anita (an excellent Hasmik Saakian), and his equally confused—if less overtly hostile—relationship with his wife, Babs (Courtney Salvage). Said moves in and immediately begins installing a large and exquisitely threatening system of gasoline barrels in the attic.
While the scenario described above might sound like more than enough to deal with, there is, as they say, more. Biederman's Match is not just epic theater—it's epic musical theater, and that means a chorus made up of three excellent singers. These "firebugs" bring a sense of reality to what becomes an increasingly perplexing set of actions taking place onstage.
The arrival of Willy (Andrew Fromer) pushes things into overdrive. As Said's apparent partner in crime, Willy forces every issue and leads Biederman and Babs to the far reaches of absurdity. Because the entire encounter is premised on the bourgeois avoidance of confrontation, Biederman and his wife can't say no to the terrorists, even when their lives are at stake. Although the strangeness of this style of theater takes some getting used to, by the time the Biederman's dinner party has devolved into an inane sing-along, this show will have you reaching for answers, and a fire extinguisher.