Arts & Entertainment
Bill Frisell and John Scofield at the Lobero Theatre
Two Stellar Guitar Trios Appear (and Play) Together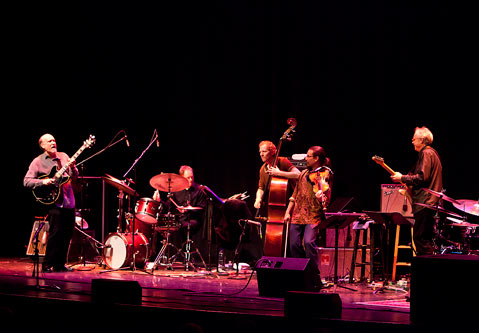 This jubilant and thoroughly rewarding evening has to represent some kind of high-water mark, even by the admittedly exalted standards of the Jazz at the Lobero series. Guitarists John Scofield and Bill Frisell were in absolute top form, both boasting sympathetic and robust supporting trios, Scofield in the traditional configuration of acoustic bass (Ben Street) and drums (Bill Stewart), and Frisell with the less orthodox Beautiful Dreamers, featuring Eyvind Kang on viola and Rudy Royston on drums. Scofield came out blazing with a Charlie Parker composition called "Wee" that's also sometimes known as "Allen's Alley." On Saturday night, "Wee" was all Scofield's, with just a touch of Ben Street in a short bass solo. Scofield's tone was just right for bebop, neither too bright nor too heavily modified by effects, and full of the prodigal genius associated with Parker. He returned to the music of the classic era of bop later in the set with another tune, "Woody 'n' You," from the Dizzy Gillespie songbook. In between, there were stops in the land of Carla Bley (for the lovely and wide-open "Lawns") and a terrific Scofield original called "Simply Put" that bodes well for his forthcoming album. Relaxed and supremely confident in multiple variations on 3/4 time, Scofield introduced a contemplative tone that nevertheless retained its driving edge—an ideal counterpoint to the more floating, free-time idiom of Bill Frisell.
At the end of Scofield's set came the moment that many in the audience had been waiting for, when not only Frisell, but his entire group joined Scofield's trio onstage for a glorious jam as a double trio on Hank Williams's "I'm So Lonesome I Could Cry." The melody was passed around from Frisell to Kang and finally to Scofield, who built an extended solo that gave the song's mournful theme a dose of blues propulsion. For fans of either guitarist—and for connoisseurs of great American music more generally—this was truly an unforgettable moment.
Following the intermission, Frisell came out with his Beautiful Dreamers and demonstrated why this group has a claim on the title World's Top Musical Trio right now. There's an almost unearthly beauty to the suspended time that Frisell achieves with this group; it's as though he were drawing in air the shapes and colors of an entire musical universe. The subtlety of the interaction among these three puts them in a class by themselves, and, on such numbers as "Tea for Two," "Beautiful Dreamers," or the encore, "Going Out of My Head," they touched the stars.