Arts & Entertainment
Shira 2011: A Jewish Music Extravaganza
Concert at Congregation B'nai B'rith Features Outstanding Cantor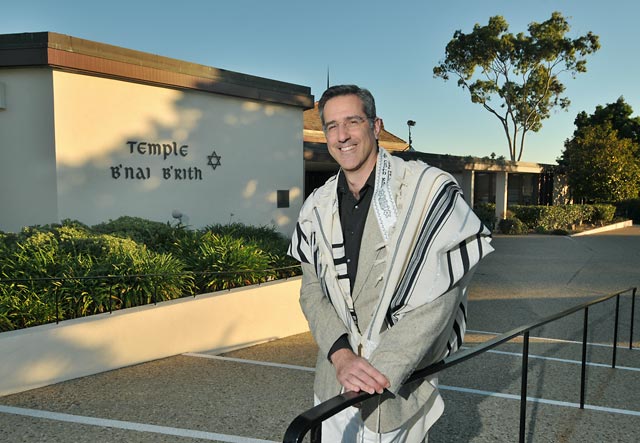 Anyone who's ever heard Cantor Mark Childs singing in the synagogue, his big, bold voice stopping traffic and bringing God right into your gut, would find it hard to imagine this dignified fellow hawking popcorn while dressed in a large candy box. But therein lies a tale.
Childs is the Cantor of Congregation B'nai B'rith, a Reform Jewish temple in Santa Barbara that sits in the foothills of San Marcos Pass. A cantor is a singer of liturgical music, but Childs's job description extends beyond that. His actual role is as chazzan, a sort of Cantor Supreme Combo Package. This means that in addition to using his extraordinary voice, knowledge of music, and creative virtuosity for everything musical at the synagogue, Childs also shares co-clergy duties with B'nai Brith's rabbis, Steven Cohen and Alyson Solomon.
As the only trained and invested cantor between Thousand Oaks and San Francisco, Childs can often be found wrapped in his tallit—a prayer shawl that is gray and silver like his hair—humming and strumming a guitar in the metallic-tiled sanctuary of the synagogue. This Saturday evening, he'll be there presenting Shira 2011: A Jewish Music Extravaganza, an evening of beautiful music open to all; no yarmulke or knowledge of anything Jewish required.
During a recent chat in Childs's office—a book-dense nook decorated with family photos, framed certificates, several guitars, and a small, stuffed reproduction of himself, which he assured me "is not a voodoo doll"—Childs explained the evolution of his life as a cantor.
It all began in the bathtub. "I was one of six kids," he said, "none of whom could carry a tune. Vocal music was a way to stand out. I could always sing and was a big crybaby, even in the bathtub. When shampoo got in my eyes, my dad would say, 'Don't cry, sing!'"
Childs's sister, Ivy Edelstein, said no one was surprised when her brother became a cantor. "He always screamed the loudest" she said.
While the Childs family did not wander in the desert for 40 years, they did move around a bit, and in each locale, the Childs child with the singing gene became acquainted with various cantors and liked what he heard. As a teen, he and some buddies formed a barbershop trio and were hired by a local movie theater to compose and sing jingles for selling sweets and popcorn to movie patrons. "We often had to wear boxes," Childs recalled.
Formal voice training and professional singing came during his college years. "One summer, a teacher talked to me about being a cantor," Childs said. "My grandmother also sent me an article on the history of cantors, and how there was a shortage of qualified candidates. I said, 'Dang, there it is … '"
Cantors become cantors by attending seminary. Childs earned his Master of Sacred Music from Hebrew Union College and arrived at B'nai B'rith in 1991. Not long after, he met his wife, Shari Pulcrano Childs, an interior designer. They have two children—Adam, 13, and David, 16.
There is no single type of Jewish music; rather, there are multiple types that are as varied as Jewish people, including sacred and secular music, klezmer, folk tunes, holiday music, Yiddish lullabies, and more. It's a constantly evolving constellation of genres, always adapting to the varying environments in which Jews have found themselves throughout history, and often picking up local flavors as they go. The Ashkenazim (Jews with their original European base in Germany or Eastern Europe), for instance, incorporated melodic forms of German folk song into their music. In the Reform movement of the 19th century, Jewish music was sometimes set to the tunes of Protestant hymns. Matisyahu, a modern Jewish musician whose song "One Day" was the theme of last year's Winter Olympics, was influenced by Bob Marley.
Sacred Jewish music has biblical roots. The Bible contains many instances of song employed for celebration or to express thanks to God. The Song of the Sea in Exodus 15, for instance, marks the occasion of the parting of the Red Sea during the escape from slavery in Egypt.
"My biggest passion is conveying Jewish prayer through my voice," Childs said. "As a cantor, you're communicating the history of a people, their belief in God, and the richness of a great tradition."
The fine quality of Childs's operatic baritone and his passion for what he does, combined with the beauty of Jewish sacred music, make him "a real blessing" to the congregation, in the words of Rabbi Cohen.
"A great cantor must combine a number of qualities rarely found in one individual," he continued. "Mark Childs is the rare cantor who combines all three of these qualities; a superb voice, a warm and compassionate heart, and profound Jewish knowledge and wisdom."
The concert this weekend is a rare opportunity to hear a wide range of the unique music of the Jewish culture. It will include Childs and the Temple Choir plus soloists presenting classic cantorial music; great Jewish choral music; musical theater songs that have Jewish ties, such as a duet from Children of Eden; and modern compositions and folk songs including the Yiddish "A Meisele."
"Jewish music is very much alive," Childs said, "and I'm going to prove it."
4•1•1
Shira 2011: A Jewish Music Extravaganza will take place at Congregation B'nai B'rith, 1000 San Antonio Creek Road on Saturday, February 26 at 7:30 p.m. Tickets are $18 for adults, $10 for 12 and under. For info, call the temple office at 964-7869.