Dance
Kinesis at Center Stage Theater
Annual Showcase Refreshed, Polished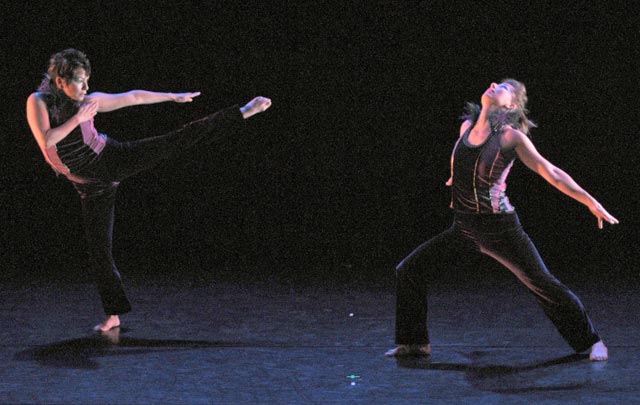 Beneath the hot stage lights, 11 dancers march in unison. They wear knee pads and bike shorts. One girl sports a short kilt. A boy wears a white dress shirt unbuttoned; a skinny red tie hangs from his bare neck. Bright paint streaks their faces, and as they march, they confront the audience, chanting: "Taka taka taka taka!"
A slender young man breaks away from the group. In a lacy blouse and white gloves, he's gorgeous and ghostly, his poses suggesting feminine seduction. A moment later, he's whisked back into the tribe.
The dance is "Flint," created by Misa Kelly for a group of Santa Barbara City College (SBCC) dance students, and it represents a shift for the Dance Alliance's annual showcase. In its new incarnation as Kinesis, the showcase formerly known as New Works aims to include a broader swath of the community's dancers and choreographers. This year marks the first time SBCC students have been able to take part, as well as the first time Kelly has set work on them, and the result was electric.
With 10 works involving more than 50 artists, the first annual Kinesis defied summary, but from the performances of emerging dance artists to established ones, the program was consistently polished. "Up Until Recently," a duet by UCSB senior Zaquia Mahler Salinas, captured the isolation that's possible inside a relationship. Rain, wind chimes, and the rush of passing cars formed the soundtrack to a series of push/pull sessions between Tenaya Cowsill and Larry Daniels, who moved with gusto.
In Kaita Lepore's "Face Value," danced by the choreographer with Steven Jasso, recorded voices told an unusual love story. This was Lepore's choreographic debut, and the way she wove narration and abstract movement suggests she's one to watch.
Meanwhile, well-known Santa Barbara dance and filmmaker Robin Bisio collaborated with folk rockers Alixandra Macmillan-Fiedel and Kevin Evans for "Picnic in the Galapagos," a sumptuous union of sound and movement in which the dancers capered around like stoned swans in their white tutus and hairpieces, their midriffs bare, their long legs stirring the air with languid grace.