Angry Poodle
How Now Bow-Wow?
Das Williams to Mayors on Redevelopment Funding: Blight My Ass.
FALLING OUT AMONG FRIENDS: Would you rather be eaten alive by a lion or a bear? Tossed out of a speeding Porsche or a Prius? Such weird ruminations flow inevitably out of the byzantine dysfunction gripping public finance these days, which increasingly has become one interminable circle jerk with no happy endings on the horizon. These conundrums came to mind during last week's public hearing on how best to rescue Santa Barbara's much maligned Rainbow Park, otherwise known as the Cabrillo Ball Field, from the screw-top connoisseurs and brown-bag crowd who've claimed it as their collective living room over the years. To make the field more inviting to a broader demographic, city parks czar Nancy Rapp was urged to build a football field on the site to accommodate pee-wee league football players — ever in search of new turf to trample and brain cells to kill — handball courts, or basketball courts. Some wanted it used as an off-leash dog park; a few wanted a path built around the perimeter to facilitate obsessive-compulsive pedestrians who might otherwise not know where to walk.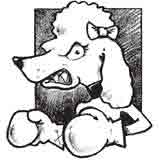 Had this conversation taken place a couple years earlier — as any fool knows it should have — it might have made a difference. But last week's exercise in gum-flappage was strictly a case of locking the barn doors after the horses were on fire. That's because any improvements to the field would have to be paid for by the city's Redevelopment Agency, a $20-million-a-year governmental body charged with fighting blight. The problem here is that Governor Jerry Brown, now going mano-a-mano with a $25-billion budget shortfall, has proposed abolishing all 420 redevelopment agencies throughout the state in hopes of stealing $1.7 billion now rattling around in all redevelopment cookie jars. Given this harsh reality, little wonder, then, that conversation quickly degenerated into how much people hate the 21-foot-tall steel statue of a rectangular rainbow — Herbert Bayer's "Chromatic Gate" — that's called the park home since 1991.
Redevelopment agencies, it should be said, are hardly going quietly into Jerry Brown's long good night. In fact, they're squawking for their lives. Last week, the mayors of four cities — Santa Barbara, Goleta, Buellton, and Lompoc — held a press conference in the rain to tell Brown to keep his hands off their redevelopment agency toot-toot. But before they could get there and tell the world about all the great and essential things their redevelopment agencies are doing, at least two of the mayors — Goleta's Margaret Connell and Santa Barbara's Helene Schneider — encountered serious static from their friend and longtime political ally Das Williams, Santa Barbara's newest member of the state Assembly. In unusually blunt and aggressive language, Williams told them in advance not to show up. By complaining about the redevelopment agencies, he warned them, they could fatally undermine public confidence in the governor's broader budget plan. That includes an extension of $12 billion in tax hikes approved by former governor Arnold Schwarzenegger that will otherwise expire. Brown is hoping to get these tax extensions approved by California voters this June, but thus far, the Just-Say-No rump of the Republican Party have militantly refused to let the voters decide. Without the extension, Williams stated, Brown will have to balance the budget with $25 billion worth of budget cuts, as opposed to the $13 billion worth of pain and suffering he's now proposing. To the extent mayoral press conferences about redevelopment funding complicates things, Williams notified Schneider and Connell he will hold them personally responsible. That's strong stuff. One might have expected a former two-term city councilmember like Williams to bite his lip in a show of compassion, and then stick it to them. But instead, he delivered a forearm shiver straight to the face. Schneider declined to discuss her conversation with Williams. Connell commented, "I was a bit annoyed with Das. I was actually somewhat offended."
Stylistics aside, everybody's got a point in this fight. If the redevelopment agencies are abolished, Goleta will have to find $14 million somewhere else to do the necessary flood-control work on San Jose Creek so that Old Town is not ankle deep every time it sprinkles. In Santa Barbara, the Redevelopment Agency spends about $4 million a year on affordable housing, or $61 million since 1981. That's hardly chump change, without which 1,625 units of affordable housing would not otherwise have gotten built. It's also responsible for the construction of Paseo Nuevo (which can be seen as a mixed blessing), three new parking garages, and the refurbishment of the Granada. Williams is certainly correct that redevelopment agencies statewide have been rife with abuse, fraud, and unnecessary developer subsidies. But in harsh economic times, it's one of the few tools available to local governments to raise revenues and prime the economic pump. Lobbyists for redevelopment districts estimate Santa Barbara County would lose nearly 2,200 jobs if redevelopment agencies were wiped out.
As with all zero-sum games, no one wins without someone else sucking a tailpipe. In this case, it's the school districts. And it's the county government. Redevelopment agencies work by short-stopping tax revenues that would otherwise go to other government agencies — like schools, counties, and mosquito control districts — and then using those funds to fight "blight," the latter being a term open to the most creative interpretations. If Santa Barbara's Redevelopment Agency did not exist, school chief Brian Sarvis estimates his district would have received $6 million in additional property revenues a year. Given that Sarvis is looking at a possible $10-million shortfall, that's real money. According to the county's Number Cruncher-in-Chief Bob Geis, redevelopment agencies cost the county's general fund $8 million a year. With the county facing a $72-million shortfall, $8 million would buy a number of life preservers for the widows and orphans who will otherwise get chucked overboard. Faced with these choices, it's hard to argue the money should be spent giving the grounds of the downtown library a $2-million face-lift rather than keeping school nurses, health professionals, and counselors staffed at current levels of exhaustion.
In the meantime, maybe Republicans will come to their senses and agree to tax the oil companies. At the very least, we should ignore calls to remove the rainbow statue from Rainbow Park. It's not that I'm a big fan. But last I heard, at the end of every rainbow, there's a pot of gold. Right?