Arts & Entertainment
McCoy Tyner at the Lobero
The Veteran Pianist Performed with a Quartet on Tuesday, March 8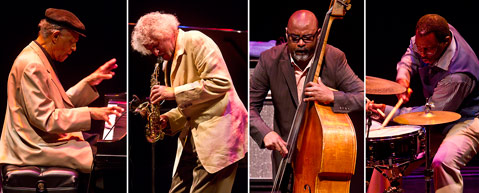 The McCoy Tyner Quartet took the stage at the Lobero against a backdrop of dusky plum haze and before a reverent packed house. Shuffling slowly to the piano, Tyner looked smart in his black cap and white jacket and began with an energy and strength that showed his relish for playing hasn't faded with age. Though Tyner has played on some of the most legendary LPs in jazz, when he addressed the audience, he spoke instead about his humble beginnings and described how his mother encouraged him to play piano and jam with friends in her beauty shop. Playing R&B at the time, Tyner once responded to a request from a beauty shop customer to play some jazz, a suggestion that has led to more than 50 years of composing, recording, and performing.
Tyner opened his set with "Fly with the Wind," giving the tune a more intense, updated interpretation than one hears on his 1976 album of the same name. A quiet solo piano intro led to the familiar riff played by Tyner's left hand, and then the band exploded into a swiftly paced stride. Tyner didn't so much solo on this first number as take the opportunity to carve a completely new landscape out of the song, commanding the stage with his powerful, percussive left-hand technique. On soprano and alto saxophones, Gary Bartz made it look easy, coaxing beautifully crafted lines from his horn. Gerald Cannon on bass and Herlin Riley on drums constituted a solid and stand-out rhythm section. Riley especially exuded a kid-in-a-candy-store enthusiasm for playing as he smiled and crafted improvised accents around the beat.
The highlight of the show was an adventurous 23-minute take of Tyner's "Walk Spirit, Talk Spirit" from the 1973 LP Enlightenment, a compositional gem that ventured into many different moods around the quartet's improvisations. Bartz's saxophone hit both soft, rounded notes and louder guttural sounds as he soloed. At times, the rhythm completely faded away, as if washed down by a waterfall, to lead to a complex and classically oriented piano section.