Arts & Entertainment
The Baseball Project Takes Goleta
Scott McCaughey Brings Team to the Mercury Lounge on Friday, April 1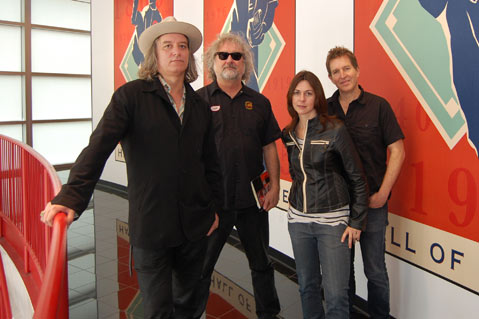 There is a band so talented it can shunt a guitarist as good as Peter Buck (yes, of REM) to bass, not unlike the Yankees moving A-Rod to third because they had Derek Jeter at shortstop. If you think that analogy is odd, then you clearly don't know The Baseball Project, a fantastic foursome made up of Buck, Steve Wynn (Dream Syndicate), Linda Pitmon, and Scott McCaughey (Young Fresh Fellows, The Minus 5) that together make the catchiest indie rock ever to offer odes to Curt Flood, Fernando Valenzuela (in Spanish, no less), and "Panda and the Freak." Sure, they might be the only indie rock outfit to do so, but that just seems to make them better.
In a recent telephone interview, McCaughey laughed when asked if he could promise—since, no doubt, baseball commissioner Bud Selig would want to know—that the band would play its upcoming Mercury Lounge gig without the benefit of performance-enhancing drugs. "You know, I can't guarantee that," he replied. "We might need something that night. We'll see what's available."
Not that McCaughey and Wynn, who share songwriting and lead-singing duties, don't get high on the material—they're both self-declared inveterate baseball fans. "It's really fun writing these songs," McCaughey insisted. "There's such a great history in baseball. And then in 'Panda and the Freak'"—which starts with Pablo Sandoval and Tim Lincecum of the Giants, but then looks at the game's history of colorful noms de bats, arms, and gloves—"there's all the nicknames; it's a challenge, but also mostly fun to explore all the crazy names." Of course, the names also lead to some unusual lyrics, like a rhyming of "Yawkey" with "Schiraldi" in a tune exonerating Bill Buckner. "That was a little iffy," McCaughey admitted of his own song. He instead pointed to one of Wynn's rhymes in a song about Reggie Jackson, "I think the Mensa-credenza one takes the prize. I had to ask Steve what a credenza was—I actually didn't know."
What makes the songs on The Baseball Project's Vol. 1: Frozen Ropes and Dying Quails and Vol. 2: High and Inside (both on Yep Roc) even better is the band's three-strikes-and-you're-out approach. First, the tunes are instantly sing-along–able and usually fit the subject well. For instance, "Ichiro Goes to the Moon" doesn't just laud Japan's best baseball export; it sounds like a Shonen Knife cut. Second, what these guys love about the game is exactly what you probably do, so when they name-check Oscar Gamble's Afro, anybody who collected baseball cards in the mid 1970s laughs along. Third, as McCaughey put it, "Our point isn't 'Rah-rah-rah baseball and America!' Our point is to write good songs."
Over the course of both discs, the band seems more than willing to take the side of people not necessarily loved by the fans or treated well by history, from Pete Rose to Roger Clemens. "It's not like we feel we need to defend these characters," McCaughey said. "Steve and I don't necessarily like these characters either. But it's more interesting to think about what their motivations might have been. Clemens would be an easy target to vilify, but we want to write songs that have more depth than that."
Given the alternative-rock pedigree the band amasses, it's no surprise that this should-be one-off outfit has more heart and soul than most music in our auto-tuned age. The best part, McCaughey promised: "There will absolutely be a Volume 3. We're on a roll. It's almost hard to write a song that's not about baseball at this point."
4•1•1
Get into the seasonal swing of things with The Baseball Project, which will play a 21+ show at the Mercury Lounge (5871 Hollister Ave.) this Friday, April 1, at 9 p.m. Call 967-0907 or visit clubmercy.com for tickets and info.