News
A Tale Stranger Than Fiction
Hollywood Screenwriter with History of Mischief Accused of Theft
Events in the life of screenwriter and Montecito resident Steven Kunes read like the plot of 2002 film Catch Me If You Can, the true story of a con artist and impostor that Kunes says he helped craft into a Hollywood script. Like the movie's main character, the 54-year-old Pennsylvania native enjoyed a lavish lifestyle at the expense of people across the country for years, bouncing from town to town and employing an arsenal of financial devilries, including — but not limited to — stealing, "washing," and forging checks. And like his big-screen counterpart, Kunes's high jinks not only left angry victims and alienated family members in his wake but also landed him behind bars. Right now he sits in County Jail on a no-bail parole violation, arrested on March 17 for purportedly swindling his friend, former Café Buenos Aires owner Wally Ronchietto, out of $2,000 for a movie deal that doesn't exist.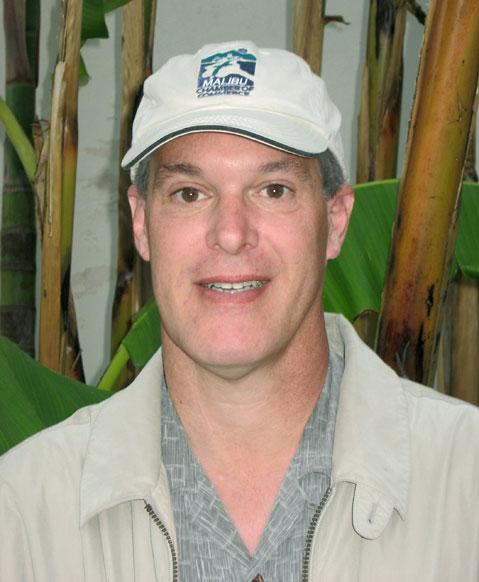 In a recent interview, Ronchietto said he got to know and like Kunes — who enjoyed a successful career in the 1980s writing for TV shows like Love Boat and Out of This World — when he'd frequent the restaurant and talk about his days in Hollywood. He claimed to have written Johnny Carson's final monologue and spoke of his more contemporary work on Harry Potter and the Half-Blood Prince, explaining his name didn't appear in the credits because he was part of a larger writing group. Over drinks one night, Ronchietto told Kunes a story about a talented female tango violinist who had a hard time breaking into the area's notoriously tight-knit circle of Argentinian musicians. Ronchietto had filmed much of her journey to acceptance — she went on to play at the Walt Disney Concert Hall — because he knew she'd enjoy looking back on her hard work. Kunes wanted to turn the footage into a movie and said he'd get a contract with his buddy, producer/director Robert Zemeckis.
Shortly thereafter, Kunes forwarded an email he claimed was written by Zemeckis that green-lighted the project. Kunes explained to Ronchietto that they'd each have to put up $2,000 to secure a well-known film editor, and Ronchietto cut Kunes a check, expecting him to forward it on. At this point, though, Ronchietto was feeling the inklings of suspicion and contacted Zemeckis himself. Zemeckis replied that he'd never heard of Kunes or the project. The forwarded email, Ronchietto said, was completely fabricated and the $2,000 went into Kunes's bank account, not the editor's. He contacted police, and they arrested Kunes on charges of theft by false pretenses and resisting arrest. Sergeant Dan McGrew, who worked the case, said there were other victims similarly scammed, but they didn't want their names publicly released. Kunes declined to be interviewed for this story, and his attorney, public defender Mindi Boulet, didn't return calls for comment.
Kunes has been in and out of trouble since 1999 with felony convictions of forgery, grand theft, and false use of financial information. He was implicated for participating in a Los Angeles caper during which 13 victims lost a total of $319,000 after fake credit cards were made in their names. In 2001, a Santa Barbara resident filed a forgery report with detectives who determined Kunes stole two checks from the man's mailbox and used chemicals to erase the writing on them, replacing the information with his own. Kunes reportedly used the redirected funds to make car payments and pay for a golf club membership. During the course of their investigation, Santa Barbara detectives learned Kunes was on the radars of police departments in San Mateo, Palo Alto, and Thousand Oaks for similar reported crimes. He also allegedly left victims in Princeton, New Jersey, and East Levittown, Pennsylvania, near where he grew up. Kunes was found guilty for the 2001 check-washing incident but temporarily avoided jail time when he took a plea deal and was placed on felony probation. He violated his probation, though, in a different forgery case and was sentenced to two years, eight months in November 2007.
He convinced Mayor Helene Schneider's office to book her for the night so she could read a proclamation lauding Center Stage's and Kunes's success, and then present a check for $15,000 that Kunes had supposedly secured from an investor.
Not long after he was released, Kunes rented Center Stage Theater for a reading of his play, Hopeless Romantic, which he penned during his jail sentence. Teri Ball, executive director of Center Stage, said Kunes wanted to give the night's proceeds back to the playhouse, which she agreed to. But Ball said Kunes then went around town falsely representing Center Stage — at the time it was about to celebrate its 20th anniversary — and trying to raise money for it. He convinced Mayor Helene Schneider's office to book her for the night so she could read a proclamation lauding Center Stage's and Kunes's success, and then present a check for $15,000 that Kunes had supposedly secured from an investor. Schneider delivered her ceremonial address, but was caught off guard when she was told there actually was no check. Ball said she never saw any of the night's income of around $750, a good portion of which came from Kunes himself, who bought a stack of tickets for friends. Checks written by Kunes to actors and set builders allegedly bounced back to them because, although the routing numbers were correct, they linked to an East Coast account that didn't exist. When confronted, Kunes made good with some people by paying them in cash.
Four years ago, Kunes sold an interview with Jimmy Buffett — who was about to play the Santa Barbara Bowl — to The Daily Sound. After it ran, publisher Jeramy Gordon got a call from Buffett's people who said they'd never spoken with Kunes and the interview was completely made up. (Over the past year, he's written unsolicited guest commentaries on a wide range of issues for this paper and Noozhawk.) The Buffett sham smacked of an incident in 1982 when Kunes was sued by J.D. Salinger for trying to sell a fake interview with the reclusive author to People magazine. The two sides eventually settled out of court.
Those who know him say Kunes is a troubled soul. During court proceedings in the 2001 forgery case, Kunes himself admitted to the judge that he "snapped" in 1999 when his career hit the skids, and he said he felt "horrible" that he stole from people who trusted him. A psychologist who testified on his behalf suggested he'd benefit more from group therapy and medication than incarceration.
Kunes is scheduled to appear for a preliminary hearing on May 4.