Arts & Entertainment
Presidio Motel Hosts Bands, Trunk Show
Indie Rockers Handshakes and Sunset Play Show Sunday, April 3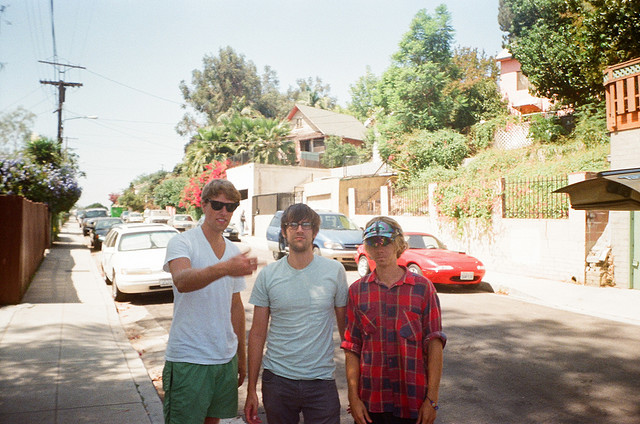 Furthering their reputation as epic party hosts, the Presidio Motel opens their doors — and driveway — yet again this weekend for a can't-be-missed event that's part trunk show, part concert, part dance party. On Sunday, April 3 at 1 p.m. the motel teams up with our buds at Warbler Records & Goods to host L.A. indie rockers Handshakes and Austin, Texans Sunset. In addition, the Presidio's beloved on-site boutique, The Supply Room will be debuting a brand spankin' new (to them) line of sunglasses from Illesteva.
Whether or not you're in the market for some super hip shades (and trust me, they're to die for), there are plenty of reasons to swing by, including some seriously promising live music. Pulling heavily from Pet Sounds-era Beach Boys at some points and Brian Eno at others, Sunset's music is tailor made for Sunday afternoon easy listening. (Think psychedelic lyrics, shared vocals, jangly arrangements, and just enough pretty piano parts to keep it all sounding cheerful.) The band is currently touring in support of their recently released LP, Loveshines But the Moon is Shining Too (Autobus Records), which is well worth an at-home listen. To try before you buy, visit Sunset's Bandcamp page.
Sharing Sunday's afternoon-to-evening bill is Echo Park quartet Handshakes, who are unleashing their debut EP, Cryptozooology (Old Flame Records) on April 12. Neatly blending prog- and post-rock leanings with something decidedly more upbeat, these four have placed themselves in a niche genre even I can't pinpoint. Tidy, building guitar work and falsetto vocals draw immediate comparison to Pinback or Cursive, but jumpy percussion and some sparingly-injected jingle jangle also call out to pop rockers Spoon, Generationals, and The New Pornographers. Whatever you choose to call it, it's infectiously good listening. To check it out for yourself, visit handshakesband.com.
Handshakes and Sunset play a free show at the Presidio Motel (1620 State St.) on Sunday, April 3 from 1 to 5 p.m. For info, visit thepresidiomotel.com/blog.