Dance
Conference Honoring Jennifer Muller Begins April 8
UCSB Exhibition and Performance Focus on New York Choreographer's Oeuvre
Dance, as it's commonly understood, is a form of artistic expression involving the movement of the body. Yet in the New York experimental art scene of the 1960s, the basic assumption that dance is about motion was challenged, tested, and, in some cases, rejected entirely. Most famously, dance artist Yvonne Rainer in her "No Manifesto" of 1965 insisted, "No to spectacle. No to virtuosity … No to moving or being moved."
It was out of this period of radical minimalism and avant-garde approaches that choreographer Jennifer Muller hatched a very different sensibility.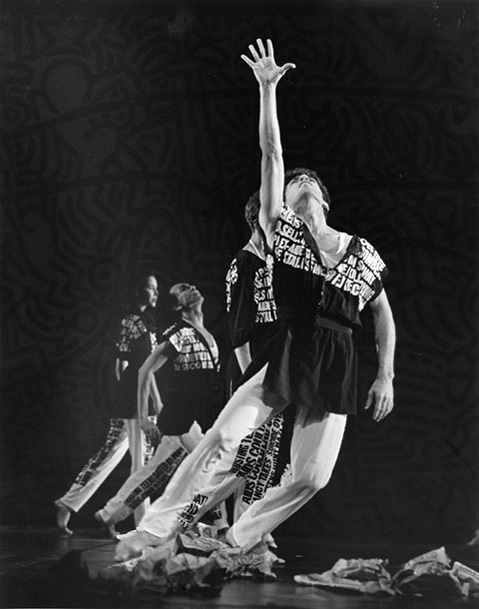 On Friday, April 8, UCSB will host a conference focusing on Muller's contributions to American dance. Transformation and Continuance: Jennifer Muller and the Reshaping of American Modern Dance, 1959-Present is the first conference ever hosted by the dance department, as well as the first time a group of academics and critics have turned their full attention to Muller's oeuvre.
In fact, from the very beginning of her career, Muller has had difficulty with critics. A Juilliard-trained dancer filled with an innate love of virtuosic movement and an expansive style, she came of age in an era when such full-bodied expression was deeply gauche. She's been accused of making dance that's sexy, shallow, and commercial—the worst insults the guardians of high art can levy. Yet, 35 years after launching her company, she continues to create.
The seeds of the Transformation and Continuance project were planted more than a decade ago, when dance department faculty members Valerie Huston and Christopher Pilafian—himself a founding member of Muller's company—began talking about bringing Muller in to work with their students. In 2009, Huston secured a grant from the National Endowment for the Arts to bring Muller to UCSB for three residencies spanning the 2010-2011 academic year, during which Muller would teach her 1974 landmark work, "Speeds," to a company of undergraduates. Those students will perform the work in The Sky to the Ground, which runs April 8-10 at UCSB's Hatlen Theatre.
Enter Ninotchka Bennahum, dance historian and recent addition to the UCSB faculty. In Muller's visits, Bennahum saw an opportunity to contextualize "Speeds" for the students who would be learning it and to examine Muller's legacy from an academic standpoint. It was Bennahum who sought funding for the conference, along with an exhibition of related photographs, films, costumes, programs, posters, and reviews that will be on view from April 1-10.
"Muller's training begins with McCarthyism and extends to today, so she really has her finger on the pulse of America," Bennahum explained. "We wanted to round out the artistic contribution she's made."
Last week, Pilafian spoke with me about the early years in Muller's company, and how he saw her work in relation to artists like Rainer. "The postmodernists were engaged in a scaling-down of kinetics," he noted. "You can't do 'full bloom' movement if you're just sitting in a chair, smoking a cigarette, and laying gaffer's tape. A lot of postmodernism was a trend, and she's not someone who buys into trends."
Instead, Muller created works like "Speeds" that simultaneously nodded to minimalism and rejected its tenets. The piece is ostensibly about running, walking, and changes in tempo, but it evolves into what Pilafian calls a "cornucopia of movement invention."
In a period when dance was leaning away from emotional expression, Muller was creating works that called on the dancers to express their feelings through their bodies. That's a theme that has remained central to her work, and one she's sure to touch upon in discussions of her approach.
"Jennifer always said there were emotions involved," Pilafian noted. "She owned the emotional, and saw many of her detractors as being afraid of emotions."
The conference, exhibition, and performances are all open to the public, and organizers hope anyone with an interest in the arts will participate. "We hope people who are interested in life come," Bennahum said. "Dance is a human issue; it's an expression of being a human being."
4•1•1
Transformation and Continuance takes place Friday, April 8, 10 a.m.-5:30 p.m. in UCSB's McCune Conference Center. The Sky to the Ground shows April 8-9 at 8 p.m. and April 10 at 2 p.m. at UCSB's Hatlen Theatre, and the Jennifer Muller exhibition will be on view April 1-10 in the HSSB Ballet Studio Theater. For more information, call 893-3241 or visit www.theaterdance.ucsb.edu.