Cover Story
Spring Sports Preview
Baseball, Track-and-Field, and Tennis Teams Prep for the Season
The madness of March that turned everybody's NCAA brackets into paper wads has subsided, along with the torrential rains that turned ball fields into swamps. Spring is finally gaining a grip on the South Coast, and along with it, the sports fill the calendar — baseball, softball, tennis, track-and-field, women's water polo, and high school swimming. While checking out some of those pastimes in an eight-day period, I found spring fever to be a happy epidemic in the area.
Dos Pueblos Girl for All Seasons
Jessica Escalante is a girl for all seasons. There's hardly a sport the Dos Pueblos High junior hasn't tried. Her future should be in basketball — she was a sharpshooting guard on a DP team that went to the second round of the CIF playoffs. She played on the junior varsity tennis team in the fall. And this spring, she is doing multiple events in track-and-field.
Escalante was a double winner in the 100- and 200-meter sprints in the Chargers' most recent dual meet. At the Santa Barbara Easter Relays, she anchored the DP 4×100 relay team to fourth place and finished sixth in the 100 (12.9 seconds) and eighth in the discus throw (100 feet). "I don't practice the discus," Escalante said. "Coach has me do it to get points. I can throw a football farther."
That is not speculation on her part. Escalante can make a rare claim to gridiron fame — she was a two-time national champion in Punt, Pass & Kick (PP&K), a contest sponsored by the National Football League (NFL) that draws millions of participants.
"It's something I'll remember the rest of my life," she said. The finals took place in stadiums prior to NFL playoff games. Escalante won the Girls 12-13 age division while the Chargers and Colts were preparing to meet in January of 2008 at Indianapolis, and a year later she took the Girls 14-15 title at Charlotte, North Carolina, where the Panthers hosted the Arizona Cardinals. The PP&K winners took a bow on national TV at halftime. "I got to see a lot of great players," Escalante said. "Peyton Manning was warming up across the field in Indianapolis. I met Curt Warner in North Carolina."
Escalante's passion for sports was ignited at the Rose Bowl in 1999. She was 5 years old, and the family attended the Women's World Cup soccer final between the United States and China. "Wow, those are real athletes," she remembers thinking. "They're so good, so fast, and they play so hard. Mia Hamm was my favorite athlete." She found another favorite at UCSB women's basketball games. "I loved watching Stacy Clinesmith," she said of the former Gaucho point guard.
"I played flag football with boys," said Escalante, who attended Goleta's Hollister School. "I'd play games in the street, even in the rain, every single day." Soccer was her favorite sport until one day she tried shooting a soccer ball through a basketball hoop. The idea of making goals in bunches appealed to her.
She's going to try something new this week. "I have to learn the 100 hurdles," she said. "I'm doing a heptathlon at the Arcadia Invitational." Other track-and-field competitions include a dual meet at rival San Marcos on April 20 and the Santa Barbara County Championships at Carpinteria on April 23.
S.B. High Looks Over the Rainbow
At the conclusion of Santa Barbara High's 3-1 baseball victory over Ventura, the sweet voice of Israel Kamaka­wiwo'ole flowed out of the loudspeakers at Eddie Mathews Field: "Somewhere over the rainbow, skies are blue …"
The anthem of hope certainly applies to the Dons. They are the No. 1-ranked team in Division 2 of the CIF Southern Section. Seeking their 10th Channel League championship in 13 years, they are undefeated after three league games. Somewhere over the rainbow is their ultimate dream.
"I want us to go back to Dodger Stadium," said Collin Dewell, a senior outfielder and pitcher. The Dons played there in the 2000 CIF championship game.
Fred Warrecker, in his 38th season as head coach, likes the makeup of this year's team. "We have great kids. They're playing good ball and getting good grades," he said. "The reason I keep coaching is that every year, I get to see kids on their way up in the world."
With six senior starters, the 2011 Dons are a mature group. "We've been playing together a long time," said first baseman Pepe Gil. "Since we were freshmen, we were saying this was going to be our year." They have a unifying chant — "b-i-b-n-r" — with a secret meaning.
Gil broke a 1-1 tie against Ventura in the sixth inning by slamming an RBI double into the left-center field gap. Danny Zandona went the distance on the mound, striking out eight batters and relying on his fielders to make plays. "Our hitting may come and go, but the pitching and defense stay solid," said Zandona, who is sorting out opportunities to go to college next year.
Dewell is already committed to Arizona. He displayed his talents against Ventura, hustling to run out an infield single in his first at-bat; holding a runner at third with a one-hop throw from center field to the plate; and hitting a loud strike that left the ballpark in a hurry over the right-field foul pole. "Collin hit one of the hardest, highest home runs I've ever seen at the Chatsworth Tournament," Warrecker said. "It was still going up when it cleared the fence at the 330 mark."
"Collin is a natural athlete," said Gil. "He is Superman mixed with Brad Pitt and King Leonidas. Danny is the Italian Stallion. I'm Kung Fu Panda."
The Dons expect to face their toughest league competition from the Dos Pueblos Chargers, who won a tournament in Arizona last week and are riding a 10-game winning streak. The two teams are scheduled to meet on April 26 and 29, and an earlier postponed game may also be moved to that week, creating a big three-game series.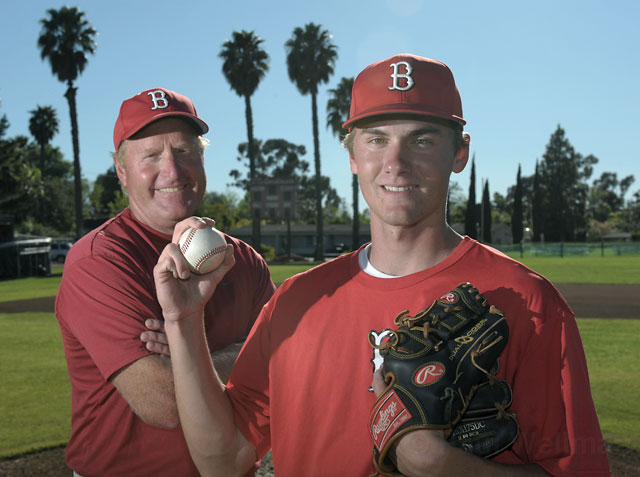 Bishop Diego's Cardinal Affair
On a warm, lazy Wednesday afternoon at the Bishop Diego High diamond, the baseball game between the host Cardinals and their namesakes from Santa Paula got off to a brisk start. Senior pitcher Cody Yokubaitis retired the side on five pitches in the top of the first. The second out came on a spectacular diving catch by centerfielder Jack Gregson.
But then, because of a Santa Paula protest over the bat that Bishop's leadoff hitter Sam Kwock used to hit a screaming line drive, it became as complicated as a convocation of Cardinals. The prolonged discussion ended with Kwock staying at first base and the bat, which had earlier met the umpire's approval, being retired.
Several hours later, Bishop secured a 9-1 victory to remain unbeaten in the Frontier League. Yokubaitis improved his record to 4-0 but was disappointed to yield his first earned run. The right-hander wants to make the most of this season, which may be his last in organized baseball, because he wants to start working toward a medical degree at Cal Poly next year. "I'm really into dentistry," he said.
"He wants to be a dentist? Where did that come from?" Bishop coach Dan Yokubaitis said. "It must be my wife's side of the family." Cody must have gotten his desire to pitch from his father, a former UCSB hurler. "He was one of those kids who, when you came home from work, he's throwing a tennis ball at the garage door," Dan said. "The door is covered with ball marks."
The Cardinals play a home-and-away nonleague series against Carpinteria next week (Apr. 13 and 15).
UCSB's Ace Tennis Partners
Jordan Dockendorf and Natalia Lozano have found their tennis partnership at UCSB to be mutually beneficial. Dockendorf, a Santa Barbara native, has learned to say, "Va." Lozano, from Valladolid, Spain, has learned to say, "Go."
The juniors went to an 8-5 victory in their doubles match against Portland's No. 1 pair last Thursday. It helped the Gauchos earn their first point of the team competition, which ended in a near sweep, as UCSB won, 6-1. The only Portland point came in a singles match that Dockendorf defaulted in the second set because of a wrist injury.
"Jordan would have said, 'Give me a couple Advil,' and gutted it out," UCSB Coach Pete Kirkwood said. "I made her default. I'd told the team that if we won 7-0, they wouldn't have to practice tomorrow. I'll still give them the day off."
A break in the schedule should give Dockendorf's wrist some valuable healing time. She and Lozano are going strong as a doubles team. "We've beaten some ranked teams pretty good," Lozano said. "Jordan is a really good volleyer at the net."
"Coming here and playing with Natalia has been a highlight for me," said Dockendorf, who has been playing tennis since age 4. She graduated from Dos Pueblos High and spent a year at UCLA before deciding to return to her hometown. She has her own apartment near the campus. "I love it here," she said. "I'm happy in every aspect."
She and Lozano part company on the subject of Spanish soccer. Lozano sings the praises of Real Madrid, while Dockendorf, whose boyfriend is a Gaucho soccer player, is a Barcelona fan. "We talk about the results," said Lozano, who is smarting a bit over the last meeting, a 5-0 Barcelona win.
In the Big West Conference women's tennis standings, UCSB is in a logjam with a 4-1 record. Kirkwood said the regular season championship may be decided by the Gauchos' April 17 home match against UC Irvine.
SBCC's Hurricane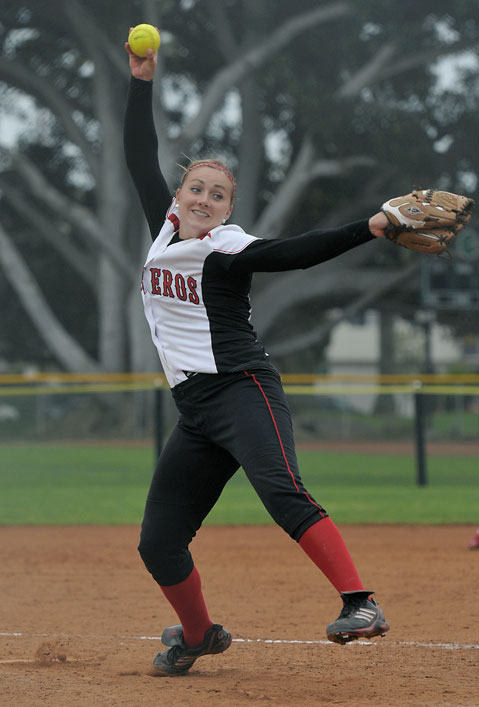 Santa Barbara City College (SBCC) softball pitcher Kailey Snyder was dubbed "Hurricane" by a bystander who saw her firing wicked fastballs at Pershing Park. In a road game last week, one of her pitches did some physical damage. "A girl broke her jaw," Snyder said. "I threw an up-and-in pitch that came off her bat. She wasn't wearing a facemask."
The City College women are on a tear, winning 18 of their last 19 games. Snyder, 17-2, has pitched most of them. The sophomore from Santa Maria's St. Joseph High is also the Vaqueros' top hitter.
"She's a huge part of our success," said Coach Paula Congleton. "She knows when to get the team rallied. She comes from a great family. They were all over the place when we played [at Hancock College] in Santa Maria."
Because of injuries and departures, the Vaqueros are down to a 10-woman roster. Snyder says that's all they need. "Everybody pulls her own weight," she said. "I trust everybody who's left. We're keeping our heads on straight. My goal is to keep up what we're doing as a team."
SBCC hosts Mt. San Antonio College on Friday afternoon (Apr. 8) and will stage its annual Bash at the Beach tournament April 16-17.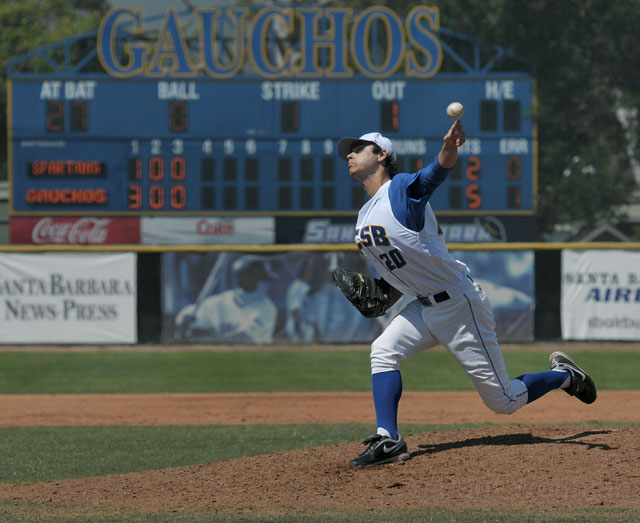 UCSB's Line Drives
At the same time that a heat spell ended last weekend, UCSB's baseball team got the chills. The Gauchos blew a 7-3 lead against San Jose State and lost Friday's opener of the three-game series, 9-8. The next day was cold and damp — turning Caesar Uyesaka Stadium into Candlestick Park South — and after Sean Williams belted a three-run homer in the bottom of the first, the Gauchos went out meekly the rest of the way and lost, 7-3.
On Sunday morning, more bad news. Greg Davis, who had been a successful Gaucho stopper with a 3-1 record on the mound, was unable to start because of an eye injury. His emergency replacement, against a Spartan team that had pelted the Gauchos with 32 hits the previous two games, was relief pitcher Nick Capito, who had not won a game in a year.
Capito, a senior left-hander, is an English major whose favorite writer is William Shakespeare. He seemed to have a quotation from Henry V on his mind when he took the mound: "The game's afoot."
Capito pitched 5⅔ solid innings, limiting the Spartans to two hits and one unearned run. Matthew Brady, Bryce Uhrig, and Nick Loredo came out of the bullpen and preserved a 4-1 victory that was desperately needed by the Gauchos. "We were in a funk," Coach Bob Brontsema said. "What Capito did to pick us up was beyond words."
Another senior, right fielder Mark Haddow, powered UCSB at the plate. He drove in three runs with a triple in the first inning and a double off the top of the centerfield fence in the fifth. He also made a diving back-handed catch in the gap that saved a run in the top of the sixth.
"We needed this win," Haddow said. "It was a difficult loss Friday. Giving away a big lead like we did was pretty depressing. I've still got a lot of faith in our bullpen."
Friday, April 8, is the opening day for the Big West season for the Gauchos, who are 12-11 in nonconference games. They host Cal Poly in a three-game weekend series. "We've got to make a statement," Haddow said. "We're a pretty tight team. We're going to stay positive."