Columns
Musical Duels Across Space and Time
Frank 'n' George Swap Music and Insults
Just what is going on every Monday morning at 9 on KCSB? In that hour, you'll hear a couple of DJs with an equal chance of playing XTC, Vangelis, Randy Newman, Kate Bush, Pink Floyd, Van Morrison, or Lord Buckley. Impressive, sure, but given the normality of musical eclecticism on KCSB, programmers have to find another way to pop out from the crowd.
How about if they adhere closely to a different theme each week? And how about if they alternate sets in an unending game of sonic one-upsmanship? And how about if one of them — but only one — broadcasts from deep inside what sounds like an isolated compound? Surely you see how Frank Goad's and George Yatchisin's Frank 'n' George comes as something new for KCSB, but its roots at the station run deep.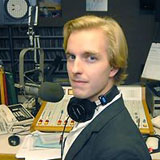 Goad debuted on the schedule back in 1971 with the freeform Dr. Nogan Allkeaf's Headphone Rush Hour on Fridays and the classical-centric Breakfast with Frank and Helen on Sundays. An audio composer lauded as a "freak genius" by Rolling Stone, who's put on concerts in venues as far afield as Dublin, Ireland's United Arts Club and as close by as UCSB's Campbell Hall, Goad would seem just the type to fit in at a station like this. But after spending many years away from the mic, it took a collaboration with friend and former co-worker Yatchisin to bring him back to the freakish fold.
Though culinarily inclined Indy readers know him as the paper's food editor, Yatchisin has devoted much of his journalistic career to the arts. Publishing on music for nearly 30 years and voting in the Village Voice's famous annual Pazz & Jop poll for ten of them, he professionalized the love of music that drove him to Baltimore's WJHU and Iowa City's KRUI through the 1980s. His first encounter with Goad came when they both worked at UCSB Arts & Lectures.
"We shared an office and the rest of the staff were curious if we'd get along," Yatchisin wrote in an e-mail interview. "Turns out we also shared a fondness for borderline-cruel teasing and pranks. We kicked around the idea of a radio show for years, but since we're older, we move more slowly, so it didn't happen until last year."
Goad and Yatchisin may listen to music with equal intensity, but they get no small amount of on-air mileage out of playing up their supposed clash in tastes. Goad insists on casting Yatchisin as the "esoteric," "alternative" member of the duo, in flashy contrast to the plain simplicity of his own "common," "mainstream" selections. "I wear the alternative label proudly from Frank or anyone, as I was into alternative music before it became a marketing term," wrote Yatchisin, who begins but certainly does not limit his musical explorations to the punk, post-punk, and new wave of his college years. ("George lies," Goad added. "His main expertise is in Broadway show tunes.")
Whatever their individual sensibilities, these co-hosts must draw on their life experience — "our over 115 years of living," Yatchisin likes to say — and vast personal record libraries to meet each week's thematic challenge. In shows past, they've come up with robust playlists based on film, money, the weather, and the dark side of Valentine's Day. The fun really begins when one DJ plays not just to his own taste, but in anticipation of the other's. "There's always a fight as to who gets Sinatra," wrote Yatchisin. "And we want the whole show to be incongruous. I'm particularly proud we could air Marie Osmond reciting Hugo Ball on one of our poetry shows. And of course, we followed that up with Talking Heads' 'I Zimbra,' since that's from Hugo Ball too."
"Good times with Marie Osmond," wrote Goad, "but my favorite incongruous duo was the Bach cello solos transcribed for tuba followed by the 1950s blue record 'The Farting Pole.'" In what seems to have become the signature of Frank 'n' George's broadcasting style, Goad records his half of the show at home, and Yatchisin, there to speak and spin live in the KCSB studio, plays it, while contributing his own choice remarks about, say, which of Goad's cuts were Daniel Lanois productions and which indicate possible medication-induced delirium. "Sometimes we do pre-record together, to keep the audience guessing," Yatchisin added. "I've had other people in the studio live who say they were Frank when they weren't. I'd like to think we're inspired by Bewitched or That Obscure Object of Desire. As long as the role of Frank exists, Frank can be anyone. It's both liberating and frightening, especially metaphysically."
Ever on the lookout for new themes, Goad and Yatchisin have seized the possibilities of Poetry Month, also known as April, whose programs feature songs about poets, poems turned into songs, local poets reading and discussing their work, announcements about upcoming poetry events in town, and a continuation of the eternal argument over whether song lyrics truly count as poetry. "I am a dead poet," Yatchisin wrote. "I actually have degrees in it, but I stopped writing verse in the late 90s. You can only write the 'language is a tool that fails us' poem for so long before you at least convince yourself." Opting instead to join forces with a freak genius on KCSB and play "The Raven" as hip-hop and "Ulalume" as bebop seems like a more enjoyable choice — for George, for Frank, and for all of us tuning in.
4•1•1
Frank 'n' George airs every Monday from 9 to 10 a.m. on KCSB, 91.9 FM.