Visual Arts
Vernacular Architecture Inspires Two Artists
Missions and Duck Blinds Make Odd but Interesting Companions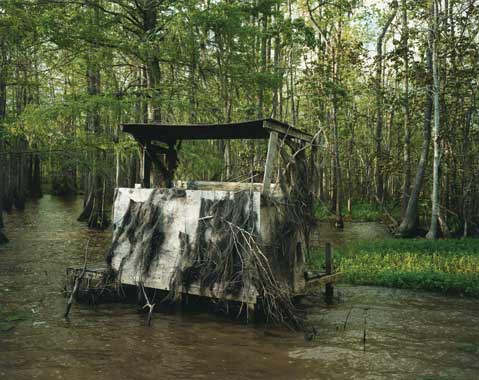 MISSION MYSTIC: The paradox of the California dream lies in its nostalgia for a past that may never have happened. Spurred by the romantic fiction of Helen Hunt Jackson, a generation of 19th-century artist/explorers set out to document the decaying buildings that had served as the headquarters for the Spanish mission to colonize the American West. While today the legacy of the Mission Revival movement can be seen in a mind-boggling range of influences—from the red tile roofs of Santa Barbara's Riviera to the Golden Arches on McDonald's restaurants worldwide—at the time, it was primarily confined to the conjoined practices of pilgrimage and painting. Will Sparks, whose suite of mission paintings is currently on view at the Santa Barbara Historical Museum (136 E. De la Guerra St.), was one of the most interesting and successful of the artists who made the pilgrimage and captured the fleeting images of these original vernacular structures as they teetered on the brink of collapse. The show, Missions of Will Sparks, which is on view through June 26, allows visitors to experience a suite of mission paintings as they were intended to be seen, all together, and in a historic space.
Sparks, who was educated in St. Louis and studied with several important artists in France before coming west, employs a wide range of techniques and a searching, soulful approach to his subjects, which include 36 Alta California missions and associated structures, along with nine other missions from New Mexico, Arizona, and Baja. Every picture in the show is different, not only in subject matter but in treatment. His impressionistic, soft-edged images tend to emphasize atmosphere over architecture, but the relation of the buildings to their context is always carefully considered and fully realized. His version of Mission Santa Barbara looks up at the side of the building from a position somewhere in the cemetery, avoiding the more typical portrayal of the front façade in favor of an angle that implies the perspective of someone traveling through the canyon.
Compared to more familiar images of the missions, these are moody, somewhat reserved works, but that initial impression fades quickly upon further study. Sparks has achieved an extraordinary sympathy with his subjects in this series, and provided the viewer with numerous points of departure for meditation and aesthetic appreciation, not only of his skill as an artist but also of the underlying meaning of these profoundly spiritual historic sites. A Gnostic to his core, Sparks sets the missions in what is perhaps their most important nonhistorical context, which is the California dream of mystical awakening.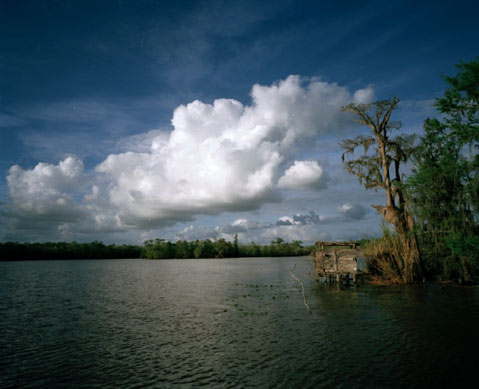 DUCKS, WATCH OUT: Over at the nearby Jane Deering Gallery (25 E. De la Guerra St.), photographer Nell Campbell explores an entirely different, yet strangely kindred, set of vernacular structures, the duck blinds of southwestern Louisiana. Campbell, who grew up amid the waterways in which these fascinating improvised small buildings are situated, is revered among Santa Barbara artists for her vivid images and the exemplary craft with which she prints them. These shots were taken from a small boat, but the effects are large and powerful. Composed of a wild mix of natural and manmade elements, including scrap wood, wire mesh, tree limbs, palmetto fronds, roseau cane, and river foliage, duck blinds serve to camouflage hunters as they sit quietly waiting for the arrival of their prey. Unlucky for ducks, the blinds nevertheless make brilliant found art objects, with their myriad idiosyncrasies and fortuitous displays of impromptu balance and improvised form. Campbell's gorgeous prints are saturated with detail and create an absorbing experience out of each individual blind. Seen together, these funky secret shacks coalesce into something more, and more beautiful than any outsider could imagine. Congratulations to Campbell for going into their territory and bringing the blinds back so very alive. Duck Blinds: Louisiana is on view through April 30.