Environment
It Ain't Easy Being Green
Can Santa Barbara Survive the Renewable Energy Revolution?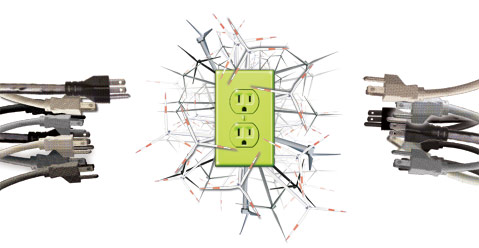 Scientists at NASA's Goddard Institute for Space Studies recently announced that 2010 tied with 2005 as the hottest year on record, American military personnel are now operating in two major oil-exporting countries, trace amounts of radiation from the meltdown of the Fukushima-Daiichi nuclear plant in northeastern Japan are showing up in our milk, and the price of a gallon of gas just eclipsed that of a Jack in the Box Jumbo Deal. That's the one that comes with a burger and two tacos.
With the dangers of fossil fuel consumption multiplying and scrutiny of the nuclear industry and worldwide energy demand steadily increasing — in Santa Barbara County alone, we consume more than three billion kilowatt-hours (kWh) of energy per year and produced two billion pounds of carbon emissions in 2007 according to the Community Environmental Council (CEC) — the reasons for augmenting the nation's renewable energy production are legion. And if the country is ripe for a clean-energy revolution, why not stage the revolution right here in Santa Barbara — a region that prides itself in founding Earth Day, markets itself internationally as an Eden-like natural paradise, and lays claim to a university with one of the nation's first environmental studies programs? Why not do it here when the resources that make the South Coast such a desirable (and expensive) location to live in — plentiful sun, miles of accessible shoreline, and a mild, breezy climate — are the same that could provide endless supplies of renewable energy?
In seeking the answer to that question, I talked to several developers, consultants, land-use attorneys, and public officials. What I found is that it is much easier to "think globally and act locally" on a bumper sticker than it is in Santa Barbara County. For several practical reasons, Santa Barbara County is inhospitable to alternative-energy projects. When you cut through the bureaucratic difficulties and the limits of our resources, though, what you are left with is a philosophical conundrum. While the economic causes and environmental consequences of fossil fuel consumption can only be understood globally, environmentalism in Santa Barbara County is an intensely local affair.
While wind farms, solar farms, and wave energy could provide the means to a more sustainable energy portfolio, they don't come without concerns for Santa Barbara. The county's unflagging dedication to environmental protection might just get in the way of saving the world.
Eco-nomics
In a somewhat controversial 2007 book titled Break Through: From the Death of Environmentalism to the Politics of Possibility, authors Ted Nordhaus and Michael Shellenberger argue that environmental activists misunderstand the relationship between the economy and the environment. Activists typically see the Industrial Revolution and the vast economies it created as the reason we need to protect the environment. Nordhaus and Shellenberger contend, however, that without the wealth created by economic development, nobody would give a fig about pollution or pesticides. It isn't until people have the security of a job, shelter, food, and some leisure time that they can turn their attention to "postmaterial needs" such as a healthy environment.
Therefore, the authors maintain that we can't expect poor people in third-world countries or emerging economies to care about reducing carbon emissions until their standard of living approaches ours. In a sort of chicken-and-egg conundrum, it will take more energy to get to that point. According to the U.S. Energy Information Administration, worldwide energy demand will grow 49 percent from 2007 levels by 2035. When I spoke with him recently, Rutgers philosophy professor Martin Bunzl, who writes about environmental ethics, said, "To me, there's something absolutely galling about us quibbling about the aesthetics of windmills as the rest of the world seeks to get the minimum energy to get out of a subsistence living."
Whereas the environmental movement's original impetus came from protecting area resources — such as the Gaviota Coast from McMansions or our beaches from oil spills — climate change transcends borders and asks us to pay attention to populations halfway around the world.
Laurel Fisher Perez, a planning consultant who graduated from UCSB's environmental studies program and then spent five years working for the county made the point succinctly: "If you are saying no to renewable energy here, you are saying yes to oil somewhere else. It won't be here, but it will be somewhere like Venezuela or Colombia, where they don't have the same restrictions."
Santa Barbara's fierce localism might keep it beautiful, but it could also keep the county on the sidelines in the battle against climate change. This conflict manifests itself in the tension between environmentalists and developers. "It's always been us versus them. What can we get out of the developer?" said Megan Birney, renewable-energy specialist with the CEC. On the other side, when I told regional wind-energy consultant John Stahl that the Environmental Defense Center (EDC) strongly advocates for a pre-project stakeholder process in which developers meet with environmentalists, academics, representatives from regulatory agencies, and other interested parties from the community to hear their concerns, he replied, "That's just letting the camel get his nose under the tent."
In truth, the interests of renewable-energy developers and environmentalists are not so divergent. The environmentalists vociferously endorse green energy production, but they do worry that in the rush to build, developers can overlook area impacts. When the Audubon Society questioned if Acciona — a company that will likely begin construction on a wind farm near Lompoc before the year ends — had taken enough steps to mitigate bird deaths, the EDC took up their cause. Stahl said that global warming will kill a lot more birds than wind turbines (and that buildings, power lines, and cats already do). Bunzl wonders if it really even matters. He said that to meet the world's energy challenges, we will need to make some unsavory compromises.
East of Eden
The citizens of Kern County are much more willing to make those compromises than those of Santa Barbara. Assuming that the two proposed projects in Santa Barbara County — the Lompoc wind farm and a solar farm near New Cuyama — make it to completion, they could eventually provide about 140 megawatts (MW) of renewable energy to the region, less than 5 percent of the county's current electricity usage. By contrast, Kern County is right now constructing facilities that will provide 2,800 MW — for the mathematically disinclined, that's 20 times more than the amount that would be produced by Santa Barbara's planned facilities.
There are obvious reasons why it is easier to develop in Kern: more open space, desert land with friendly topography, and great sun and wind resources, as well as cheaper real estate and new transmission lines. (Southern California Edison is currently working on phase two of the high-capacity Tehachapi Renewable Transmission Project.) Even with a massive increase of collective willpower, Santa Barbara could never support as many facilities as Kern.
Still, there might be a lesson to be learned from our neighbors to the east. I called up Lorelei Oviatt, Kern County's planning director, to find out. Oviatt said that Kern has been implementing renewable-energy facilities for a long time now. Its planning department first identified sites for wind turbines in the 1980s. Because the two projects in Santa Barbara are both the first of their kind, planners and supervisors must tweak the zoning codes to accommodate them. Kern already has a protocol in place.
Moreover, Kern County actively solicits projects and bends over backward to please developers. Although its planners must complete the same studies and environmental impact reports as any other county, they ask for less information up front. "I would rather have [a developer's] application and their deposit," said Oviatt, so that she can begin studying it as quickly as possible.
To that end, she said that about two-and-a-half years ago, the planning department decided to divide its staff of 10 planners into teams so that every proposal can be studied simultaneously. She said that the reorganization has allowed her staff to produce Environmental Impact Reports (EIR) in 12 months as opposed to 18 to 36.
This all speaks to the fact that Oviatt thinks of solar and wind farms in economic terms more than in environmental terms. Kern County's unemployment rate hovers around 17 percent, and, therefore, concern for the environment takes a backseat to getting people work.
Barriers to Building
Dave Azzam, project manager for the Acciona Lompoc wind farm, said that Santa Barbara is "probably one of the toughest counties in the country" in which to achieve all of the permits necessary to begin a utility-scale project, but he can't say exactly why.
Our laws are not particularly different from those of other coastal California counties. Glenn Russell, Santa Barbara County director of planning and development, said that the land-use codes in Santa Barbara County differ little from those in San Diego County, his former employer. (Wind-power developers there, however, circumvent state and county regulations by building on Native American reservations.)
In Ventura County, there are no utility-scale projects underway, and San Luis Obispo is currently shepherding its first two utility-scale projects through the county approval process. At 250 and 550 MW, those two solar farms (the larger one to be constructed by First Solar) dwarf the scale of the 40 MW New Cuyama proposal.
Land-use attorney Susan Petrovich said that opponents of development will often ascribe their discontent to environmental concerns. (Lompoc valley landowners George and Cheryl Bedford sued the county in March 2009, claiming that its EIR for the Acciona wind farm did not meet California Environmental Quality Act [CEQA] standards. They lost but have appealed.) This can unfairly feed into the perception of environmentalists as meddlers, but its more tangible effect is to force planners to move extremely methodically and take precautions to shield the county from litigation.
Planning consultant Perez, who is currently shepherding solar developer First Solar through the county's permitting process, said that the county's "environmental analysis is the highest amount of rigor that I've seen anywhere." She said that many projects dry up halfway through permitting, often for lack of funds.
"It can cost from $250,000-$400,000 for the EIR alone," said Perez. Then, she added, there are county permit fees and "costs for consultants like me, engineers, biologists, archaeologists. We've worked on projects that have taken over a million dollars to get through the permit process."
The county's inability to support utility-scale projects goes beyond a prohibitive permitting process. Kevin Drude, energy specialist and supervising planner in development review with S.B. County Planning and Development, said that Santa Barbara's transmission infrastructure is woefully obsolete. Updating, Drude said, would cost hundreds of millions of dollars. "It doesn't seem like that's going to happen unless somebody wants to reach deep in their pockets, and I don't see that happening in this economy," he said. (Acciona did upgrade the lines near their project, so they can accommodate 97.5 MW.)
Then there is the cost of real estate. "Could you imagine trying to buy 3,000 acres of prime real estate [in Santa Barbara County]?" asked Drude, who has the unenviable task of fielding complaints from both developers and environmentalists. The former group typically wants the county to relax its environmental restrictions while the latter wants to tighten them. But what happens when the developer and the environmentalist are the same entity?
This is the case with First Solar, a Phoenix-based company that began as a manufacturer of solar cells and eventually branched out into developing its own facilities. First Solar has entered into an agreement with Bolthouse Farms to purchase 320 acres of disturbed agricultural land near New Cuyama in hopes of completing a 40 MW solar farm. Unlike with the two solar farms proposed for San Luis Obispo County's Carrizo Plain — one of them also a First Solar project — there is little public opposition to this one, due mostly to the fact that it would be built on a wasteland, the well-water of which has been overdrafted by years of carrot cultivation, rather than on a jewel of biodiversity and natural tranquility.
Perez is palpably excited about working on the solar farm proposal because she believes she may never have the chance to consult on a local project again.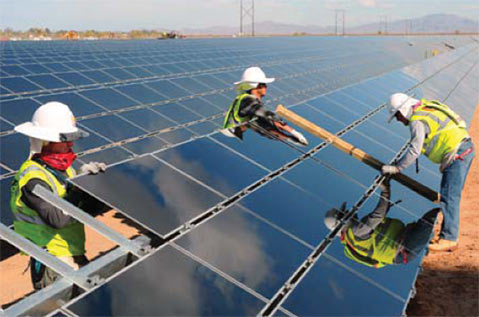 Cost-Benefit
There are good reasons to be skeptical about such projects. Drude said, "The reason this place is so beautiful is because we have environmental policies. These large-scale projects do have a development footprint." They disrupt habitats, necessitate new power lines, harm sensitive flora and fauna, infringe on agricultural land, create an eyesore (depending on your definition of beauty), and, in the case of wind turbines, kill birds and bats.
Patrick Veesart, an activist who has protested the building of solar facilities on the Carrizo Plain, believes that energy should be produced in urban areas so as not to disrupt rural ecosystems. "The goal is for us to stop changing the balance of the planet," he said.
The benefits of building solar panels on the roofs of private and public buildings are just now starting to outweigh the costs. What energy experts call "distributed generation" offers several benefits over centralized facilities. When electricity travels across a power line, up to 30 percent of it can get lost, a nonexistent inefficiency when the power is created right where it is used. With solar, in particular, scale does not increase efficiency. Assuming they absorb the same amount of sunlight, 100 solar panels will create just as much energy dispersed throughout a city as they will all in the same place.
While scale does not increase energy efficiency for solar, it does increase economic efficiency. "Like most things, economies of scale come into play and large solar farms can generate electricity at a lower cost per kWh than solar panels distributed across rooftops" said Birney. "Also, we simply don't have enough rooftops."
What we do have are miles of coastline. Currently under development around the world are wave energy converters (WECs), which use the up-and-down motion of waves to move hydraulic devices or pistons that spin turbines. "A good site" for a wave energy facility, said Paul Jacobson of the Electric Power Research Institute (EPRI), "is one that has a lot of wave energy, obviously, in which wave energy is fairly consistent seasonally. Those tend to be areas that have exposure to prevailing wind over long distances of water. That makes the Pacific Coast especially good."
PG&E agrees and is currently conducting studies under a preliminary permit to gauge the feasibility of a wave-energy facility in state waters near Point Arguello. An added bonus to a site in that area is proximity to Vandenberg Air Force Base and its existing transmission infrastructure.
These devices come with very real environmental impacts of their own. Jacobson said that wave-energy facilities could potentially impede migration channels for marine mammals and that sea creatures could collide with either the devices themselves or mooring cables (ditto for diving birds). Navigation lights could also confuse migrating birds. And a wave-energy facility would likely put and end to using the area for fishing and recreation.
It would also face scrutiny from any number of regulatory agencies from the local to the federal level. The same is true of offshore wind turbines. The area west of Santa Cruz Island is especially rich in wind, but the Channel Islands are part of a National Marine Sanctuary and an important symbol (and example) of nature preservation in the area. Construction would face both federal restrictions and public opposition. Drude does not think it likely that anyone will be able to build an offshore facility near the islands, but the region clearly offers adequate renewable resources for Santa Barbara to provide for its own electricity needs.
Harnessing those resources, however, would necessarily transform the landscape and seascape that define Santa Barbara as a terrestrial paradise. There is, as of yet, no simple calculus for evaluating whether it is a transformation we can live with or whether it is one the world can live without.