Positively State Street
New Noise Brings the Funk to Earth Day
Mumford & Sons Sell Out the Bowl, Ellie Goulding Hits UCSB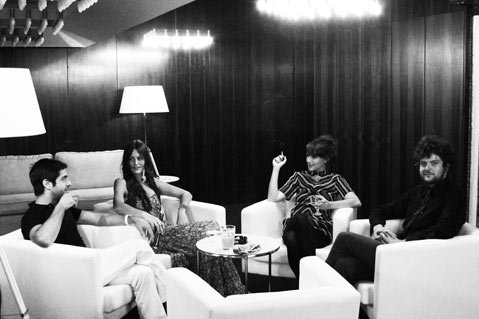 HEAL THE WORLD: For those of you music fans who got locked out of Coachella 12.0, fear not. As in years past, the annual West Coast music melee is bringing with it more than a fair share of killer area shows. (See Monday's sold-out Mumford & Sons gig at the Bowl, Tuesday's Broken Social Scene stint at the Ventura Theater, and this week's early arrivals Jenny & Johnny and The Morning Benders, both at SOhO.)
And also as in years past, the weekend will bring Santa Barbara's Earth Day Festival back to Alameda Park for two days of eco-conscious fun. S.B.'s annual Earth Day blowout is always chock-full of planet-friendly info, including booth-bound instruction for how to compost, bike safely, and raise your own backyard poultry. But this year, the entertainment is also getting a mighty boost by way of New Noise Santa Barbara. Already locked in for Saturday's fest are area country/punk crooner Nate Latta, L.A. folk revivalists He's My Brother, She's My Sister (who will also headline SOhO that night), San Diego blues rockers The Silent Comedy, and Santa Barbara Afro-beat funksters Wetlands. And on Sunday, the goods just keep on coming, with sets from singer/songwriter Elina Wells, Santa Barbara blues rockers Sprout, and Indy-approved positive-vibe makers The Goodland. In short, it's a lineup made for rockin' out. And, hey, you may just come away with some new, tree-hugging knowledge, too. The fun stretches from 11 a.m.-7 p.m. on Saturday, April 16, and 11 a.m.-5:30 p.m. on Sunday, April 17. For a full lineup of events, visit sbearthday2011.sched.org.
SET 'EM FREE: Also this week, Missouri-born singer/songwriter Matt Wertz teams up with Ben Rector for a night of heartfelt rock at SOhO (1221 State St.). Since splitting with his Universal Republic label back in 2009, Wertz has been hard at work on new material. The final result, this year's Weights & Wings (released last month on Nettwerk) is an undeniable step forward that finds Wertz abandoning his more haphazard musical tendencies in exchange for straightforward, lyrically strong compositions. Wertz plays a 21+ show this Friday, April 15, at 8 p.m. Call 962-7776 or visit newnoisesb.com for info.
WORTH THE DRIVE: And if you're still in the market for some live tunes, there are plenty of under-the-radar and off-the-main-drag shows worth checking out this week. On Friday, April 15, you can catch Santa Barbara staples Big Jugs and The Mutineers when they bring their eccentric, eclectic takes on country rock to the Creekside Inn (4444 Hollister Ave.) at 8 p.m. Up north, Isla Vista's Biko Co-op Garage (6612 Sueno Rd.) hosts indie rockers Lake and AgesandAges. Both bands boast group vocals, pretty harmonies, and a whole lotta soul, and they draw equally from the American pop songbook and contemporary folkies. In other words, it's feel-good music for the thinking set. The show starts at 8 p.m. Visit sbdiy.org for info. Rounding out your Friday-night offerings is a trek well worth the drive. At Lompoc's Wicked Shamrock (143 N. H St.), former Le Petit Protest mastermind Randall Sena debuts his newest project, Millions. As Sena explained it, the band was formed through a series of writing and recording sessions with area luminaries like oso, Tall Tales, and Sparrow's Gate. And while I know few of the tunes, I can easily vouch for Sena's live-show potential. Add to that his self-described "male version of Cat Power" vibe, and, well, I'm sold. The 21+ show starts at 9 p.m. with openers Sparrow's Gate. Call 736-9132 for info.
And finally, Monday, April 18, London's electro-pop princess Ellie Goulding takes a post-Coachella stop at UCSB's Hub at 8:30 p.m. Buoyant, blown-out, and synth-heavy, Goulding's shtick is part Imogen Heap, part Katy Perry, and guaranteed to start one hell of a dance party. Visit aspb.as.ucsb.edu for tickets.