Columns
Globalizing Your News Portfolio
KCSB Brings Al Jazeera English to the Tri-Counties
KCSB has long united the global and the local. On the station's music shows, for instance, you might well hear a DJ spin Egyptian reggae followed by Japanese jazz followed by Norwegian pop and then talk about the impromptu concert they saw last night at an Isla Vista house party. But the newsier side of KCSB, too, concerns itself as much with large-scale world events as it has with goings-on right here in our proverbial backyard. It just happens to have gotten a lot more global with the introduction of twice-weekly broadcasts from Al Jazeera English.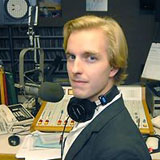 Launched in 2006 from Doha, Qatar as the very first Middle East-based, English-language world news channel, Al Jazeera English has earned accolades aplenty from the Royal Television Society, Amnesty International, YouTube, and the International Emmy Awards, in addition to winning the title of "Best 24-Hour News Programme" at the Monte Carlo Television Festival. Dispelling any possible doubt about its worldliness credentials, Al Jazeera English maintains broadcasting locations not just in Doha but also in Washington D.C., London, and Kuala Lumpur, Malaysia, not to mention its 21 bureaus worldwide (plus the 42 it shares with its Arabic-language sister channel), its employees from 50 countries, and its 220 million-household reach in over 100 countries.
Finding myself stuck, as we all are, in a media world blurred with spin from all possible directions, I've tried to hone the news consumption strategy of diversifying my informational portfolio. Al Jazeera English's broadcasts further diversify KCSB's own already diverse news portfolio, joining programs like Free Speech Radio News, Alternative Radio, and Democracy Now!, as well as the public affairs coverage produced in-house by KCSB's own news department. Its debut on the schedule also makes KCSB the first radio station in the Tri-Counties to carry Al Jazeera English content, falling neatly in line with KCSB's stated mission to deliver content possessed of three qualities: "stimulating, informative, and generally unavailable from other local media."
"Al Jazeera actually has reporters on the ground all over the world," said KCSB Staff Advisor Elizabeth Robinson, who also produces the long-running programs No Alibis and Third World News Report. "Virtually every other outlet has cut back. It's one thing for someone covering the Congo to report from Johannesburg, South Africa; it's another for them to report from the Congo. Too often, the former is the case. Al Jazeera assumes people living in those far-flung places are capable of reporting on themselves and knowing intimately what's going on, versus Anderson Cooper, no matter how good his intentions are, flying into somewhere he may now know or have thought much about. Its point of view comes from the perspective of the place they report from, rather than from the United States, or from the British, or from the Saudis."
How have Al Jazeera and Al Jazeera English kept expanding in an age when other news organizations have shrunk? They enjoy financial flow from a source the CNNs and CBSes of the world don't: the Qatari government. "Al Jazeera is funded, but not controlled, by Qatar," Robinson explained, "or so they say. That's always the danger; money compromises everything. But on one of the first broadcasts they aired, the question of whether [former Egyptian President Hosni] Mubarak actually had a heart attack, they brought in voices from both sides. They physically pulled out of Iraq when they U.S. and Iraqi political interests pressuring them. They have to be careful about keeping their distance, but they've earned their stripes, so to speak."
But like any smart media consumer, you don't just want to take someone's word for it. Tune in to KCSB's new Al Jazeera English broadcast and judge for yourself for half an hour every Tuesday and Thursday evening between 5:30 and 6:00. You might come away swearing never to tune in again; then again, you might find it's the finest news you've yet heard on the airwaves. Either way, you'll hear yet another variety of radio nobody around here but KCSB can offer.
4•1•1
KCSB broadcasts Al Jazeera English news every Tuesday and Thursday at 5:30 p.m. Go to kcsb.org or tune your radio to 91.9 FM.