Arts & Entertainment
Five Questions with Linda Perry
Pop's Leading Songwriter Reunites with the Rock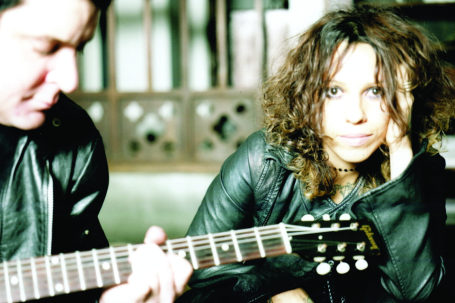 For the younger set, Linda Perry's name is synonymous with Top 40 hits. In the past ten years, Perry has been responsible for collaborating with — and penning many of the tunes for — big name acts like Pink, Christina Aguilera, Gwen Stefani, and Kelly Osbourne, amongst a veritable laundry list of others. For those with a few extra years under their belt, Perry is perhaps best known as the yelping voice behind 4 Non Blondes and, more specifically, the band's ubiquitous 1993 hit, "What's Up?"
Today, though, the 46-year-old songwriter is picking up the pieces of her long neglected solo career and forging a path that has little to do with the big production (and big budget) music making of recent memory. Specifically, it's Perry's latest project, Deep Dark Robot that's been occupying her time. The band, a collaboration between she and Tony Tornay, recently released 8 Songs About a Girl, an album brimming with hard rock licks, intensely personal lyrics, and Perry's signature emotive howl. Stemming from a breakup with actress Clementine Ford, the songs are gritty, angry, and frustration-fueled. In other words, the stuff pop music fears most. I recently spoke with Perry in advance of her Wednesday, April 20 stop at Velvet Jones.
You're currently on tour in support of 8 Songs. What's it been like to get out on the road again? It's an ego buster, you know? I've done a lot of different things, so for a few seconds there have been times when I'll come out on stage and there won't be a very big crowd, and it kind bums me out. But then I'll hit that very first chord or that first lyric and it just doesn't matter. I'm really thankful for that. I just love playing. I just find it interesting that I'm even considering being bummed for that half a second.
Can you tell me a bit about how Deep Dark Robot came about? Was there a point when you realized you were going to commit to this and leave the studio behind for a while? It wasn't really a decision. My whole career has been based on me just going with what the universe is throwing my way. I've always done things on a gut feeling and never really thought much about what I'm doing. I kind of just do it. … I've been in the studio for 15 years and enjoyed every moment of it, but in the past year it's been feeling sort of underwhelming. I'm not inspired and sometimes I'm a little disappointed by people's intentions; when what they're trying to do really has nothing to do with music. Then I started writing songs that didn't really seem to fit anybody else and I realized, oh, I guess I'm supposed to be doing this now.
There's an intensely personal nature to every one of the songs on this album. How difficult has it been to get up and perform this stuff on a nightly basis? There's definitely been moments when you see my mood change; people have pointed it out after shows. Fans have told me, 'You're so intense. It's like we're witness to the whole experience you had because your mood changes through it.' I didn't realize it, but one night I caught it and I had to stop in the middle of the set and just breathe and gather myself and move on to the next song. But yeah, I mean, we're talking about someone I never got; someone I'm completely still in love with. I wrote a whole album about it and the frustrations of it, and I'm not angry, I'm just sad. I think it's a sad, romantic story. … I've told some people, I think it's because she's straight and couldn't make that leap, and it's a big leap, it's a big lifestyle change, but I also think it's more than that. That just seems not so deep, and this girl's deeper than that, so there has to be something more. It's sad, but she's also really inspiring. She basically introduced this whole thing to me. If it wasn't for her I would have never wrote these songs, I wouldn't be on tour, I wouldn't be talking to you…
Is the personal nature of the material ultimately why you decided to keep these songs for yourself, rather than handing them off to another artist? I don't think so. I didn't ever intentionally go, oh, these are too personal. They were just too different. Without sounding snobbish, I think they're too good for anybody I work with. There's no way anybody is going to deliver this. … I've already struggled with certain songs that, when I wrote them, had this really huge emotional feeling and then watched them go out there and not get that emotion.
The one thing that strikes me about 8 Songs is just how gritty and hard rocking they are. Did you know from the onset that that was the sound you wanted, or was that something realized in the studio? Well, what you're hearing on this record is really my style. I've been trying to do this type of production on a lot of people and they just don't want it. It's too raw, it's too this, it's too that. I'm very simple. Production to me should be extremely simple. … Sadly, we live in a time right now where there's really no song and it's all about production.
4•1•1:
Linda Perry brings Deep Dark Robot to Velvet Jones (423 State St.) this Wednesday, April 20 at 8 p.m. with openers Naked Walrus. Call 965-8676 or visit newnoisesb.com for tickets and info.