Arts & Entertainment
Rockshop Academy Goes for Broke
Martin Gore to Deejay Fundraising Event on Saturday, May 7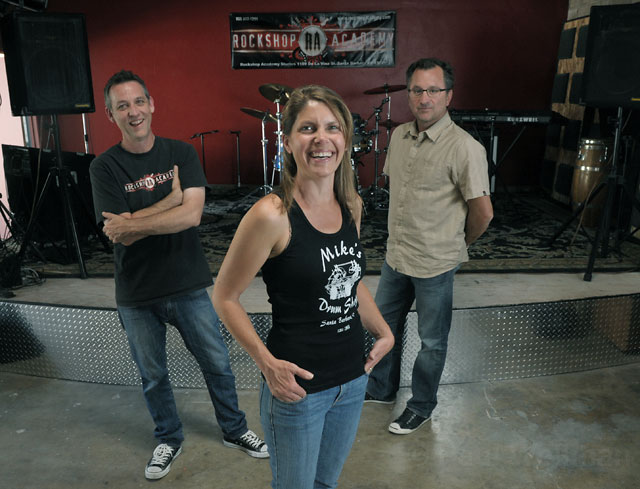 Face it, if you're an underage musician in Santa Barbara, you don't have a lot of options of places to play. While Muddy Waters Café continues to wave its all-ages flag high—and Velvet Jones, Madison's, Savoy, and SOhO work hard to keep a smattering of shows open to the under-18 crowd—the venue-to-musician ratio is still severely out of whack. Blame the bar-ification of lower State Street, the recent closures of Jensen's Mainstage and Live Culture, or the exorbitant rental rates throughout downtown, but for most youngsters, there's simply nowhere to plug in. That's where the Rockshop Academy comes in.
Founded in 2009 by Mike's Drum Shop owner—and former Dishwalla member—George Pendergast, the onetime summer camp has recently blossomed into a full-blown, year-round endeavor, where young musicians of all styles and skills sets can come, meet, and jam with other players in the community.
"At 13, I'd been playing drums since I was 5, and so had [fellow academy instructors] Alastair [Greene] and Marko [DeSantis] from Sugarcult, and Chris Shiflett from Foo Fighters," said Pendergast. "By 15 we were players. So I thought, 'What do these kids do?'"
The answer, Pendergast believes, is to get out and start jamming. Within the Rockshop's summer camps, these young players are not only practicing, they're making connections with like-minded musicians and learning from some of Santa Barbara's most accomplished names. Together, Pendergast and his rock 'n' roll buddies instruct kids on basic songwriting, live-performance techniques, and DIY-style marketing, and offer critiques and advice to young players looking to make it big. Nowadays, though, the Rockshop and its players are turning their attention on the live show and, more specifically, a place on site for young bands to flaunt their stuff.
"I used to open the garage doors on Fridays to give the kids some performance experience," Pendergast recalled. "We'd invite their friends and family to come for the last half hour of the Rockshop to watch what we'd worked on, and it became just as real of a performance for them as any performance I'd ever done. By the last time we did it, we probably had 30 people sitting in this disgusting parking lot with no shade, which is when the idea came to just build a stage."
Thanks to a few willing hands—and a lot of positive feedback from the kids and adults who frequent the shop—Pendergast's dream is nearing reality. Currently, the show space is close to completion, thanks to a generous and sizable donation from the Rudi Schulte Family Foundation and a helping hand from Depeche Mode's Martin Gore, who will deejay a benefit this Saturday night to help raise funds for the project.
"[Martin's] daughter is one of my students," Pendergast explained. "I had her on my radio show, and he showed up just as a parent, to load gear and help her warm up her voice and remind her to drink water. We all went out to dinner afterward, and he asked me what was going on with the performance space. I told him about this very generous donation we got from the Rudi Schulte foundation, and he said, 'Well, I'd like to do something.' I said, 'Why don't you do a deejay set for us?' and he said 'Done.' So that was that."
Not surprisingly, Gore is just one in a long line of working Santa Barbara musicians who have jumped on board with the Rockshop. Also in the mix: Snot's Mikey Doling, The Penfifteen Club's Luke Tierney, and Dishwalla's Rodney Cravens, Greene, and DeSantis.
"I started reaching out to my bros, and they're all dads and they all grew up here, and they all know there's nowhere to play," said Pendergast. "To be an older guy who's played music for a while and had various successes and kind of understand what it's all really about, it's not that hard to give back."
4•1•1
Martin Gore deejays a benefit concert for the new Rockshop Academy Performance Space at the Savoy (409 State St.) this Saturday, May 7. Doors open at 8 p.m. For tickets and info, call 957-4111 or visit tickets.thesavoysb.com.