Arts & Entertainment
Fleet Foxes at the Hollywood Palladium
Seattle Folkies Give Us a Set Well Worth the Drive on Saturday, May 7
Love 'em or hate 'em, there's no denying the sheer power of Fleet Foxes' live show. The Seattle-born six-piece has built a career out of big, four-part harmonies, which played no small part in their Saturday-night gig at the Hollywood Palladium. But in between the epic, swelling folk hymns was something different and, somehow, equally resonating.
Armed with an arsenal of new material and fresh off the release of their sophomore effort, Helplessness Blues, the Foxes spent Saturday jockeying between old gems ("Drops in the River," "Mykonos," "Your Protector") and newly hatched offerings ("Grown Ocean," "Montezuma"). In the live setting, the selections played off each other seamlessly, musically charting the growth and evolution of a band that seems to only be getting better with age.
True to recorded form, frontman Robin Pecknold acted the consummate musician: thankful, slightly awkward, and undeniably earnest. Whether accompanied by his fellow bandmates or alone at the mike, Pecknold radiated conviction and soul, bringing the sold-out crowd to awestruck silence with his a cappella rendition of Joan Baez's "Silver Dagger."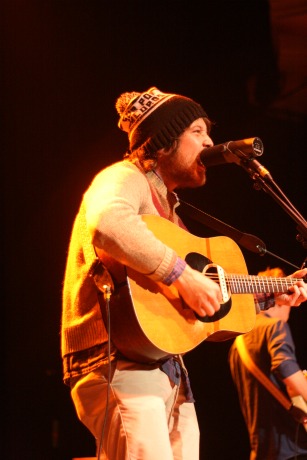 At other points in the night, it was drummer J. Tillman who stole the show, brandishing all manner of percussion tools from behind the kit and holding down the vocal low end without missing a beat. Sonically, the highlights came in all forms; "White Winter Hymnal" was a dizzying and harmony-filled pastoral sing-along, and "Lorelai" a sweeping, waltzy breakup ballad. And toward the end of the set, "The Shrine/An Argument" stood as proof positive of the band's — and Pecknold's — great technical prowess. It's stark, almost eerie folk start was the perfect platform for Pecknold's biggest, strongest cries, and it's crashing, percussion-heavy middle found the band playing as tightly as I'd ever seen them. For its close, the song broke down into a noisy, free-jazz-style romp that far exceeded its recorded counterparts and gave the bandmembers ample room to stretch their musical muscles.
As the set closer, "Helplessness Blues" seemed the apt, albeit predictable end to the evening. Structurally, it bridged the gap between the Foxes' older material and the new. And lyrically, it captured precisely where the band currently stands: introspective, questioning, confident, and just as curious about their future as we are to hear what comes next.