Bottles & Barrels
Running Rhône Wild
A Report from the 19th Annual Hospice du Rhône Wine Festival in Paso Robles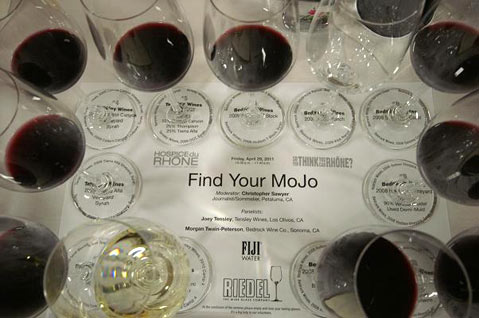 "Either someone out there is wearing bowling shoes, or another Hospice du Rhôner has evaporated."
With those opening remarks a couple weeks ago, winemaker John Alban pretty much summed up the fun-loving spirit of Hospice du Rhône, the annual wine event celebrating syrah and her many sisters that's been going down up in Paso Robles since 1991. He was referring to the pair of shoes he was holding in his hand, refugees from the previous night's Rhône 'n' Bowl event at Paso Bowl, where winemakers from France, California, Australia, and elsewhere had battled it out with balls and pins amid a swirl of fine food and finer wine.
From Côte-Rôties and crispy-fresh viogniers to Kobe beef corn dogs and chicken-Parmesan-on-a-stick, the bowling was a tasty affair, and pretty mild, too, even with karaoke going strong 'til about 9:30 p.m. — although the collective hair got let down later at Villa Creek Restaurant just off the square in downtown Paso, where many switched from vino to liquor and the chatting was reminiscent of a high school reunion. The Friday morning comments got some chuckles during what must have been an early morning for many of the attendees, but soon we were switching to the serious side of the weekend: the panels, upon which sat experts from around the world to discuss the trends of the day.
Intro to Rhône
The first panel, called "Rhône Valley Wines" and featuring French winemakers Michel Gassier (Château de Nages), Nicolas Haeni (Domaine de Cabasse), and Alberic Mazoyer (Domaine Alain Voge), proved a perfect introduction to the whole affair, but it was also quite a coup for the event. Alban explained that when he started the event 19 years ago, he never imagined that anyone from the "inner Rhône" would ever participate, which was the humble way to say that Hospice du Rhône —and the wines of California — have come quite a long way in just two decades.
The Rhône Valley, we learned, is 150 miles long by 30 miles wide, consists of 182,500 acres, and is France's second biggest wine-producing region, which ushered in the first of many digs at Bordeaux, France's top wine hub. There are 6,000 vineyard owners whose grapes are used by 1,550 wineries to produce more than 400 million bottles in 2010 alone; of that, 80 percent is red and 30 percent is exported to 155 countries, with the United Kingdom the top importer and the United States quickly trying to take that position, its Rhône desires growing 22 percent from 2009 to 2010. Red wines from the northern Rhône must only be syrah, and wines from the southern Rhône are dominated by grenache, although mourvèdre, cinsault, carignan, and syrah may also be blended. The dominant whites are viognier, marsanne, and roussanne, although grenache blanc seems to be gaining steam. The most heralded wines come from one of the 18 crus in the Rhône, and below that top designation, there are 17 Côte du Rhône "named villages," where wines from those regions must bear the name of the village as a sign of higher quality. Like a soccer league, villages may sneak into the named category as their qualities rise, and underperforming villages may fall out, too.
Concerns for the environment, like in California, are beginning to influence winemakers in the Rhône, explained Michel Gassier, a fourth-generation winemaker. There's only 6 percent listed as organic, but that's growing by more than 30 percent each year, and he is looking at perhaps going biodynamic as the next step, while also recognizing that, with climate change, different varietals may play different roles in the vineyard depending on when they ripen. Though he said his earlier wines were like "primal screams" of "existential angst" — indeed, he wisely remarked that "you're a caricature of what you're supposed to be" when a young man — Gassier today enjoys making wines "that make you travel without leaving your living room."
Nicolas Haeni also has environmental concerns on his mind, and showed some slides of a terracing project at his Cabasse vineyards. Employing a technology only used so far in the Priorat region of Spain, Haeni explained that the method is very gentle on the soil, lends itself to more homogenous terroir, and fights against erosion. It's just one of many experiments that he's happy to rile up his more traditional father with, such as when he made one barrel of syrah with 100 percent stems, and everyone liked it. Whatever the case, his Domaine de Cabasse 2007 Côtes du Rhône Villages Séguret Cuvée Garnacho (its grenache base offset with syrah, carignan, and counoise) offered a subtle truffle or mushroom flavor, and was my favorite of the morning bunch.
California MoJo
The morning's second panel featured Santa Barbara County's score-bagging superstar Joey Tensley of Tensley Wines and equally respected Morgan Twain-Peterson of Bedrock Wine Co. in Sonoma, with deft and insightful moderation by sommelier and writer Christopher Sawyer. As the trio chatted, the crowd was led through 10 distinct and hard-to-find wines, a true treat for anyone interested in syrah.
Tensley's focus is on single-source wines — the vast majority of his 3,000 annual cases come from Colson Canyon — but he does do a Colson, Thompson, and Tierra Alta vineyard blend into a magnum for his "OGT," which is named after his son, who, Tensley figured, "was too complex" to be represented by just one site. But we started with his only white offering, a 2010 Camp 4 blend of 65 percent grenache blanc (picked a bit early) and 35 percent roussanne (picked a bit late). It was memorable, but still, said Tensley, "White Rhône varietals aren't the easiest to sell." So why make one? Because, he explained, he needed to offset the seven syrahs he'd have to pour at a seven-course dinner. As to his syrahs, which are representative of all the major climate zones of Santa Barbara County from west to east, Tensley believed that the combination of hot days and cold nights is "what keeps our wines fresh."
Trying out new things with wine was very much the motivation for Peterson, whose father, Joel, founded Ravenswood Winery and is known as the "godfather of zinfandel." He explained, "To me, what's amazing about syrah is the experimentation it allows us as winemakers." From foot-trod wines to aging in double-sized barrels to tossing in some viognier, Peterson clearly lives an interesting winemaker's life, and had plenty to share about his thoughts on how varietal-clone impact fades with vine age and how communication will always be a part of wine sales, especially in, as Tensley remarked, "cracking the Midwest," where Rhône sales lag. "Twenty years ago," said Peterson, giving us all a nice impression of his legendary dad, "I remember trying to convince people that zinfandel wasn't pink."
Sips and Swallows
The day's lunch was a rosé-soaked affair sponsored by Tavel, the region of the Rhône where the dry pink wine is king, and catered by Full of Life in Los Alamos (the flatbread people). Alone for the weekend, I jumped onto a table that turned out to have a wine store owner from Chicago, a salesman from Tablas Creek, an independently wealthy guy from Los Osos who hobbies in the wine biz, and two winemakers: Ryan Render of Rendarrio Vineyards in Paso and Shawn Shai Halahmy, of Shai Cellar in Buellton.
Next up was the afternoon tasting, where 86 Rhône winemakers from California, France, Chile, Spain, South Africa, and Australia offered nearly 400 different wines. Because they are hard to taste elsewhere, the French wines were certainly a hit, though I also enjoyed trying some of the more interesting offerings, too, such as the Humboldt County wines from Cabot Vineyards, located in Orleans in far Northern California.
But I soon retreated to my rented room atop the Pine Street Saloon in downtown Paso for a nap, as I had a dinner of expensively epic proportions on tap at Bistro Laurent. That's the French restaurant just off the square where I met Dave Yates and Matt Brady of Jaffurs Wine Cellars to chow down on serious grub with true Rhône wines to wash it all down.
It wasn't cheap, but it was once-in-a-lifetime stuff: frog legs and other apps, served with a white Château des Tours; wild greens and sautéed sea scallop salad with a Georges Vernay Condrieu "Terrasses De Empire" 2009; crispy tart with duck confit, local goat cheese, and caramelized onions with a 2006 Château Rayas white from Châteauneuf-du-Pape; a king salmon and braised lentils with two offerings, the 2009 Féraud-Brunel Châteauneuf-du-Pape and, perhaps the unanimous star of the night, a 2006 red from Château Rayas; and, if that wasn't enough, a ragout of venison with morels served with a Bernard Burgaud Côte-Rôtie 2007.
The next day, I was happy to sleep in and drive back to Santa Barbara for a wine-free Saturday as the rest of the Hospice du Rhône carried forth. I'd had a perfect first taste of this world-class event, and I certainly didn't want be the next attendee to evaporate.
4•1•1
Tickets for the 20th annual Hospice du Rhône event in April 2012 go on sale in November 2011. For more info, see hospicedurhone.org.