Columns
Jazz, Ambient, Women, and Musicology in the Wee Hours
Third Overnight Diary
We've gotten deep into spring, the most fruitful time for new KCSB programs. Even in the graveyard hours, you'll find shows stacked two-deep into time slots, alternating weeks to let the schedule accommodate as much freeform listening goodness as possible. Faced with this bounty, who could resist staying up late file another overnight diary in the KCSBeat?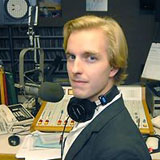 Monday, 2 a.m. I turn on the radio and get hit with a blast of chillwave — or at least I think it's chillwave. Wikipedia defines chillwave, also known as "glo-fi," as "a contentious genre of music where artists are often characterized by their heavy use of effects processing, synthesizers, looping, sampling, and heavily filtered vocals with simple melodic lines." However loud and long the arguments run on about this music's status as a real genre, In My Lungs makes it the order of the night. The program's deejay, known only as Envy, puts together mixes that somehow sound both slow and fast, both upbeat and relaxed, both ecstatic and somber. The way pop-musical experimentation has gone lately, I feel no surprise that staticky synthesizer washes, ghostly but perky vocals, and heavier-than-usual beats have intersected. Neither, apparently, does Envy, the way he talks about the microscopic chillwave-ish subgenres he spins, including "hymntronica", i.e., electronica composed by and harmonically influenced by the background of a former choir boy.
Monday, 4 a.m. Right after In My Lungs comes a program that rides the same musical highway but takes its very own exit ramp off of it. On Digital Ambient Designs, a KCSBer who calls himself Daniel cranks the vocals down but cranks everything else way up: not only do the tracks stretch out longer, they do so with sharper synthesizers, thicker bass, and draw from a wider range of musical influences all the while. Were I still an undergraduate, I would almost certainly study to this music. Not that, in my actual undergraduate days, I could ever summon the scholastic fortitude to pull the kind of all-nighter that has you hitting the books at 4 a.m. — but I knew people who could! The hypnotic quality of the music lends it its cramming-friendliness, but so does its relative wordlessness. In fact, this extends beyond the music to the structure of the program itself: Daniel lets the tracks to the talking, for the most part, popping in only every 30 or 40 minutes to let you know you've been listening to Royskopp, Coyote Clean Up, Pizzicato Five, or whomever.
Wednesday, 4 a.m. Take a glance at KCSB's early-morning Wednesday schedule. Look at the 4-6 a.m. slot. Have you any doubt about what to expect? Late Night Jazz serves up just that. Host Blake Bennett calls his show a mix of "fresh grooves and smooth jazz," but my listening experience reveals much more sonic interest than those words imply. "Smooth jazz," after all, usually refers to a now-defunct commercial radio format most commonly associated in the public mind with the Kenny Gs of the world. Bennett draws instead from the careers of players like T.S. Monk, Bill Frisell, Roy Hargrove, and a certain funk jam band formed at the Berklee College of Music called Lettuce. (He's really into Lettuce.) The Late Night Jazz experience offers not just instrumentals that flow like R&B but more traditional stuff as well, not to mention material that wanders out into the farther reaches of improvisation. The show doesn't operate on a purist's definition of jazz, but jazz doesn't strike me as a purist's game.
Thursday, 4 a.m. At the house the infomercials for Girls Gone Wild DVDs cut loose on cable television, the voices of Girls Gone Mild cut loose on the radio airwaves. The broadcast's official mandate demands the provision "female vocals in folktronica and indie rock," which sends out a whiff of musical eclecticism but, combined with that Mild in the title, doesn't exactly get you expecting a burst of musical exhilaration. Yet the cuts featured on the show, which come from the likes of the Yeah Yeah Yeah, Au Revoir Simone, Passion Pit, and The Bird and the Bee, dare you to resist getting down. I hear a little bit of the chillwave vibe I hear on In My Lungs, but with an even greater degree of danceability. The female vocals, with all due respect to female vocalists, become secondary; anybody could roll with these songs, no matter their vocal gender preference.
Saturday, 2 a.m. If you don't feel like putting in a late-night study session to a KCSB soundtrack — and if you do feel like studying this far into a Saturday night, seek help — how about listening to a lecture instead? Kyle Trager devotes each of his broadcasts on Deeper Cuts to an individual genre of music, and when he gets into a genre, he gets way into it. Talking as much as he spins, he gives the complete history of the major musical traditions feeding into the one under examination, playing material as old or as weird as it takes. Tracing the roots of electronica, for example, he goes not just back to Kraftwerk in the '70s but to the Mellotron in the '60s, the Theremin in the '30s, and, yes, to the very invention of the phonograph in the 19th century — and he plays samples of everything. As ways to get the equivalent of a musicology degree go, you could do worse.
For details on these shows and others, visit KCSB.org.