Columns
En la Radio KCSB, Se Puede
Greg Hillis's Morning Salsa and South American Sessions
Free-form radio-loving Angelenos have enjoyed Alma del Barrio, KXLU's 12-hour Saturday Latin music institution, for nearly 30 years. While KCSB, for better or for worse, may not boast any shows that last all day, it does give Santa Barbarans two hours of the finest Latin sounds a day earlier. Every Friday morning, DJ Greg Hillis dips into his vast personal music library to give us Aquí Se Puede. In other words, "Here, you can" — you can get bossa nova, Latin jazz, soul samba, tropicália, and more.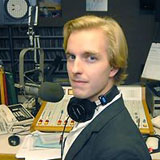 But like many KCSB shows, Aquí Se Puede didn't find its ultimate focus right away. Hillis began his career on the station in 2005 with Pedal Point, a showcase for pieces of music built around particular tonal centers. "I mostly played jazz," he told me when I sat in on a recent broadcast, "but then I played more and more Latin jazz. Then came the Brazilian stuff. One thing led to another." He'd been into blues and jazz for decades; it was Sérgio Mendes that shook up his musical worldview. ("I know, I know," Hillis groaned, preempting any criticism. "That's awful, schmaltzy music!") Upon hearing Brazilian pop artists like Gilberto Gil, Ivan Lins, and Caetano Veloso, he realized precisely which musical avenues he had to explore.
Despite periodic impulses to get back to his musical "roots" (i.e., the jazz players he came up listening to, like John Coltrane, Pharoah Sanders, and Sun Ra), Hillis admitted that he eventually obeys one imperative above all: "I need happy music, music I can dance to, music that puts a smile on my face! I need music like salsa, which takes jazz harmonies and combines them with the rhythms of the African clave. I like those jazz harmonies by themselves, but they don't pop! I like all music, but what do I actually want to put on? Tito Puente."
As a self-described "white guy from the Bay Area," Hillis has built up a range of interests around a central core of what he calls "esotericism." When not spilling Latin and Brazilian tracks on KCSB, he lectures on Sanskrit, Tibetan, and Zen in UCSB's Department of Religious Studies. His experience as a musician began in blues bands, continued into jazz bands, and today manifests in his study of salsa piano. "I'm not good at it," he insisted, "but learning it makes me tune into the music a lot more. At home, my daughter's involuntarily learned the difference between a 3-2 clave and a 2-3 clave, just from all my practicing." He likened the structure of his favorite music to that of the pieces Javanese gamelan orchestras play: "All their interlocking patterns form a rich tapestry. It's the same for salsa; when the clave, timbales, piano, and bass lock together, that's the groove."
"It shows what a nerd I am," Hillis said, "but I actually read books about all these patterns! I'll say, "'Aha! This montuno differs from the previous one because this note's on the beat, and this note's off!'" But he never forgets that this music all comes down to visceral experience. "You can intellectualize it, but at the end of the day, it's how it makes you feel — it's the corporeal element." This element of what he plays apparently resonates with many a corpus, since he receives excited listener calls from not just Santa Barbara but France, Brazil, and the L.A. County jail. Though deeply rooted in their respective cultures, the appeal of Eddie Palmieri, Rubén Blades, João Gilberto, and Milton Nascimento knows no borders.
Though it operates under a tighter theme than many of KCSB's music shows, Aquí Se Puede nevertheless offers a striking sonic variety. "Sometimes, like a purist, I want an old-fashioned rumba," Hillis said, "just percussion, a voice, and dancing. Sometimes I go up from those roots to full orchestration. Some songs I play sound a lot more like jazz." Despite the strong traditions from which they spring, modern Latin and Brazilian music of the varieties Hillis spins brushes up against and uses energy from almost every other camp on the musical map, from the poppiest pop to the most experimental jazz. Hillis makes use of it all. "I know I'm never going to get famous playing esoteric music," as he put it, "but here I get the chance — where else would I?"
4•1•1
Aquí Se Puede airs every Friday from 10 a.m.-noon on KCSB, 91.9 FM.