Arts & Entertainment
Ojai Music Fest 2011 Preview
Australian Violinist Richard Tognetti Talks Chamber Music, Surfing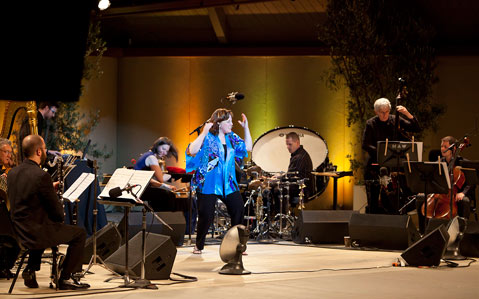 Waves behave in certain predictable ways, whether they emerge from the ocean or carry a tune across a concert hall. Just ask Richard Tognetti, a man in a unique position to compare sound waves with their saltwater counterparts.
The native Australian is a world-class violinist, conductor of his own acclaimed ensemble, and a self-described "committed, obsessive" surfer. So when he brings his Australian Chamber Orchestra (ACO) to the Ojai Music Festival June 9-12, he doesn't at all mind that he's staying a half-hour away in Ventura. He'd rather be near the beach.
"Surfing has always had a sense of belonging to some form of music," he noted in a telephone interview. "You can't say that about golf or basketball! A lot of surfers are quite artistic and philosophical about what they do."
Tognetti is certainly among them. The 45-year-old loves to take chances, both in the ocean (he has gone surfing on a finless board) and the concert hall (his repertoire ranges from baroque-era classics to brand-new compositions).
This makes him perfect for the adventurous Ojai Festival, which has specialized in new and unfamiliar music since it was founded in 1947. The list of distinguished composers who have conducted their own music there over the years includes Igor Stravinsky, Aaron Copland, Pierre Boulez, and John Adams.
The ACO, which appeared at the Lobero in 2009 in an exciting concert that also featured countertenor Andreas Scholl, was invited to Ojai by soprano Dawn Upshaw, this year's music director. She has performed with Tognetti and his 11-piece string ensemble both in Australia and on tour, and he reports they have a wonderful rapport.
"What a great musician she is," he said. "You enter into her imagination through the portal of her voice. That's a wonderful thing. I often find with singers that you're listening to the voice. With Dawn, you enter into her inner world."
This year's festival begins at 8 p.m. on Thursday, June 9, at the newly rebuilt Libbey Bowl, when Upshaw hosts a recital by recent alumni of the Graduate Vocal Arts Program at Bard College Conservatory of Music. Friday night's concert will feature Upshaw, pianist Gilbert Kalish, and the percussion ensemble Red Fish Blue Fish in George Crumb's The Winds of Destiny, a cycle of Civil War songs. Renowned director Peter Sellars will stage the piece.
Tognetti will make his first festival appearance at 11 a.m. on Saturday, June 11, when he and Kalish perform a violin recital. Their program features Beethoven's famous Kreutzer Sonata, plus works by Janáček, Prokofiev, and Australian composer Peter Sculthorpe.
The ACO will perform two concerts: at 8 p.m. Saturday and 5:30 p.m. Sunday. The latter will include the West Coast premiere of Winter Morning Walks by Maria Schneider.
The work is the first classical composition by the veteran jazz arranger and composer. She wrote it for Upshaw, who will perform it with the ASO and members of Schneider's big band. That virtuoso ensemble will also give its own performance at 11 a.m. Sunday.
"It has a unique American-ness," Tognetti said of the work. "It values sweetness in a way that is exquisite."
The Sunday-evening program also includes Tognetti's arrangements of five songs by Béla Bartók for soprano and piano.
Tognetti conducts his ensemble from the first-violin chair. "It's second nature to me," he said. "It's like being both the first violinist of a string quartet and a conductor. I got into leading a chamber orchestra fairly young. I always thought I would do something like this. At the institution where I studied, there was a really good youth chamber orchestra, and I always far preferred it to playing in a symphony orchestra. I don't want to sound disparaging in the slightest, but there are a lot of sociopolitical issues that big orchestras have that I've never been attracted to. There are more rules."
And surfers tend to be less than crazy about rules. That comes across vividly in Musica Surfica, a 45-minute documentary that won the top prize at the New York Surf Film Festival. It will have a free screening at 2 p.m. on Sunday, June 12, in the Ojai Theater, in conjunction with the festival.
"We deliberately collided the ostensibly opposing cultural forces of surfing and classical music," Tognetti said of the film, which combines a profile of him with the story of a group of surfers who have removed the fins from their boards. This makes riding the waves "difficult but freer," he reports.
Tognetti is thrilled that the film has given him a chance to expose a new audience to classical music: "I love playing for people who have no idea what they're listening to," he said. "It's one of the best things you can do—so long as they like it, of course!"
4•1•1
The 2011 Ojai Music Festival takes place June 9-12 at the Libbey Bowl in downtown Ojai. The festival features seven concerts, plus a symposium (Fri., June 10, 1-5pm) on "stretching musical boundaries" and "music in the time of war." For ticket info, call 646-2094 or see ojaifestival.org.