Dance
Experimental Artists Converge on Santa Barbara
SB-ADaPT Festival Offers Dance, Physical Theater, and More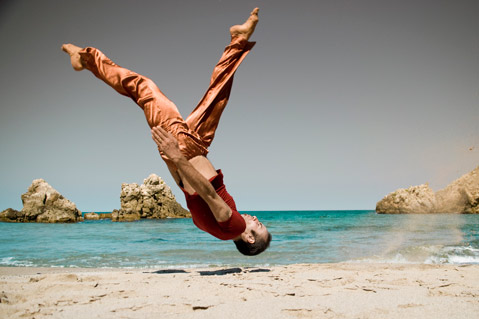 It's a common trope: the project that starts small but takes on a life of its own—the snowball effect. Next week, the SB-ADaPT Festival hits town in true avalanche fashion. ADaPT stands for "A Dance and Physical Theater" Festival. It's the product of more than a year of brainstorming, curating, and coordinating, and it has grown from a modest vision to a massive gathering of creative energy.
Point person Misa Kelly, the director of Santa Barbara-based SonneBlauma Danscz Theatre, laughs when she remembers her initial plan: to bring 16 dance and physical theater companies to Santa Barbara for a handful of performances, a few master classes, and a chance to schmooze. To date, the ADaPT Festival has grown to include more than 47 companies and independent artists from five countries and 23 cities. In addition to dance and physical theater companies, the festival will bring together poets, filmmakers, installation artists, and musicians. There will be two evening-length programs at Center Stage Theater, but festival events will also take place at Fishbon's Pescadrome, the Contemporary Arts Forum, the Gail Towbes Center for Dance, and various outdoor locations. A portion of the festival will even travel to Los Angeles.
Though the scope and scale of the festival have changed dramatically, the vision remains the same: to bring artists from around the world together for authentic creative and cultural exchange—to facilitate something deeper than simply a shared playbill. Kelly cites Lit Moon's biennial World Theatre Festival and the now-defunct Summerdance Santa Barbara as inspirations, but adds that her aim is to bring in "boutique vintages" rather than "major labels," artists whose work may be well regarded in their communities but virtually unheard of in Santa Barbara. At the same time, she hopes to engage comparable artists from our own community, drawing attention to what she calls "the working-class artist carving out a vibrant lifework on the fringes of the mainstream."
A few decades ago, such an ambitious and wide-ranging festival dedicated to the more experimental performing arts would have been unthinkable in Santa Barbara. That it's about to take place is evidence of the success of models like Lit Moon and Summerdance, as well as the ongoing work of organizations like Arts & Lectures and the Santa Barbara Dance Alliance to build awareness and appreciation of dance and physical theater. Yet just as fundamental has been the development of information technology, particularly social networking. Many of the companies and artists involved in the ADaPT Festival found out about it through email listservs and Facebook. They submitted application videos via YouTube, just as they often use the site for their own rehearsal process. It was through videos exchanged via the Web that organizers chose Israeli contemporary dance duo Maya & Tomer to join the festival. (This will be their first performance in the United States.) Some companies even conduct their own creative process long distance: One pair of collaborators are based in Vienna and Istanbul, respectively, while a choreographer living in Philadelphia works with a dancer based in Ohio.
Speaking on the phone from Istanbul last week, Ilkay Sevgi explained that while her husband, Sinan Temizalp, is a solo performer, he collaborates with her and various other artists. The piece they'll bring to Santa Barbara is called "Beyond Borders." "We think of it as meaning beyond the borders of the body, and also beyond the borders of countries," Sevgi explained. "We've tried to point to the unity of humans and the similarity of people across long distances." In addition to performing, Temizalp will offer workshops in his technique—a blend of yoga and Sufi round cycles known as "meditative dance"—while Sevgi will speak about opportunities for networking with European artists.
Independent artist Kristin Hatleberg will be traveling from New York City to bring her site-specific dance installation to the festival. A preschool teacher by day, Hatleberg is interested in the role of the audience in performance. Using paints, paper, and other remnants from her work, Hatleberg will track the movements of the people witnessing her performance. "When I improvise, I read the space and draw attention to what I see," she explained, adding, "I love the experimental nature of this festival; I feel like the caliber of work is high, like we're going to make something good."
Other festival offerings include master classes in clowning and classical Indian dance, outdoor performances at Paseo Nuevo and East Beach, and a showcase of emerging genres, including aerial dance, installation art, and film. In some cases, festival organizers aren't sure exactly what will emerge from the fusion of creative forces they've orchestrated—they just have a hunch something fascinating will arise.
As Kelly sees it, this avalanche of global creativity is an opportunity for Santa Barbarans to reach out, to get inspired, and ultimately to remember what it means to be human. Her hope is that like the Internet itself, SB-ADaPT will build bridges of opportunity between artists, no matter where they live. "We're all interconnected," she noted. "All of these artists will be part of the cultural mind and fabric of Santa Barbara for a period—that's a really exciting influx of energy for our community."
4•1•1
The SB-ADaPT Festival takes place June 12-25 at various locations. For a full schedule, call 569-0389 or visit sbadaptfest.com. For tickets to Center Stage performances June 18 and 19, call 963-0408 or visit centerstagetheater.org.