Visual Arts
Ori Gersht: Lost in Time at SBMA
Contemporary Photographer References the Old Masters, Through September 4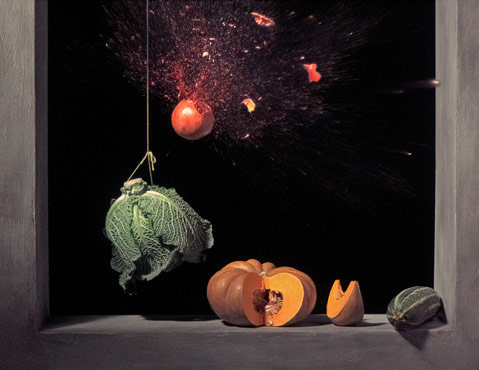 In Juan Sánchez Cotán's early-17th-century still life "Quince, Cabbage, Melon, and Cucumber," fruits and vegetables rest on a windowsill and hang suspended before a stark black background. It is this painting that London-based Israeli artist Ori Gersht directly references in his 2006 film "Pomegranate." Gersht composes a nearly identical scene from real objects, replacing the quince with a pomegranate on a string. Then, filming this tableau with an extremely high-resolution camera, he captures a bullet crossing the frame. In slow motion, the bullet rips through the fruit's flesh, sending it swinging as bright red juice and seeds spurt toward the lens. This image, so inert and orderly in Sánchez Cotán's version, becomes a scene of chaos and bloody violence in Gersht's hands.
Suicide bombs, the Holocaust, the French Revolution—these are the references Gersht brings to his treatment of art's historical material. In his Time After Time and Blow Up series, he arranges flowers in imitation of the old masters, freezes them with liquid nitrogen, and detonates them, capturing the bouquets in various stages of explosion. "Blow Up: Untitled 4" presents one such arrangement in blue, white, and red. This immense photographic print references 19th-century floral paintings by French artist Henri Fantin-Latour, but once again, Gersht's version is presented mid-destruction. Pulverized petals fly apart like shrapnel, while smoke billows from the vase. Yet while the explosion of such a tranquil subject suggests warfare, the colorful confetti that results could as easily belong to a patriotic celebration.
Such unsettling dualities—violence and beauty, order and chaos—are central to Gersht's work, including his most recent series of photographs, taken in Hiroshima and Tokyo, Japan. In these works, he focuses on the cherry blossom, an image that represents the ephemeral nature of life but has also been used as a symbol of Japanese nationalism. Some of these prints are presented as light boxes, so that the blossom-laden branches glow from within. Other photographs are shot with long exposures, giving the trees the ghostly quality of a faded memory. Time itself seems to blur in these prints.
In both his still photographs and his films, Gersht toys with the very notion of a still life, destabilizing and setting in motion that which earlier artists sought to freeze. Works like "Big Bang II," a four-minute film of a floral arrangement culminating in its detonation, at once speed up and slow down the inevitable process of death. Like the old masters, Gersht asks the viewer to ruminate on the ceaseless march of time, which, in the end, takes all of us. When the smoke clears at the end of "Big Bang II," we're left with what looks like the aftermath of a parade, or sunrise over a quiet battlefield.