Arts & Entertainment
Peter Gabriel at the Santa Barbara Bowl
New Blood Orchestra Adds New Twists to Covers and Classics on Saturday, June 11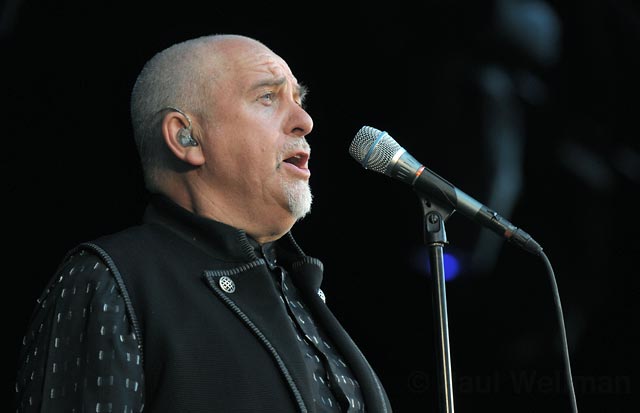 Fans looking for a rockin' Peter Gabriel retrospective left Saturday's show at the Santa Barbara Bowl sorely disappointed. The nearly sold-out crowd saw no "Big Time," no "Sledgehammer." But, when taken with an open mind, Gabriel's latest onstage creation proved even better than any career rehash.
Alongside the half-British, half-Californian New Blood Orchestra, the first part of Saturday's show found Gabriel working through material off his recent Scratch My Back covers project. Fans got beautifully arranged, if slightly one-note renditions of everything from David Bowie ("Heroes") to Arcade Fire ("My Body Is a Cage") to Paul Simon ("The Boy in the Bubble"). It wasn't until his projection-backed take on the Magnetic Fields' "The Book of Love" that the exercise began to take shape, highlighting not only what Gabriel can accomplish vocally, but how he can transform a song with subtle poignancy. The set then closed tellingly with the stirring and bassy call-to-arms "Biko."
For act two, Gabriel thoughtfully reworked his own "Digging in the Dirt," "Mercy Street," and "Blood of Eden," stretching his still-agile voice to impressive highs and lows against a wash of wind instruments and brass. Later, the encore brought the hits, which included "Red Rain," "Solsbury Hill," and "In Your Eyes" in back-to-back succession.
At 61, Gabriel could easily be resting on his laurels and filling set lists with his rich back catalogue of singles. And the decision to push himself—and his fans—to think outside the box made Saturday's showing not only worthwhile, but at times downright inspiring.
Setlist:
1. "Heroes" (David Bowie cover)
2. "Après moi" (Regina Spektor cover)
3. "Wallflower"
4. "The Boy in the Bubble" (Paul Simon cover)
5. "My Body Is a Cage" (Arcade Fire cover)
6. "The Book of Love" (Magnetic Fields cover)
7. "Darkness"
8. "Biko"
9. "San Jacinto"
10. "Digging in the Dirt"
11. "Signal to Noise"
12. "Downside Up"
13. "Intruder"
14. "Mercy Street"
15. "The Rhythm of the Heat"
16. "Washing of the Water"
17. "Blood of Eden"
Encore:
18. "Red Rain"
19. "Solsbury Hill"
20. "In Your Eyes"
21. "The Nest That Sailed the Sky"