Columns
KCSBeat, Meet Yardbeat
Michael Villet's Wednesday-afternoon Shot of Jamaican Rhythms
Think of freeform, community, or college radio, and sooner or later you'll think of reggae. I don't quite know why it's become such a pillar of KCSB's kind of station, but it has. In certain years, KCSB's schedule has featured up to four or five reggae programs, each with its own sensibility, but at the moment, only a few such shows hold up KCSB's reggae tent. Still, they're going strong. But could the term "reggae" be too broad a brush to describe any one of them in particular?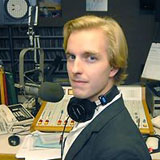 "I do a Jamaican music show," said DJ Michael Villet, "not just a reggae show." He clarified this to me while playing what he called a "pre-ska Jamaican R&B track" as I sat on Yardbeat, which he broadcasts on KCSB every Wednesday from 2 to 4 p.m.
When he joined the station two years ago, Villet had no doubt he'd create a program involving reggae. "I enjoy lots of music," he said, "but this is the main thing I listen to. It's funny; I always had an affinity for the reggae beat, even in my old-school punk phase. I listened to ska — SST Records, Bad Brains, Minutemen — but tended toward reggae over time and got absolutely hooked."
A lot of the "reggae" comes from places other than Jamaica, Villet explained. "That's global reggae. It's not bad, but it's separate from Jamaican music. It's not purely about the sound, but also the cultural sensibility. In Jamaica, you strike a balance between sweetness and heaviness. You hear falsetto voices in a soul style, but they're singing about enslavement. Then there's a hard-hitting bass line; there's danceability. Some reggae outside Jamaica gets too heavy, almost narcotic. In Jamaica, music has always been, first and foremost, dance music — music meant for consumption in dance halls."
Several times during our conversation, one fact came up: Though a small island, Jamaica boasts the highest production of music, per capita, in the world. "Reggae's an extremely fast-changing genre, and that confuses outsiders," Villet said. "Jamaica drew from soul and rock, since they still liked all the old American R&B, shuffle, and boogie records long after the U.S. stopped making them, so they started recording their own. The style morphed into ska and went onward from there. I'll play 'chunks' from all 50 years of autonomous Jamaican music production: first some ska, then maybe some early rocksteady, then 70s roots, then something from last month. Or I'll play two songs with the very same rhythm structure, but recorded 30 years apart. Even as the music has changed, the 'vibe' hasn't. The feel and attitude stays constant."
Early in his Jamaican music-listening career, Villet spent a long time on a very particular reggae-collecting kick: Specifically, he collected what's known as "dancehall" music from the 1980s. "But that's a misnomer," he added, "since all of this plays in dance halls. 1985 brought a switch in Jamaica from using traditional backing bands to using digital backing tracks. In fact, the first big hit with a digital rhythm just took a pre-programmed 'rock' pattern from one of those Casio keyboards, slowed it down, and added sound effects."
Villet has found much to love, and much to share with KCSB's listeners, in this misunderstood reggae subgenre. "The common outsider narrative says there was a flourishing of roots, culture, and consciousness in the 70s. Then Bob Marley died and Jamaica descended into hedonism. I disagree with this narrative in the most complete and emphatic way."
Villet thus invoked a sacred name on college campuses across America, a man whose staggering popularity ensures that the uninitiated will always associate his particular sound with the totality of reggae. "Chris Blackwell at Island Records put Bob Marley into a rock band, packaging him in a globally marketable form with brilliant success," he explained. "People here think in terms of bands, but producers and labels are a critical part of the Jamaican picture. I'll buy an unknown singer on a familiar label or from a trusted producer. Think of the artist and the producer as separate entities colliding with each other to form occasionally fruitful partnerships — sometimes you hear that click."
A UCSB graduate student in chemical engineering when not spinning Jamaican tunes, Villet understands the need to both keep his show accessible and counterbalance the false impression of reggae that a listener like me might have gotten from hearing "Buffalo Soldier" played on an endless loop outside the window of his freshman-year dorm.
"I want to draw people in," he said. "When I have a chance, I'll tell a little story, give a little context. Even though people outside have picked up on it, this is music made by Jamaicans for Jamaicans in Jamaica. Frankly, white people tend to dig the lyrics about truth and rights rather than sex and guns. It has certain aspects I don't like — particularly the homophobia you sometimes hear — but it's not my business to tell another culture how their music should sound."
Given the enormous flow of music out of Jamaica, Villet has his sifting work cut out for him, but he always finds the fun in sharing his rare finds with listeners. "I have this gift from KCSB: two hours to put music out there," he said. "Do I want to share with people music they've heard before, or do I want to play what they haven't? I dig and mix it up, always trying to play fresh stuff. I don't have this obsessive drive outside Jamaican music, so I like hearing the experts on KCSB do the legwork — the curating — on their own soul shows, blues shows, R&B shows." A worthy service on his part, I said, considering how little people — my "Buffalo Soldier"-addled self included — seem to know about reggae. "And worse," Villet added, "they know a lot less than they think they know!"
4•1•1
Yardbeat airs every Wednesday from 2-4 p.m. on KCSB, 91.9 FM.