News
Cops Union, DA Endorse Early
Schwartz and Falcone Get the Nod in Council Race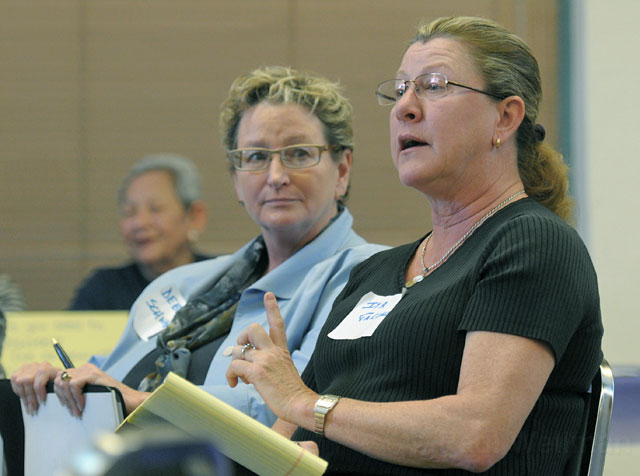 Ten days before potential candidates can even declare their official intention to run in this November's Santa Barbara City Council elections, two political 800-pound gorillas have already thrown their considerable weight behind two of the three challengers backed by the Democratic Central Committee. The cops' union—the Police Officers Association (POA)—and District Attorney Joyce Dudley announced their support this week for candidates Iya Falcone and Deborah Schwartz.
Almost as striking as the earliness of the announcement was who was not included. Missing from the endorsement announcement was Cathy Murillo, former KCSB news director and Independent reporter, who is running as part of a slate of challengers along with Falcone and Schwartz. The three were endorsed two months ago by the Democratic Central Committee as part of a concerted campaign to retake the council majority. For the first time in decades, conservatives now enjoy a 4-3 council majority, and local Democrats are determined to cut that short by taking on the more conservative incumbents Dale Francisco, Michael Self, and Randy Rowse.
Conspicuously missing from the police endorsement announcement was Councilmember Michael Self, whom the union endorsed two years ago. According to union president Eric Beecher, the POA could well still back Self again, but that it needs to review all the other candidates in the field. While Self is credited with working hard behind the scenes on behalf of the POA during contract negotiations, some in public safety unions have expressed concern about her association with Lanny Ebenstein, who writes political editorials for the News-Press and is pushing a statewide initiative that would ban collective bargaining for all public employees. Self, for the record, said she would not sign any petition to qualify that initiative for a statewide vote.
Beecher explained the POA came out so soon, partially at the instigation of Schwartz, with whom the union was extremely impressed. Although Schwartz grew up in Santa Barbara, she left in 1984 for 20 years and consequently is something of a political newcomer. But her mother happens to be Naomi Schwartz, the former county supervisor and a major behind-the-scenes player in Democratic Party circles. Likewise she enjoys strong backing from her mother's political protégé, county supervisor Salud Carbajal, whose campaign war chest has become the stuff of local political lore. Schwartz talks tough about growing gang violence, but makes clear that her sense of public safety includes quality of life issues, too. She worries that Santa Barbara's hopping bar and nightlife scene consumes "an inordinate" amount of law enforcement attention and would consider ordinances, like shutting down bars earlier, that would mitigate that.
The union's endorsement of Falcone—a two-term former councilmember and old-school bread-and-butter moderate Democrat—was all but preordained given its previous endorsements of her and her close working relationship with the POA over the years. After stepping down from the council two years ago, Falcone also worked as a consultant to the union during its stormy contract negotiations with City Hall last year.
In years past, the POA's endorsement has ranked as one of the most influential in local elections, bestowing upon candidates not just cash and campaign ads, but precinct walkers and a political respectability that crossed party lines. This year, however, public employee unions are under considerable attack predominantly by Republican politicians, who've blamed them for the fiscal woes afflicting many states, counties, and city governments.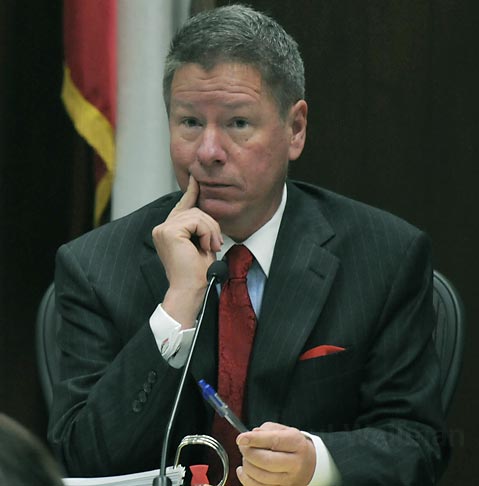 Leading the charge for the incumbents will be Dale Francisco, even though he has yet to formally announce his candidacy. While Francisco has pushed hard to increase the number of cops on the force, he and the POA have what at best could be described as a love-hate relationship; he supports law enforcement but not necessarily their unions.
During recent negotiations, relations between the two grew so sour that the union had crafted an attack mailer that it came close to sending out. On the council, Francisco has pushed to increase the number of authorized sworn officers to 150—it's 140 now. But he also pushed to create a new subcommittee to review police operations to ensure maximum efficiencies, something none of his council colleagues, nor any of the other candidates in the race, have embraced.