Arts & Entertainment
Up Close with Max Kornell
Former Indy Illustrator Scores Book Deal with Bear with Me
Creating a book for young children requires striking a hard-to-achieve balance between simplicity and detail in the drawings, colorful poetry, and meaningful fable in the words. First-time children's book author Max Kornell—a Santa Barbara native and former Independent designer who now lives in Los Angeles—nails both in his debut, Bear with Me (Putnam Juvenile; 32 pages; $15.99), the short but superb saga of a kid who learns to live with the new beast named Gary that his parents bring home one afternoon.
"The whole idea came on the heels of having Ajax, our second child," said Kornell, whose daughter Psipsina was two at the time. (He's now got a third, Ramona.) "One day I was feeling so bad for Psipsina. It was almost like we brought an elephant home to live with us and said, 'Deal with it.'" An art-school grad, former L.A. Weekly comic illustrator, sometime storyboarder, and full-time 1st-grade teacher by day, Kornell started sketching and eventually changed the elephant to a bear. "But the idea came from that parenting moment," he explained, "and the plotline fell into place."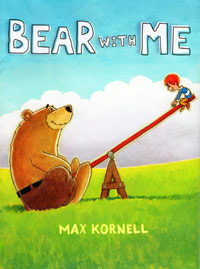 So did the book deal. "We were very lucky that it landed on the first round [of submissions]," said Kornell, who signed a contract right before the economy took a dive and many publishers announced they wouldn't be signing any more new authors. "I don't know if that was fate or kismet or whatever. I kind of snuck in under the wire."
As for his kids, they've slowly learned the book's main message, which is that new things might actually be good. "That doesn't mean that sometimes the surprise isn't a pain in the neck," said Kornell. "In real life, you've got your ups and downs. It fluctuates."
One of his recent highs was when comedian Jack Black—who went to school with Kornell's wife—decided to read Bear with Me to a classroom full of kids. "It was so awesome," laughed Kornell. "I realized this book actually has some funny parts."
But the whole experience has left him nearly giddy. "It was touching when the book came out, just seeing the kids crowding around on the rug and re-reading it—it was torn by the end of the first day," said Kornell, who choked up at the excitement. "I've gotten totally spoiled from being a teacher and an author; my target audience is walking around me all the time."
He'll be reading from Bear with Me and signing copies on Sunday, July 10, 3 p.m., at Chaucer's Books. Visit maxkornell.com.