Business
Beware of the Humans
Santa Barbra-Made T-Shirts Promote Social Awareness with Edgy, Modern Designs
An online clothing vendor with Santa Barbara roots, Beware of the Humans offers trendy, cartoon-style graphics, embedded with charged messages for humanity that often take more than a glance to decipher.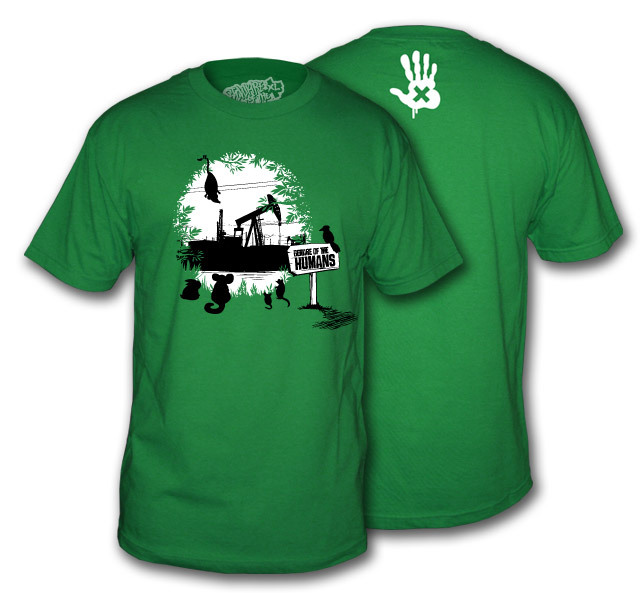 The Web site was launched in 2009 and hosts a blog in addition to the store, where chief artistic designer and proprietor Joe Beraldo shares his take on recent global events. Its tagline: "social commentary through artistic expression," is reflected in each product; one shirt shows a gecko-human hybrid consuming Pacmen — a reflection on technology consumption in the modern age — and in another, a troupe of silhouetted animals watch an ominous drilling rig from afar.
Beraldo describes his work as having a "check yourself before you wreck yourself" voice to it, and commented on one design that is featured prominently on the site. "There is an image I made of a dove with an arrow through it that represents the dichotomy of man. It shows the two sides we are capable of." While Beraldo himself designs the majority of shirts, other S.B. artists have added their craft in the business's latest line of products — Series 2.
Though sales are reserved to the Web at present, Beraldo hopes to eventually open a store. "That's the next step, but for now it's still pretty underground," he said. "I have always wanted to make relevant graphics and it just kind of came together." He stated that he is not influenced by one political party, but rather comments on the issues he feels need expression — both global and close to home.
However, the symbolism of some of the T-shirts is evocative enough that customers may find that they spark a reaction from passersby, whether desired or not. "I have had some people comment on the shirts I am wearing. People will initiate conversation around these shirts, and I think that is a good thing."