Dance
Ireland—The Show to Premiere in Santa Barbara
Intimate Production Features World Class Dancers, Musicians on Sunday, July 17
When champion Irish dancers Sinead Fallon and Ethan Walker decided to create their own show, they began looking for the perfect city for a premiere. Irish-born Fallon is based in England, while Walker, originally from Australia, now makes his home in Los Angeles. Their short list of cities included Boston, New York, Chicago, San Francisco, Dublin, and London. Oh, and Santa Barbara. "When we saw the Granada Theatre," Fallon recalled, "We said, 'This is our place.'"
This Sunday, July 17, Ireland—The Show will have its world premiere at the Granada. It's a production that brings together some of the most talented Irish dancers and musicians in the world for an evening of lively traditional tunes and lightning-fast footwork. Yet unlike Michael Flatley's Riverdance and its many imitators, Ireland is an intimate show, with a cast of just eight musicians and six dancers.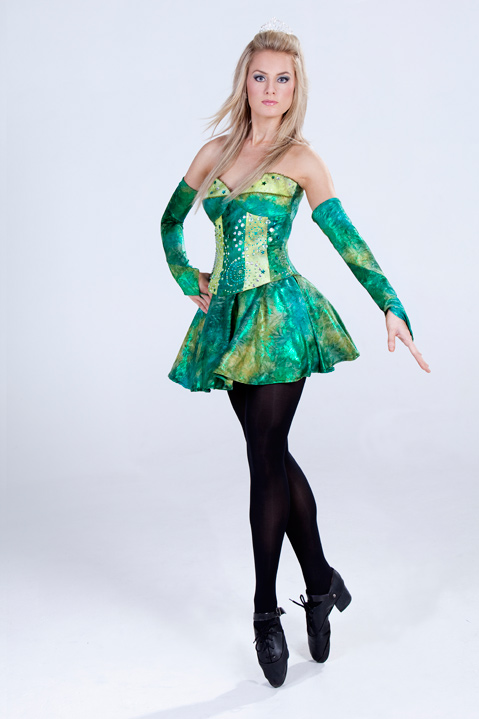 And these aren't just any performers. Fallon and Walker have toured the world, playing lead roles in major productions. At 27 and 25, respectively, they've both retired from competition, but only after winning some of the top honors in their field: Walker is an Australian Irish Dancing Champion, while Fallon is a two-time World Champion and holds three All-Ireland titles.
The cast they've brought together reflects their high-level ambitions. Ashley Smith (U.S.A.) and Ciara Sexton (U.K.) are phenomena in the world of Irish dance, representing the pinnacle of achievement for thousands of young girls training in the form, while Stewart McWhinnie (Australia) and Owen Barrington (U.S.A.) have climbed to the top of their field despite having started "late"—at ages 11 and 12, respectively.
Fallon, in contrast, has been dancing since she was 3 years old. She's a petite blonde woman: fair skin, blue eyes, and freckles. When she speaks, her voice is soft, her accent a mixture of Irish brogue and the lilting intonation of northern England. It seems unlikely such a gentle person could release the kind of torrential, almost aggressive energy required for step dancing. Yet when she describes the sensation of performing, the fire in her spirit comes through. "The feeling you get when you dance—it's such an adrenaline buzz," she says, eyes glittering. Though Fallon says audiences love the noisier hard-shoe numbers, the soft-shoe numbers are her favorites, "because you're almost floating through the air." As the show's choreographer and a key performer, Fallon has been working with her cast via Skype and email. Intensive rehearsals begin just 10 days before the premiere, when the cast will put in 10-hour days in the studio until the opening night.
For dancers of this caliber, trained as competitors and artists, there's always a sense of rivalry onstage. According to Fallon, that's a good thing. "I think it's brilliant because it makes everyone shine," she says. "When your colleagues are world-class, you want to impress them as well as the audience."
The dancers won't be the only champions onstage for this show; fiddler Sheila Maguire has won a staggering number of awards, and she'll be joined by accomplished musicians on harp, uilleann pipes, and bodhrán—an Irish frame drum that's played with a wooden stick or "bone."
Unlike larger-scale Irish dance productions that use click-tracks—recordings of shoes hitting the floor in unison—Ireland is 100-percent live. "I want to give the audience that real Irish authenticity, bringing it back to the roots instead of presenting a mechanical group," Fallon explains. To that end, her choreography doesn't distinguish between lead dancers and chorus members. In order to capture the intensity of the form and the unique talents of the cast, each performer gets a solo.
Though Ireland emphasizes each dancer's individual style, the choreography doesn't stray too far from tradition; expect to see feet flying, with only the occasional flourish of the arms. Why do Irish dancers generally keep their arms tightly locked at their sides? Explanations vary, but Fallon's inclined to believe the story most popular in her native County Mayo, Ireland: Traditionally, dances took place in church halls, where Catholic priests kept a close watch to make sure there was no tomfoolery involved.
Regardless of the technique's origins, competitive Irish dance still strictly prohibits the use of the arms, though the rules are slightly relaxed for performers. In both cases, mastering step dancing at a high level requires incredible devotion. It's a rigorous and unforgiving dance form, both aesthetically—one false move and the rhythm falls apart—and in terms of the sheer physical demand. Knee, hip, and back injuries are common, which is why Fallon says a 45-minute warm-up and 20-minute cooldown are essential to maintaining health while on tour.
And touring is definitely part of the plan. The hope is that Ireland will go on to the East Coast before traveling to China and Australia, countries that Fallon says show particular enthusiasm for the form. But wherever Ireland goes, it will have started its journey right here in Santa Barbara.
4•1•1
Ireland—The Show will premiere this Sunday, July 17, at 7 p.m. at the Granada Theatre (1214 State St.). For tickets, call 899-2222 or visit granadasb.org.