News
Touring Luanda's Schools
A Look at the Happy Surprises and Sad Realities of Special Education in Western Kenya
I woke up to the sounds of roosters, goats, donkeys, dogs, and birds. Absent were the sounds of traffic, television, and Western culture. It was a nice change of pace.
Once I stirred, Lilyann informed me that she had prepared warm water for my first — and much-needed — shower. I obliged, and enjoyed the liberating feeling of showering outside. When I was done, Lilyann had prepared a breakfast of white bread, peanut butter (which reassuringly had the words "human food" on the label), jelly, and African tea (tea with hot milk). Benson came over shortly after, and informed me that we would start our day with a meeting at the Ministry of Education in Mbita, a promising beginning to our first day of work.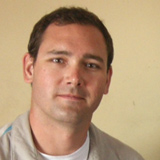 John Ololtuaa, a Masai man from the Rift Valley, is the head of the Ministry of Education in the Mbita District. He greeted us warmly, and asked that we outline our project. Ololtuaa was extremely open to our inclusive cause and requested periodic updates on our progress. It was incredible to be in the presence of such an influential man in the Mbita education system on our first day. Benson's connection to the local community is proving to be a huge factor in the success of our time together here.
Our next meeting was with Bernard Oguma, coordinator for the Education Assessment and Resource Center (EARC). He met our project with support, and he promised to accompany us on our school visits and lend administrative support. Oguma was open to discussions about inclusion in local schools, further developing their district's assessment center, and developing a co-teaching model of instruction in a progressive local school.
After the meetings at the ministry, we set out to see the Nyamuga School in Rusinga, just outside of Mbita. Benson wanted me to see this site because it integrates students with physical impairments into typical classrooms, and he felt we could build on this school's existing inclusive strengths. Nyamuga School houses two schools in one: the Nyamuga Primary School (lead by Samuel Oruko), and the Nyamuga Special School for the Physically Challenged (headed by Erick Ouma).
Benson and I sat with Oruko and Ouma and discussed the successes and challenges of running schools in this region of Kenya and the potential benefits of inclusion at their school. Both directors said they felt inclusion was a meaningful practice, but were hesitant to try it with students who have multiple disabilities or who are developmentally behind their typically developing counterparts.
Ouma then provided us with a school tour, which created quite the "m'zungu" frenzy. It was like the Beatles had just landed in America. Students began yelling "M'ZUNGU! M'ZUNGU! How are you?" Everyone wanted their picture taken. I obliged, and could not help but laugh out loud. The spirit of the children is infectious. We toured each classroom, and were able to see firsthand how students with physical impairments were included into each grade level class. I was pleasantly surprised to see students without disabilities naturally supporting those with physical disabilities. This is something I did not think I would see here.
From the primary school site, Ouma took us to the "special school" side of campus, which is about 30 yards from the primary school. However, to get there, we had to traverse multiple dirt paths that are riddled with protruding, jagged rocks. This school is simply not accessible for students who use wheelchairs. I told Ouma that I would contact my colleagues at Wheels for Humanity and the Santa Barbara Rotary Club to see if we could develop some sort of partnership to create a more accessible campus.
As we got to the dormitory part of the tour, I was again concerned about accessibility when I saw the girls' dorm. There is no ramp, and the distance from the ground to base of the door is about two feet, meaning every girl in this dorm has to be carried out of her wheelchair, and the wheelchair then has to be lifted into the room in order for her to gain access to the space. The boys' dorm is not much more promising. There is a ramp, but the incline is so severe that successfully navigating a wheelchair up this ramp presents a genuine challenge. Once inside, I was informed that the windows do not open, so the dorm stayed very warm, and very dark. Additionally, there are not enough beds for all of the students, so some of the boys have to share very narrow accommodations. Fortunately there are enough mosquito nets for all of the residents.
MOuma brought me into his office so we could summarize our collaboration together. I noticed half-empty burlap sacks of maize and beans in the corner. Mr. Ouma informed me that this was the remaining food for the month for the 25 students living on the campus. Because Nyamuga Special School is only a few years old, it has yet to receive government funding. This means that the cost of feeding the children falls directly on the desk of Ouma. Due to the current drought in the region, the cost of maize has dramatically increased. The cost to feed the 25 students per month is now 39,800 Kenyan shillings (KS), or roughly $445 (USD). This only includes sugar, maize, and beans (no cooking oil, fruits, or vegetables).
Not only do these students lack an accessible campus, but they are only receiving the bare minimum in terms of nutrition and housing. This is a constant battle for Ouma, and a serious one at that. I told him that I would donate what I could in terms of food but, unfortunately, I would only be here for a few weeks. This struggle for survival will persist long after I am gone. We bid farewell to Ouma, and headed to Hope Special School on the east side of the village while I struggled to process what I had just heard. I was deeply moved by the situation at Nyamuga, and I knew the next school would be another humbling experience.
Hope Special School is run by Rose Ambasa, and lies just outside of Luanda. It shares a plot of land with Waondo Primary School. As I stepped out of the car, I was greeted with neon smiles, and warm handshakes from students with physical and developmental disabilities. As Benson and I sat down with Ambasa and her staff, we learned that 28 students with multiple disabilities live at the school site. Students typically attend Hope School until age 12, but in Kenya the schools define age by cognitive ability, not chronology. Students at Hope School have access to a modified Kenya-adopted curriculum, and learn in small groups based on ability. Subjects include language (Luo, English, Kiswahili, and Kenyan Sign Language), math, science, social studies, religion (Christianity), adapted PE, and vocational skills (carpentry and tailoring).
The Hope School and the Nyamuga Special School face similar challenges. The Hope School is short on support staff, the money they receive from the government is insufficient, parents do not always pay their 2000 KS ($22 USD) per term, some students sleep on mats on the floor due to overcrowding, health-care facilities are inadequate, and there is not enough access to nutritious food (particularly needed for the students who take HIV/AIDS medications). Ambasa also mentioned that the school does not have adequate or current information on specific disabilities (e.g., muscular dystrophy, Rhett's syndrome, etc.) to provide appropriate supports for students with complex needs.
As our tour wound down, I felt a profound admiration and respect for the teachers and students who are in these pressing situations. I do not think I would be able to endure such serious circumstances in the long term. I had only been in Luanda for a few days, and my heart had been simultaneously broken and warmed beyond anything I have ever experienced. I spoke with Benson on our ride back to Luanda about what lies ahead for these students. He assured me that our collaboration with local educators and families over the subsequent three weeks would create a positive plan of action that would continue after my departure.
The following day, Benson took me on a tour of two more Mbita District schools: Obalwanda Special School and Lambwe Christian School for the Deaf. Obalwanda Special School abuts Obalwanda Primary School, and I was impressed to learn that they, like the Nyamuga Schools, include students with physical disabilities into general education classes. The head teacher, George Ondiek, gave me a rundown of successes and challenges at their school. He was excited to share that they had enough beds for his students, a well for water, a solar-powered TV, and multiple international partnerships. The most serious challenge faced by this school was a lack of food. He told a familiar story of inflated market prices due to the lack of rain, and that he could no longer afford to give the 49 students generous portions of food, and eggs were officially off the menu. The students at this school were noticeably thin.
Ondiek took us on a brief tour of his campus, and was eager to show us students who were included at Obalwanda Primary School next door. As the "m'zungu"s made their entrance on the campus, the students began whispering, giggling, and running towards their strange guests. (My ego will be painfully deflated when I return home, and no one takes notice.) The enthusiasm of the children here is quite touching. The curiosity and genuine nature of the people is very welcoming and heartwarming.
We met the head teacher of Obalwanda Primary School, Charles Songah, and he gave us the now-familiar primary school tour. When we walked into a class, the students would all stand up, greet us, and sit back down. I would introduce myself, and students would ask me questions, many of which centered on California or President Barack Obama. I was impressed to see so many children with physical disabilities included into age-appropriate classes — one student from Obalwanda Special School was number two in her class!
Benson then took me to the Lambwe Christian School for the Deaf. It was far outside of Luanda, and noticeably greener. Lambwe receives more rain, and crops can be harvested two times per year as opposed to the more arid climate in Luanda where harvests occur only once annually. I would later find out the Lambwe climate has a significant positive impact on the students there.
I met with the head teacher Margaret Odihambo, and she had a multitude of positive aspects to share about her school. She said many of her students successfully transfer to regional high schools for the deaf. She provides parent trainings and has high parent involvement. Students have international sponsors to help cover costs, and the school is able to increase enrollment annually. Parents have even volunteered to pay more money per year so the school could hire an extra teacher. Due to the climate, the school can grow its own food, and use other food monies to purchase maize, beans, vegetables, meat, fish, sugar, and oil. They have enough beds for the 87 students who attend the school, and even have a surplus of mosquito nets.
As we toured the school, I used my rusty American Sign Language (ASL) skills to clumsily communicate with the enthusiastic students who were using Kenyan Sign Language (KSL). The classes were full of engaged students, and there was even an independent study group preparing for their upcoming school exams. Things looked hopeful for students at Lambwe. I hope we can replicate their success at other schools in the region, and collaborate to make progress in the short time I am here.