JAZZ TAKES A BUSMAN'S HOLIDAY: There are jazz singers and then there are jazz singers with the kind of ingrained musicality which may win more points in musical than commercial circles. But those in the know know that Dena DeRose is one of the latter, a wonderful pianist whose vocalist persona came later, not unlike another pianist-singer who was bouncing around New York City in the '90s—Diana Krall. DeRose may not have household recognition status, but she has earned the respect of peers and anyone with an ear for what makes a good jazz singer soar, as we hear on her releases on the MAXJAZZ label.
DeRose, bless her heart and gig mapping, will break the veritable annual jazz drought of Santa Barbaran summers when she plays an early set with a trio at SOhO on Friday. Interestingly enough, the last time she played in Santa Barbara, it was at the legendary, tiny but mighty Jazz Hall down on Victoria in the late '90s.
These days, she mostly hails from Graz, Austria, where she has been Head of Jazz Vocal studies at the University of Music and Dramatic Arts for five years now. Her educational life runs deep, and is partly why she winds up in this region come summertime, in synch with the well-known Stanford summer jazz program.
LOCAL JAZZ OP, 2: A few weeks back, the wonderful Ojai-raised, Brooklyn-based jazz vibraphonist Tyler Blanton played SOhO with a trio, in one of his few summertime visits to town in as many years. Another special encounter with Blanton takes place on Saturday night at Jim Connolly's cool, vibe-doused venue called the Piano Kitchen (430 Rose Ave., by Patco) this time in a duo with the fast-rising young piano sensation Josh Nelson. Nelson, part of the generation of solid jazz musicians who studied and still hail from Los Angeles, has been making waves, working with Sara Gazarek, Natalie Cole and others, and with his own clean-burning modern mode of jazz in his own musical career.
FRINGE PRODUCTS: Konitz/Mehldau/Haden/Motian, Live at Birdland (ECM), Lee Konitz, Insight (Jazzwerkstatt). When at the Montreal Jazz Festival recently, one of the big disappointments was the MIA status of the great alto saxist Lee Konitz, slated to play a duo set with pianist Dan Tapper, but health problems had him holed up in an Australian hospital. Now 83, Konitz has been going strong and deep for years, proving that his supposed status as a pillar of the "cool jazz" scene is a wildly incomplete description of his aesthetic state of being.
A uniquely witty, poetic and ever-inventive player who has taken post-bop vocabulary in Cubist, chamber-esque and experimental directions, Konitz qualifies as one of those lions in half-hiding, who has gotten more respect and work traction in Europe than his home country. Despite his relative, and undeserved obscurity, Konitz has had an admirable damn the torpedoes, let's get on with the business of making art attitude, resulting in a rather massive discography.
Two recent releases show his flying colors and subtle, probing ways as an improviser. Certainly one of the best jazz releases of this year is the new ECM title Live at Birdland, on which the saxist is the de facto leader with players sympathetic to his artistic cause and voice, the innately search-mode pianist Brad Mehldau, bassist Charlie Haden and time-rubberizing drummer Paul Motian (recently, and rightly, named best drummer in the Downbeat critics poll).
This is one of the most un-standard standards albums you'll find, with a song list opening with "Love Man" and including "I Fall in Love Too Easily," "You Stepped Out of a Dream" and the epic closer "Oleo," but with the familiar musical terrain reshaped to varying degrees. The venue-apt "Lullaby of Birdland" and "Solar" turn into loosely rambling free zones, as if the spirit of Ornette Coleman filtered into the band's attitudinal mix. "Oleo" opens with Konitz' statement of the melody and subtly serpentine left turns beyond that, joined first only by fellow veteran Motian, in ambling mode. The others join in and dismantle the usual "rhythm changes" foundation of the song, heading off, instead, on a collective search, whereabouts unknown until they announce themselves on the Birdland stage on that special December night in 2009.
Konitz has made a specialty of rooting around in the DNA of jazz standards and finding new life there, a tendency epitomized in his original tunes based on the chord changes of Real Bookish numbers, such as "Thingin,'" a reread on "All the Things You Are." Konitz opens his fine duo album Insight, with pianist Frank Wunsch, with a solo version of "Thingin,'" and it's a sparse jewel of an experience.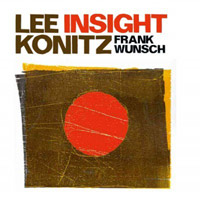 Another live recording, a setting the moment-embracing Konitz always shines in, Insight features Konitz in solo mode for a few pieces before the fine German pianist Wunsch joins the musical poetry party. As Konitz showed with his fascinating work with Tepfer, he fares nicely in the sax-piano duet format, especially fruitful when the pianist in question has both musical sophistication and an interest in moving beyond the strict parameters of the jazz canon. Wunsch does so, on originals like "Echoes d'Eric Satie—" a nice opportunity for Konitz to show off his impressionistic sensitivities – before veering back to the Real Bookland of Cole Porter's "I Love You," played, if not inside-out, then in a limber dance-around-the-theme fashion. Konitz style, in other words.
I remember a show at the Montreal Jazz Festival—long a place where Konitz found respect and an affectionate audience—maybe a decade ago, when Konitz, Mehldau and Haden were in trio mode, around midnight at the intimate Gesu venue. At show's end, Konitz started a tune solo, launching into one of his cryptic end-runs towards the middle of a standard, before his trio mates joined in. It was one of the most quixotic and deconstructionist versions of "Stella by Starlight" I've ever heard, and I found out later that Mehldau actually never knew which tune they were playing. Ignorance, meet bliss.
THREE M's: While jazz fans tend to grumble about the lack of meat for their musical appetites in Santa Barbara summers, we can be thankful for the bountiful pleasures from other areas of the musical spectrum, whether classical highs from the Music Academy of the West or pop tarts at the Bowl, Chumash Casino and club scene.
Looking over last week's typically dense musical calendar, as a f'rinstance, the highlights came from different musical corners and vintages, all starting with the letter M: Olivier Messiaen's two-piano masterpiece "Visions de L'Amen," wondrously played by Ursula Oppens and Jerome Lowenthal at Hahn Hall, in the Music Academy of the West's "Tuesdays @ 8" series; the wowing epic sound of Gustav Mahler's Fifth Symphony by the Academy Festival Orchestra at The Granada last Saturday (the third MAW/Mahler encounter in recent years); and, of course, the surprisingly moving retro sounds of that underrated American musical sensation, the Monkees, in a 45th anniversary tour stop at the Chumash Casino on Thursday. Even lacking key member Michael Nesmith, the cheeky sixtysomething threesome (and their ace eight-piece band) made a grand splash in their 2.5-hour show, bolstered by strong songwriting and sweet scents of a more innocent time—however illusory the sensation.
TO-DOINGS: It's not often that you run into a metal band which avidly cites the influence of classical/new music figures like Glenn Branca, Alexander Scriabin and Iannis Xenakis, but then the Brooklynite art-metal band Liturgy isn't your average rock outfit. Riding on the energy of their cerebral-yet-primal, second full-length album Aesthetica (Thrill Jockey), Liturgy has headed west and promises to shake up the joint real good when they stop at Muddy Waters on Friday, July 22. Speaking of twentieth century composers worth getting out of the house for, Bela Bartok has his rare day in the public performance sun in town tonight, as no less august a group than the Takacs String Quartet plays his String Quartet No. 1 on Thursday, July 21 at Hahn Hall. It's another big mid-summer's musical moment, courtesy of the MAW calendar.
Fringe Beat has gone cyber, facebooked and twittered (@FringeBeat), and myspaced and ?. Please join, if inclined.