Columns
Bringing Out the Best in I.V.'s Unique Parks
Amazing What a Little TLC Can Do
One of the best things about Isla Vista is its wealth of beautiful and unique parks, each with its own flavor and particular characteristics. There's the park with the carousel and the dinosaur climbing structure which is a kid favorite; the one with the swing overlooking the ocean; and the one with the rock climbing wall. And this is just to name a few.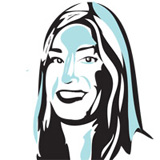 While many of the parks are picture perfect, there are those that need, or needed until recently, a little TLC. One recipient of this kind of attention has been Little Acorn Park. I happened to stop by the Bagel Café the weekend the park was reopened, and was lucky enough to chat with Carlos Velasco, Isla Vista Recreation and Park District grounds lead, about the improvements.
Velasco said that Little Acorn's renovation was just one in a series. "We want to change I.V. one park at a time," he said.
Little Acorn Park used to have an arbor, which was valued by some residents but an eyesore to others. The park has been redesigned so that it now provides an open space with a series of eucalyptus benches, a large grassy area for tossing the football or playing other sports, a bocce ball court, and an area with a memorial for the students who were killed while walking in I.V. in 2001.
While the overall look of the park is attractive with neatly arranged borders and newly planted grass, it is the little details that make it special. For example, Velasco said the benches were hewn from trees that fell near the Tierra del Fortuna Park after a storm. The iron decorations on the sides of the benches have floral designs, adding a nice touch to the already attractive look, and instead of regular lighting fixtures, the park has tall pole-like lamps which are also decorated with iron detailing.
Velasco appeared proud of the artistic touches that had been added to the park, as he should be. This is a characteristic of the people who live and work in I.V.—they really care about the area. If you talk to any of the people who work for the IVRPD, you will find that they care about the graffiti, or whether or not children are using a park, or how the open space looks when the trees have been trimmed back. They are honest about the good things about the area and the things that need to be changed.
While talking about the improvements made at Little Acorn Park, Velasco also talked about the next park on the IVRPD's list. He said that Perfect Park, which is across from Little Acorn Park, wasn't being used in the way intended. It had become a hangout for drinking and drug use. Velasco said that young women had come to IVRPD board meetings to complain because they felt that it was unsafe to walk through this park at night because of catcalls and other behavior. He added that park representatives had also found hypodermic needles.
Even though representatives are on a mission to combat this obnoxious way of using Perfect Park, which tends to discourage other uses, Velasco explained that there had been efforts to help those who needed assistance. But the bottom line is that the IVRPD is planning on taking the park back for the whole community.
The other park to keep an eye on is Estero Park. A huge lawn has been put in, and is soon to feature soccer goals. There is also a wide walkway from one side of the park to the other, and a newly paved basketball court. While Estero Park isn't open yet, I'm sure that it will soon be put to good use. Velasco said the vision was to provide a place for people to congregate and play soccer in a wide open space.
Although it seems as though everyone would be in favor of these types of improvements, there are those who want to keep Isla Vista as it has always been. While I have to agree that there is something about I.V. that makes it special, I don't think unkempt landscaping is it. I would never want our parks to be replicas of those in Santa Barbara, but I think a little beautification can go a long way. The types of improvements being made to the parks only serve to highlight the things that make Isla Vista unique. By giving each park a distinct flavor and adding artistic touches, the IVRPD is making sure that everyone in the community can find a place to find peace or play a game with friends. Next time you walk down the streets of I.V., stop at one of the parks and soak in the atmosphere. You might find yourself pleasantly surprised.