Columns
A KCSBeat Retrospective, Part II
Final Nods to the Shows That Make KCSB KCSB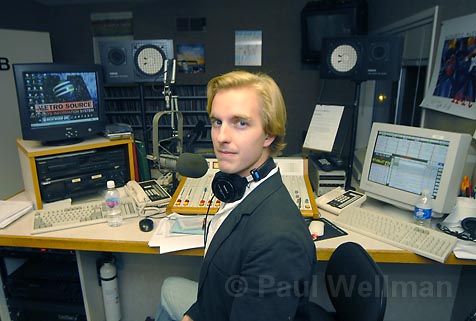 In the first part of this KCSBeat-wrapping retrospective last week, we reflected on the station's history, the stacks of unusual vinyl that have built up in the music library during it, and a guy who's been constantly listening for a big chunk of it. I don't dare deny the importance of those things, but let's face it: radio — and especially freeform radio — all comes down to the shows. KCSB opens the creative space for the shows, broadcasters come to KCSB to put on shows, and you ultimately tune in to KCSB to hear shows.
Hence my prime mandate on the KCSBeat: to introduce Indy readers to the community members behind KCSB's shows and to expose their deepest, most secret inner workings. (The deep, secret inner workings of the shows, that is, not of the DJs — unless they really insisted on sharing.) I call these articles "Profiles in KCSB-age." With about 80 shows on the schedule each broadcasting quarter, profiling everyone who shapes the sound of the station counts as one of those impossible tasks, but painting a textual portrait of the station at the end of the 2010s and beginning of the 2011s held so much appeal that I made peace with keeping it Sisyphean.
Tuning in to virtually any radio station that broadcasts from a college campus, one expects to hear rock, and I've discovered that, yes, the KCSB schedule offers plenty of rock, whether that means a vintage cut-spinning institution like Face the Music, the surf and psychedelic showcase of The Left Lane, the in-studio party of Kittens vs. Godzilla, the female punk festival Jody Fester's Army, or the delightfully varied interpretations of the very concept of "indie rock" you'll hear on Between the Bars, That's Kablamo!, and 5… 4… 3… 2… Fun!.
But perhaps you'd prefer to hear the blues, the tradition that gave rise to the genre of rock as we know it. Despite feeling as if I've barely scratched the surface of the blues on KCSB, the record shows that I've written up Bluesland, whose name certainly lets you know what you're getting, and BRB, whose name, somewhat more obliquely, lets you know you're getting not just blues but also rhythm and blues. And if you prefer selections more specifically picked to serve an aesthetic of vintage Americana, you'll find that on both Bring it On Home and Secondhand Sounds. (And though I've never found Down to Cruz With Jazz and Bluz limited to blues — or jazz, for that matter — I can't think of a better category to mention it in.)
Then again, if you find yourself in a dancier mood than all this, other companies in KCSB's army can rise to meet the need. Each taking their extraterrestrial themes in different directions, Interplanetary Musik and The N.A.S.A. Broadcast exist to provide electronic reasons for listeners to get moving. The likes of Jammin' a Little Old School and Chronometricz achieve exactly the same result by somewhat different musical means, fusing modern electronic musical techniques with the durable sounds of R&B, funk, and soul. And if you want to take it all the way in the hip-hop direction, a great many KCSB programs, including but not limited to the sporadically appearing Tree Top Tales, have what you need.
KCSB shows, so I've discovered, come in flavors delineated not just by musical genre but by thematic, chronological, and geographical qualities. KCSBers who focus specifically on other parts of the world seem to do particularly well, whether they turn their ears toward Brazil like Desafinado, Latin America like Aqui Se Puede, Ireland and well beyond like Roadtunes Sessions, or Jamaica like Yardbeat. Some programs even make a point of covering as much ground across the world as possible within one broadcast; Joyful Cosmos, for instance, does it with many different varieties of improvisation-heavy music.
You'll hear just as much improvisation on Roots to the Source, though you'll hear it in a different way, given that it's considered among KCSB's ever-fluctuating number of jazz programs. But I would submit that, on a freeform station like KCSB, the word "jazz" takes on a different meaning, one richer with the promise of musical exploration and experimentation. A good deal of musical exploration and experimentation happens on inarguably non-jazz shows like Doom Corporation and Smoooothe Beatzzz too, although more of the kind that gets concerned people calling in, asking if something terribly wrong has happened.
Other programs get more thematic and conceptual with their eclecticism, such as the live performance-focused The Green Room, the duel of playlists that is Frank 'n' George, the Saturday-morning blend of the classic and the esoteric on The Rick Show, or Rock it Properly's irreverent weekly dive into popular music history. And don't forget the music shows that, for one reason or, don't exactly exist, like the long-ago sonic satire Off the Air, the one-shot Nihon no Jyazu, or broadcasts even farther off in the realm of speculation.
And let's not forget KCSB's "talkier" shows, my own field of expertise. I conduct in-depth cultural conversations on The Marketplace of Ideas and talk to guests in Santa Barbara news on Poodle Radio, the Indy's own KCSB program, whose development you can read about in four KCSBeat columns. The counterculture gets its airtime on each installment of The Freak Power Ticket, morning radio gets made interesting on Radio Causeway (formerly Intents & Purposes), the mind gets cleared on Art of Peace, and campus luminaries get introduced on Question Air. All this comes in addition to Al-Jazeera world news and several other public affairs programs produced outside KCSB.
The above already looks like an overwhelming selection, I admit — and I haven't even linked to the KCSBeat's three overnight diaries yet — but there remain large swathes of KCSB culture that I never even got close to touching in the run of this column: DJs who've been at the station for decades, long-running music shows with large and loyal audiences built up over the years, and news and opinion programs that have become institutions. But listen well, fellow KCSB fans: No journalist, interpreter, nor contextualizer can ever really convey the freeform radio experience with words. The only way to experience it is directly, keeping your dial on FM 91.9 and your mind open to creative broadcasting. The medium of radio may be nearly 120 years old, but people like the programmers on KCSB can't stop finding new, fascinating, and often funny ways to use it. Stay tuned.