News
Underwater Photographer's Legend Set in Stone
Sculpture of Ernie Brooks Unveiled at Santa Barbara Maritime Museum
Ernie Brooks, internationally renowned underwater photographer, was honored this weekend at the Santa Barbara Maritime Museum for his lifetime of dedication to ocean photography and area preservation. With 175 people in attendance, the piece – created by famed sculptor Viktor – was unveiled and dedicated to Brooks.
It's part of the "Ocean Pioneers" installation, originally commissioned by Google to introduce Google Ocean in 2009, that features sculptures of other famous figures in oceanic exploration like Jacques Cousteau and Zale Parry. Brooks's likeness will live with the other pieces at Google's Mountainview headquarters.
The private event included auctions of some of Brooks's photography and Viktor's marine animal sculptures. With each new photograph that entered the live auction, Brooks got up and shared an anecdote of how he captured that particular moment on camera. "Its about the stories," he told auction participants. "That's why you collect things."
In the silent auction, photo prints started as low $100 but were accompanied by pricey stone sculptures and an antique scuba helmet with an asking price of over $4,000. Funds collected through the auction were donated to the Historical Diving Society.
"You're going to have to speak up. I'm a deaf; I'm a diver," Brooks warned with a grin at the beginning of his conversation with The Independent. He's an engaging, spirited artist who seems to possess an unparalleled passion for both ocean photography and preservation.
"I've only had one career, and it's the only one I want," he said. For over 50 years he's captured the magnificence of the ocean and its inhabitants in hopes of inspiring people to be as fervent as he in efforts to protect it.
"Costa Rica," said Brooks, pointing at one of his photos as he moved down a wall lined with his prints. "This one's from the Philippines." Brooks has been all over the globe, and he doesn't plan to stop taking photographs, even after 8,000 hours spent underwater. He said for his next project he's "climbing out of the sea" to shoot above water in Greenland and Alaska.
The first thing that stands out about Brooks's photographs are the colors, or the lack thereof. All of his work is in black and white, and the lack of natural color brings an odd and unexpected beauty to his underwater images.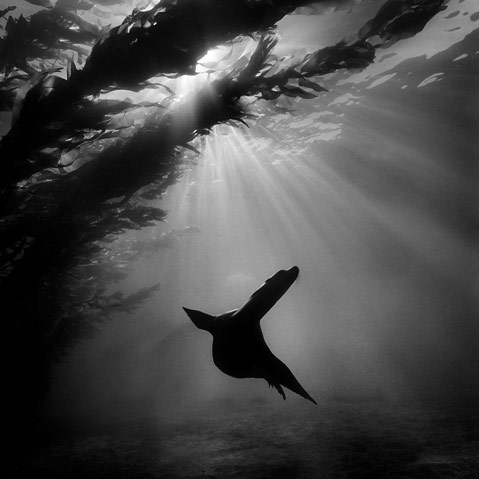 Brooks pointed at two prints from his Silver Seas collection. "Look at these photos. Were they taken in 1975 or 2011? You can't tell," he said, showing how the ability to differentiate between time periods seems to disappear in black and white.
It's hard to say whether Brooks's surreal monochromatic pictures or his unquestionable adoration for the ocean and natural world is more impressive. Outside of his artwork, he made a significant monetary donation to the museum for the event.
Viktor seemed equally infatuated with Brooks's pieces and ideals. "Imagine my inspiration," Viktor said lightheartedly, "to take 28,000 pounds of granite and just start chopping away." When he finally removed the drape from atop his creation it became evident how genuine his sentiment was.
The sculpture, which is a depiction of a younger Brooks holding a camera, came equipped with an interesting tech piece. Anyone who downloaded a free application called "Q Launcher" and then aimed their iPhone camera at a label in front of the statue could have information about Brooks's life and work sent directly to their devices.
For Ernie, it was a poignant moment in a room filled with friends and colleagues. "I love you all in my heart," he said. "I hope it shows in my work."