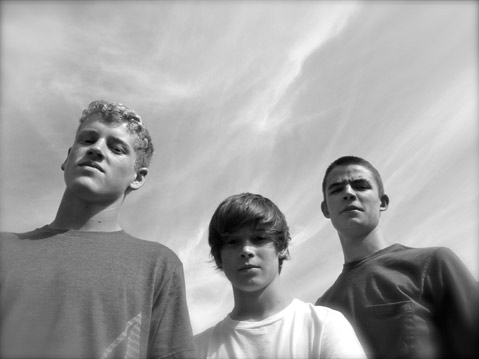 VERSION 5.0: It's hard to believe it's been five years since The Indy launched its first annual Santa Barbara Band Guide. It's also hard to believe how far the project has come since then. Back in 2007, we took to the streets (and these pages) in an attempt to contact, collect, and profile as many S.B. County bands as we could in one issue. In the years between that initial call for submissions and now, we've compiled listings—and tunes—for more than 300 acts and musicians. And although many of these projects have since moved on to greener pastures (or that big band party in the sky), there are plenty more players popping up to fill their shoes.
This fall, I and my fellow Indy-dwelling music lovers are unleashing version 5.0, a Santa Barbara band issue that's guaranteed to be bigger, better, and more rock 'n' roll than anything we've done before. So if you—or someone you know—is living locally and making music, send 'em our way. By going online to independent.com/band_submit and filling out our form, you'll put yourself in the running for some primo Independent feature coverage, as well as some pretty cool competition opportunities. (More on that later.)
Also, by signing up (and sending us an MP3 and band photo), you'll automatically have your band listed on our constantly growing online band page. We're pretty sure it's the largest list of area bands on the Web, so if you're new to the scene (or just looking to get some gigs), get in touch. In the coming weeks, we'll be unleashing more details about this year's Band Guide, as well as info about our fourth annual Santa Barbara Battle of the Bands. Until then, head online and check us out at independent.com/bands. The submission deadline is Wednesday, August 31, so don't delay!
YOUNG FOLKS: And speaking of Santa Barbara music makers, we recently learned that Chase Palm Park's Concerts in the Park series will be playing host to a bevy of up-and-coming shredders on Thursday, August 11. The weekly evening-time event has been known to host a diverse array of music in recent years, but it's not often they turn the entire night over to young talent. No wonder then that it's S.B.'s False Puppet leading the charge. Since forming the band for their junior high school talent show in 2009, the trio (made up of guitarist/vocalist Tyler Benko, brother and drummer Brennan Benko, and bassist/vocalist Channing Peake) has gone from tween sensation to full-blown band on the rise. The Puppet's sound, a mix of hard-rock staples (think Nirvana, Metallica, Zeppelin) and old-school punk, may seem wise beyond its players' years, but it's delivered with enough gruffness and fury to seamlessly bridge the generation gap.
False Puppet's free concert kicks off at 6 p.m. in Chase Palm Park (323 E. Cabrillo Blvd.). S.B. rockers Jaded Cloud, Bad Jack, and Sozo open. Call 564-5418 or visit sbparksandrecreation.com for details.
MOVIN' ON UP: In music news, nonprofit stalwart Notes for Notes announced this week that they'll be expanding eastward to Nashville, Tennessee, in the coming months, thanks to a generous grant from the Hot Topic Foundation. The organization, which has set up state-of-the-art rehearsal spaces and recording studios in Santa Barbara's Twelve35 Teen Center and Eastside and Westside Boys and Girls Clubs, aims to get musical instruments and technology into the hands of kids throughout the county and, now, throughout the U.S.
"It has always been part of the dream to see this thing grow and help youth through music across the country," said Notes for Notes founder and executive director Philip Gilley in a recent press release. "Nashville just seemed like the next logical step. They clearly have the music scene, and they also have a definite need for a program like ours."
I, for one, can't wait to see this locally grown music love spread worldwide. Congrats, guys!