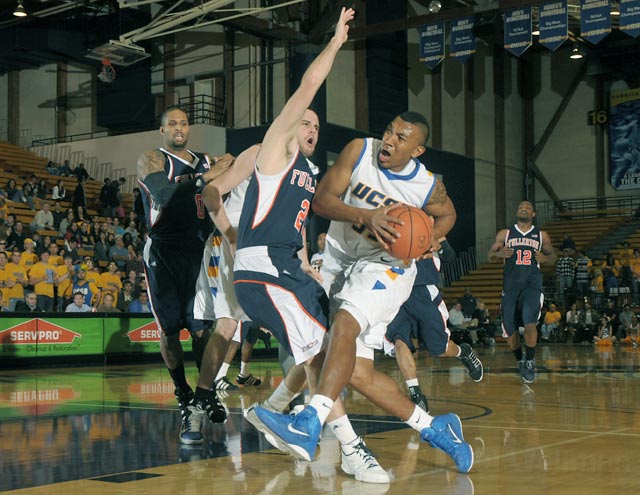 UCSB's Orlando Johnson has been selected to the 12-member roster that will represent the United States in the 2011 World University Games in China.
USA Basketball announced the final roster Wednesday night after six days of training camp at the U.S. Olympic Training Center in Colorado Springs, Colo.
Johnson, a 6'5" guard, is the first Santa Barbara player to earn a national team spot since 1986, when former Gaucho star Brian Shaw was a point guard on the U.S. team that won the FIBA World Championship in Spain.
In his two seasons at UCSB, Johnson has been the leading scorer in the Big West Conference. The Seaside, Calif., native averaged 21.1 points and 6.2 rebounds a game as a junior in 2010-11. He has spearheaded the Gauchos to back-to-back conference tournament championships and NCAA tournament berths.
Johnson's UCSB teammate, 7'3″ center Greg Somogyi, will be a member of the Hungarian National Team at the University Games.
Other players on the U.S. roster are: Tim Abromaitis (Notre Dame); Marcus Denmon (Missouri); Ashton Gibbs (Pittsburgh); Draymond Green (Michigan State); JaMychal Green (Alabama); Scoop Jardine (Syracuse); John Jenkins (Vanderbilt); Greg Mangano (Yale); Trevor Mbakwe (Minnesota); Ray McCallum (Detroit Mercy); and Darius Miller (Kentucky).
"I think our strengths are going to come out in competition, and we have some very good players," USA and Purdue University head coach Matt Painter said in a press release. "I think we have some good point-guard play, some good, athletic wings that can shoot the basketball and then we have some good interior strength. So, I think we have balance."
Cuonzo Martin of Tennessee and Brad Stevens of Butler University are serving as assistant coaches for the 2011 USA Men's World University Games Team.
Training camp continues for the team members through, August 7, with two practices each day at the U.S. Olympic Training Center, and the team will depart for China on August 8. The USA will play an exhibition contest against New Century, a Chinese professional team, in Huizho, China, on August 11, before opening World University Games play on August 13.