Arts & Entertainment
UCSB Sociologist France Winddance Twine
New Book Examines Role of White Women in Interracial Marriages
In the cover photo for UCSB professor France Winddance Twine's new book, A White Side of Black Britain: Interracial Intimacy and Racial Literacy (Duke University Press), two young girls with dark skin and curly hair sit flanking a blonde woman on a sofa. The older child, like her mother, casts her eyes downward rather than looking at the camera, but the younger girl looks directly ahead, engaging the viewer and announcing her presence as part of a new generation. Casey Clarke and her daughters are part of one of the interracial families featured in this important new sociological study that documents the ways that interracial marriages have complicated and enriched the lives of more than 40 mostly working-class couples living in Leicester, United Kingdom. Professor Twine, who trained as an anthropologist at UC Berkeley, chose to study interracial marriages because she wanted to know what happens to the racial consciousnesses of white women who marry black men and then raise black children.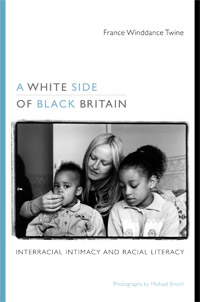 For many of the white women portrayed in Twine's book, the journey of interracial intimacy led to a new consciousness of race, not only for themselves, but especially for their children. As a result of confronting a society that defines their offspring as black, they have had to learn how to prepare their children for the consequences this racial identification can entail. And, according to one of the many fascinating discoveries detailed in this highly readable volume, the new level of racial literacy that future generations can look forward to will exist in no small part due to the efforts of such women and the mostly black social networks within which they have found support. These young women, many of whom have struggled with rejection by their white families and friends, have discovered within the black communities to which they now partly belong the energy and determination to undertake the task of educating their children about the hidden injuries associated with occupying an anomalous social position suspended between two races.
Driven by the high-quality work of Twine and like-minded colleagues such as George Lipsitz and Nikki Jones, the Department of Sociology at UCSB has become a center for advanced thinking and research on the concept of racial literacy. Twine's study of interracial marriage in England, a project that was more than a decade in the making and that involved years of field research, was originally planned as a comparative one, with equal attention paid to interracial couples in the United States. As Twine got more involved in the project and began to receive funding and to generate interest among academic publishers, it became clear that the focus had to be narrower, but this was not because the scholar lost her interest in the American experience. In fact, it was thinking about people like Ann Dunham, President Barack Obama's mother, that got Twine into the subject in the first place, and when I asked her about it, she told me that she wanted to be sure that this origin of her work was properly understood.
"Ann Dunham was an anthropologist by training, but she is invisible. We don't really have a way of seeing or talking about women like her yet, and that's one of the reasons why I did this study," she said.
"the United States criminalized interracial marriage for 275 years—until 1967, when the Supreme Court found in favor of an interracial couple in the decision Loving v. Virginia."
In England, the situation is different—so different that Twine feels that Americans could learn from it. For instance, she told me that "the U.K. never criminalized interracial marriage." This fact alone begins to explain why the rate of marriages between blacks and whites is so much higher in England than it is here. For Twine, the legal status of interracial marriage in America is a crucial historical fact, and part of a complex web of circumstances that must be understood before one can grasp the reality of interracial marriage today. She points out that "the United States criminalized interracial marriage for 275 years—until 1967, when the Supreme Court found in favor of an interracial couple in the decision Loving v. Virginia." The Loving v. Virginia decision, which has become a rallying point for same-sex marriage advocates, as well, rendered decades of state-sponsored harassment illegal and established marriage as a fundamental right of citizenship. Twine goes on to indicate the broader significance of anti-miscegenation laws, saying that "Loving v. Virginia was a huge change, because at that time, every state had some kind of miscegenation law on the books. These laws existed for many reasons, but mostly they served to control citizenship, what counts as a family, and the transfer of property."
By building her argument through images, as well as statistics and anecdotes, Twine opposes nearly a century of prejudice against visual evidence within sociology. Her next project, a study of women and guns, will continue to embrace this visually extended methodology in pursuit of a better understanding of what leads some women to embody male fantasies about gender, politics, and firearms. In the meantime, the reception of A White Side of Black Britain, which seems destined to become a landmark in the field, remains in its infancy.