News
Dog Fight
Animal Shelter Volunteer Group Breaks Ties with County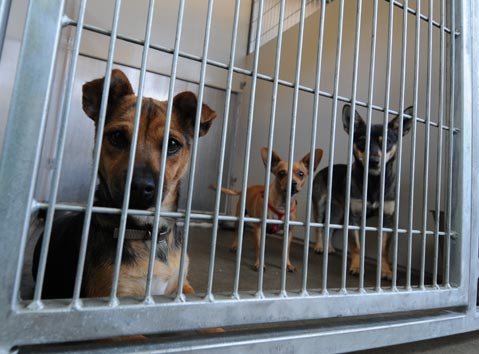 [A previous version of this article is posted here.]
The nonprofit volunteer organization K-9 PALS, which has helped care for dogs at the Santa Barbara County Animal Shelter for almost 10 years, announced plans to withdraw from the shelter at the end of August. The decision comes three and a half weeks after the dismissal of K-9 PALS president Janelle Ward as volunteer coordinator at the facility.
"K-9 PALS will no longer be an organization supervising and managing volunteer activities at an animal shelter," K-9 PALS boardmembers wrote in an emailed statement. "Given the events of the past 18 months, we believe this is the best option for both the organization and the [shelter]."
While the Web site for K-9 PALS (which is short for K-9 Placement & Assistance League) boasts that the organization has a "unique relationship" with County Animal Services, that alliance appears to have decayed. On July 7, the county announced in an email that Ward would no longer coordinate volunteers as part of a "restructuring" of the volunteer program.
County Animal Services Director Jan Glick declined to comment on Ward's dismissal on the basis that it was a "personnel action." Ward — who also coordinated the shelter foster program — had volunteered at the shelter for over 17 years.
In Ward's absence, Stacy Silva — who is the Community Outreach Coordinator for County Animal Services — is overseeing the volunteer program. Animal activist Dr. Lee Heller has temporarily taken over the shelter foster program, which Animal Services plans to restructure.
According to K-9 PALS volunteer Mark Bandurraga, Ward's dismissal came in concert with a growing rift between Animal Services and K-9 PALS volunteers about an apparent change in the shelter's euthanasia policy. While Glick said that the policy of only euthanizing "unadoptable" animals with serious behavioral or health problems has not been altered, Bandurraga said there has been growing disagreement between the two organizations about how to define an unadoptable dog.
"For the past two years, to my knowledge, previously adoptable dogs were euthanized only because of a recent bite incident. In the past two months, at least two dogs have been put down without having a recent bite incident on their record," Bandurraga said.
The shelter staff discusses cases in weekly care and evaluation committee meetings, at which they talk about the animals being considered for euthanasia. In a meeting several days before Ward's dismissal, a black pit bull named Darlene was designated for euthanasia due to behavioral problems. The discussion of whether to put Darlene down, according to Bandurraga, was "tearful" because some thought Darlene's issues could be overcome with training and socialization.
Times have been tough for the County Animal Shelter, which was forced to lay off an employee and cut its tri-county budget by $75,000 for the new fiscal year that began last month. Overcrowding is a continual problem, as the 44-kennel shelter is often filled beyond its comfortable capacity of between 90 and 100 dogs. Due to its crunched budget, the shelter has relied on K-9 PALS to fund about $6,000 per month in food for dogs with special nutritional needs and about $50,000 this year for special medical care.
All sides agree that this volunteer force should be sustained. "We need volunteers, and we're hopeful that the volunteers will continue to come out and help the dogs," Glick said. Ward echoed Glick's sentiment in an emailed statement. "We are encouraging our K-9 PALS volunteers to continue with their volunteer work at the shelter," she wrote, adding that "the withdrawal of the organization from the Shelter is not meant to hinder the shelter volunteer program in any way."
According to Glick, volunteer activity has stayed consistent since Ward's departure, with about 35 volunteers donating their time to care for the dogs each week. For his part, Bandurraga said he plans to continue volunteering at the shelter for "as long as the county will let me."
After leaving the shelter at the end of the month, K-9 PALS will continue to provide veterinary-care assistance, prescription dog foods, and spaying and neutering programs for dogs at the county shelter. At that time, K-9 PALS plans to transition into a "resource" for all animal welfare groups and shelters in the county.