Opinion
Splitsville at The Independent
Partridge Now Majority Owner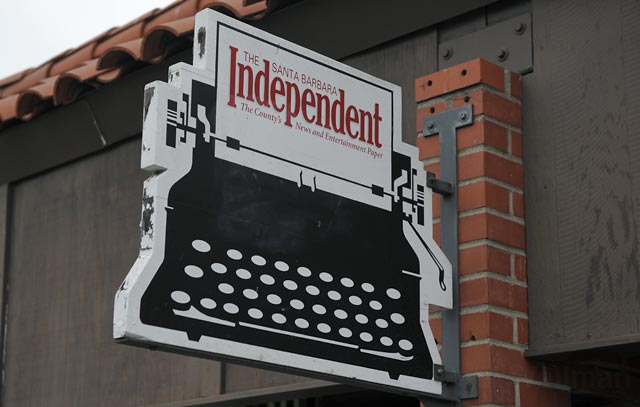 "MARRIAGE" CAN'T BE SAVED: It was like a long marriage gone wrong.
They battled for 18 months over property. He tried to pull an end run and lost. This week, a Santa Barbara judge ruled in her favor: She'll get the house.
That, figuratively, is what went down here at The Santa Barbara Independent Monday.
Superior Court Judge Denise de Bellefeuille, in an opinion she read from the bench after final arguments by opposing attorneys, found that Indy Publisher and majority shareowner Randy Campbell must follow through with his offer to sell his 51 percent controlling ownership to Editor in Chief and minority shareholder Marianne Partridge.
Campbell, unless he wins an appeal, stands to lose ownership of the weekly paper he co-founded with Partridge more than 25 years ago.
His mistake was in secretly cooking up a 2009 deal with the company that prints The Indy in L.A. and that also owns several weeklies. Intending to sell his 51 percent to the L.A. outfit in return for an annual salary of $110,000 plus profits (he's now making $55,000) as overall publisher, apparently with full editorial control, he triggered The Indy bylaw allowing Partridge and two other minority owners first-refusal rights.
If Campbell assumed that Partridge couldn't come up with the $1.3 million he wanted for his shares, he was wrong. Moving fast against a deadline, she quickly came up with the check, thanks to an unsecured loan from attorney Joe Cole, the former News-Press publisher who may become the new Indy publisher. Campbell, no doubt shocked, reneged, and when Partridge sued, he fought in court, claiming that he hadn't triggered the buy-sell clause.
Following a six-day, nonjury trial, the judge ruled against him Monday. In her opinion, the judge said: "I think I speak for all the lawyers in the case in expressing the thought that The Independent is the journalistic jewel of Santa Barbara. … the First Amendment is a very important and cherished constitutional right. And The Independent gets credit for its journalistic integrity. And we all very much appreciate the tremendous contribution it makes to the community."
HUNG JURY IN BAKERSFIELD? News-Press freelancer Peter Lance was arrested last January 1 on suspicion of DUI, and we're nowhere near a trial. In fact, we're nowhere near just settling the blood-test–waiver issue. (Forgery?) And Judge Brian Hill is getting concerned about the enormous pretrial publicity being generated, especially in the News-Press, where Lance is writing long, one-sided pieces about his arrest and attacking the police officer who busted him. At this rate, "The case could end up in Bakersfield" in search of an untainted jury, Judge Hill said Friday. (What a great idea. Or Las Vegas? Anything to get the mess out of town, eh?) The case could end up being tried in February, March, "or never," he said. As for never, the DA's office has offered Lance a "wet reckless," meaning that Lance could plead to reckless driving. No accident occurred, but it's a common way of settling things with a reduced charge, whereas a DUI case is thorny, for various reasons. (This one has more thorns than the Mission Rose Garden.) But Darryl Genis, Lance's lawyer, said he'd only settle for the DA's office paying "attorney's fees, a dismissal, and an apology, but we'll waive the apology." No need to take the trial to Bakersfield, but maybe we'll see it in Ventura?
CHEATING IN GREEK: Frank Frost, retired UCSB history professor and former 1st District county supervisor, read my travel piece on Athens and reports:
"Just a footnote: As well as democracy, philosophy, and theater, the Greeks have mastered the art of tax evasion. A ministry sent a questionnaire to the enclave of Psychiko, north of Athens (home of doctors, lawyers, hedge-fund managers) asking, among other things, if they had a swimming pool. Thirty inhabitants admitted they had a pool. But satellite images show well over a thousand pools. Also, an MD who reported an income of 12,000 euros (about $17,252) was found to have a 60-foot yacht on the coast."
TWO GENTLEMEN: It's light, it's frothy, it's Shakespeare without tears. No kings murdering or being murdered. The Two Gentlemen of Verona has been transplanted to the 1920s, but the Bard's story remains: young love, misunderstandings, and prattling servants. Saturday night, I watched PCPA Theaterfest doing its usual outstanding job under the stars at Solvang's Festival Theater. Through August 21.