Bottles & Barrels
Sipping on Sanguis
Matthias Pippig Brings Artistic Winemaking to Santa Barbara's Eastside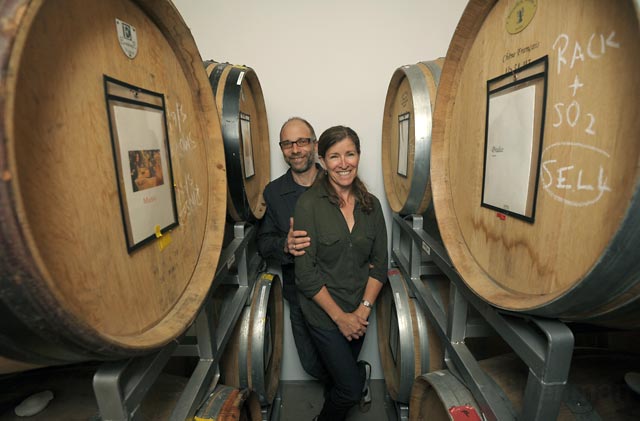 In the storm of modern winemakers claiming that less manipulation of the fermenting grape juice is more, Matthias Pippig is a beacon of rationality. As the proprietor of Sanguis winery, Pippig is one of the few voices ready to scream over the minimalist intervention trend to affirm that winemaking is an inherently invasive process and that the role of the vintner should be celebrated, not downplayed. "If we didn't intervene every step of the way … what would we really have?" argued Pippig, who this month brings his operation to a brand-new and exquisitely designed winery on Ashley Avenue on Santa Barbara's Eastside, where tastings are available by appointment. "It is the winemaker's job to create beauty through intervention."
As an example, take his forthcoming 2008 vintage release "Polly Anne," in which grenache is fermented in the same barrels as rousanne and a bit of syrah and then blended with some syrah that's been fermented alongside viognier. The result is a florally aromatic, tongue-tantalizing take on grenache, reflective of the dainty heroine Polly Anne of the song "The Legend of John Henry's Hammer." "To me, that's what grenache is," said Pippig, who releases three to four wines twice a year in spring and fall, making about 1,800 cases annually. "It has that feminine quality, but with strength." This season's two other releases are Ode to Sunshine—a racy 2009 chardonnay aged in 50-percent new oak, 30-percent stainless, and 20-percent old oak—and Endangered Species, a 2009 syrah aided by touches of grenache and viognier sourced from vineyards that Pippig is no longer using.
A food-industry marketing consultant by training (today working on the side for Sugar Foods Corporation), Pippig's operation is quite similar to that of his motorcycle-riding buddy and former La Brea Bakery boss Manfred Krankl, the celebrated cult winemaker whose Ventura County-based Sine Qua Non label recently put him on the cover of Wine Spectator. Both are from Europe (Krankl is Austrian; Pippig is German), both name their barrels rather than numbering them, both taste and blend wines blindly (so preconceived notions don't get in the way), both make their own art for their labels, and both sell their wines at pretty high prices (although Pippig's $50-$80 range doesn't touch the $500 or so that Krankl's bottles get at auction).
But the myth of Pippig remains in the creation phase, which means he's still approachable to the everyday wine drinker and happy to share his sips at the new digs. If you're into interesting wines made by a winemaker who's not afraid to discuss his envelope-pushing techniques and deflate the minimalist movement, then a visit to Sanguis on Ashley Avenue should be in your future.
To taste Sanguis wines, call 845-0920 or email mail@sanguiswine.com. For more info, see sanguiswine.com.