Visual Arts
Art From Scrap Celebrates Year 20 with One Night Stand
Fundraiser Meets Art Show in This Special (and Surprising) Event
Months ago, Art From Scrap (AFS) invited artists from all over the country to participate in its One Night Stand benefit, an evening-long art sale that will double as a celebration of the nonprofit's 20th anniversary. Now AFS invites you to the Brooks Institute of Photography's Gallery 27 (27 E. Cota St.) to view the incredible artwork of the more than 200 artists who responded. As the name suggests, this extra-rare exhibition runs for only one night, on Saturday, August 20, from 6:30-9:30 p.m. But the diverse artistic styles and the talent of the artists will more than make up for the little time allotted for the display. AFS Executive Director Cay Sanchez explained that the artist work selected for the event was chosen in "all mediums, which is a departure from Art From Scrap's usual focus on assemblage art." As you move through the gallery, you will notice striking oil paintings and playful photographs alongside line drawings and mixed-media pieces.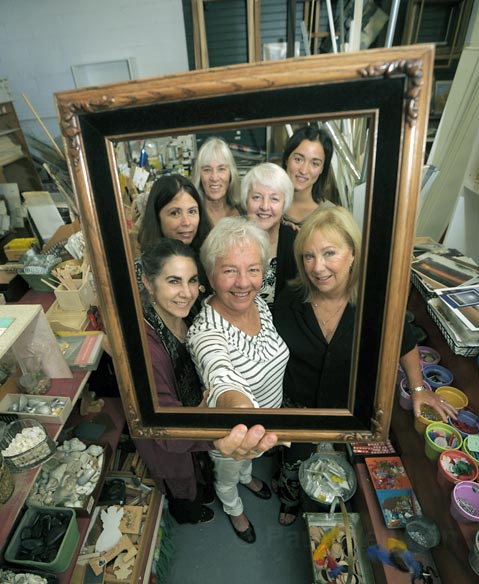 Most excitingly, though, the show offers a silent auction, food, and live music. But the One Night Stand benefit is still about the art, and attendees are encouraged to support AFS through buying. All pieces are priced at $200, which Sanchez says is well below what these pieces are worth. Of course, all proceeds from tickets to the event ($100 for early entry and preview purchasing, $20 for general admission) and from art sales will support the efforts of Art From Scrap, which leads the Santa Barbara community in environmental awareness and alternative art. Its headquarters on Cota and Garden streets hosts art shows, environmental education classes, kid-friendly seminars, and camps throughout the year that help to teach, inspire, and encourage art making with used and reusable materials. And even during Saturday's benefit, AFS still follows its philosophy that "everything is connected" by mounting each work on backing boards made from the Art From Scrap Reuse Store.
And it's on those backing boards that One Night Stand's organizers have hidden the show's most impressive twist: No artist will be associated with his or her piece of art until after it has been sold. This playful caveat is sure to bring an element of surprise to the night, but it's also a true test of the art collector's eye. Among the hundreds of works up for grabs, AFS has scored art from some seriously high-profile creatives. Actor, artist, and Montecitan Jeff Bridges has donated a piece, as has Yoko Ono, Jesse Alexander, John Nava, Ann Hamilton, and Ann Diener. Also for sale are works from S.B. luminaries like Larry Iwerks, Richard Ross, Bonnie Beedles, Mary Heebner, and Jeff Shelton. Whether you're an avid collector or just enjoy a pretty pic, this is one event not worth missing. And who knows? Maybe you'll be the one to walk away with the big-ticket piece.
4•1•1
Art From Scrap's One Night Stand takes place this Saturday, August 20, 6:30-9:30 p.m. at Brooks Institute of Photography's Gallery 27 (27 E. Cota St.). Call 884-0459 x17 or visit onenightstandafs.com for details.