Bottles & Barrels
Fine Wine on Stearns Wharf
Deep Sea Wines Opens Stylish Tasting Room over the Ocean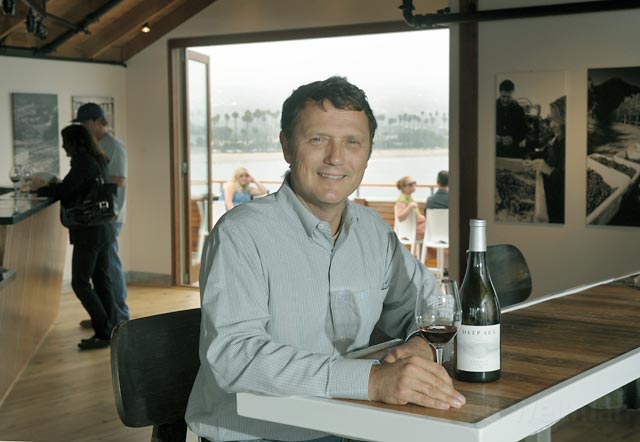 Are you one of the many Santa Barbarans who swore off Stearns Wharf years ago to the tourists, only to return once a year when your relatives come to visit? Get ready to start seeing a lot more of Stearns, for, amid the shell shops, T-shirt stores, ice cream dealers, and fish-and-chips proprietors, there's a stylish new spot for sipping Central Coast wines while overlooking sailboats, sands, and the shoreline scene. After four months of renovating the former and forgotten second-story tasting zone near the Sea Center, Deep Sea Wines opened a little more than one month ago, and business has been steady.
"We've grown a lot from word of mouth," said tasting room manager Brandi Rosander, who offers tasting flights, by-the-glass options, and even a full bottle list to purchase from. "There've been a lot of repeat visitors." Deep Sea is a branch of Conway Family Wines, the Arroyo Grande-based winery run by the sons and daughters of Chris Conway, who founded the Mentor Corporation decades ago. The family's Rancho Arroyo Grande wines should also be flowing this week, meaning that zinfandel, syrah, and mourvèdre will be available in addition to the chardonnay, viognier, sauvignon blanc, rosé, pinot noir, cabernet sauvignon, and syrah-based red blend currently offered. Plus, the place is dog-friendly, features a sweeping balcony overlooking East Beach, is happy to host your private event, and will soon be offering live music, special happy hours, and, said Rosander, "pretty much anything else we can think up."
Visit Deep Sea Wines every day of the week, noon-8 p.m., on the second story of the wooden structure on the east side of Stearns Wharf. See DeepSeaWines.com or call 618-1185.