Columns
False Moves
A Time for Facts, a Time for Fiction
So, what is it about human beings that makes some of us feel entitled to 1) speak with authority regarding things about which we have no knowledge, and 2) lie to suit our purposes?
I have this funny prejudice: I really believe that truth matters, especially in policy making. I mean, if you make policy based on false data, it's likely to lead to bad policy. Right? So, then, why do people feel like it's okay to — pardon my frankness here — just make s*** up?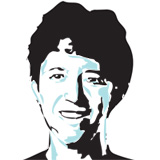 Yes, I know, we live in a world saturated with information; there's no way that any of us can do original research (or even much serious reading) on every issue before forming (and then freely sharing) an opinion. But then it at least behooves us to consider the source before deciding that we know enough to spread what may well turn out to be misinformation or disinformation.
Two cases in point here, both animal-related, although this behavior is hardly limited to animal lovers. First: There's been some heat in local media outlets lately about changes at the Santa Barbara County Animal Shelter (where I spend far too much of my time). A few misinformed people decided to post, on Craigslist and EdHat, alarmist cries that Animal Services intends to ramp up to the mass slaughter of dogs, in the wake of one volunteer's dismissal. Next thing you know, I'm reading a Facebook post by my own pet-sitter about the new "killing regime" at the shelter! So I called to ask her where she had come up with such nonsense, and she said, "Well, I got a posting." 'Cuz yeah, if it's in print or on the Internet, it must be true. I love the Internet, but it has a dangerous potential to create a profoundly misinformed citizenry — and that's not good for democracy.
Second case: ASAP, the cat volunteer group at the same shelter, is holding its first-ever free adoption event this weekend, to draw attention to cat overpopulation and generate some excitement about adopting. Another cat rescue group in town has decided that this is A Bad Idea, and their volunteers are hitting the News-Press letters section hard. It doesn't seem to matter that there has been solid research by the ASPCA on free adoptions, a study reported in the Journal of Applied Animal Welfare Science, or that rescue groups nationwide have had success (without the feared reduction in the quality of adoptions).
One of the letter writers has since changed her mind, after reading the information ASAP gave her. Kudos to her for not self-righteously insisting on her own rightness. The others, however, don't seem to care if the evidence goes another way. They know what they know and that's enough for them.
(In the interests of full disclosure: I volunteer for all three county animal shelters: Santa Barbara, Lompoc, and Santa Maria. I foster kittens for ASAP and sometimes Catalyst for Cats. I occasionally foster dogs for DAWG. I sit on the Advisory Board of C.A.R.E.4Paws and am a member of the Responsible Pet Ownership Alliance.)
Pigheaded people not open to new ideas are bad enough in a free society. But when you're making things up, spreading lies, to win at the cost of good policy — well, I'm not a religious person but for me that's pretty much all the Seven Deadly Sins rolled into one. Remember Saddam Hussein's weapons of mass destruction? Or the "death panels" that health care reform was supposedly going to impose on us? Those were two pretty big pieces of bullshit, created and retailed by people who see truth as an impediment at best. The consequences of these inventions have been equally serious — eight years of bloody, costly, unnecessary war in Iraq; and a health care system that many Americans distrust for the wrong reasons, based on false rhetoric.
When Emily Dickinson wrote, "Tell all the Truth but tell it slant —/ Success in Circuit lies," she wasn't giving advice about how to act in a democracy. She was talking about big T Truth, the spiritual variety that may be bigger than our ability to comprehend, at least head-on. For the day-to-day stuff, we need to tell all the truth, all the time — and not assume that we know it all just because it sounds good in our heads.