News
Stress-Free Summer Bike Rides
The Shore, the Hills, and Anywhere Else Your Heart Desires
Those of you following the new Pedal On column might get the impression so far that bicycling is all about contested streets. It's not. For most of us, especially those of us just getting into the sport, our love affair with bicycling starts far from the menace of rushing cars, out on a bike path, where our biggest worries are avoiding speed walkers, baby strollers, and sunburns. These are the places we seek out for a Sunday with the family or to get out on our own, to get some fresh air and clear our minds. These are the places that inspire confidence to let the kids ride and let your guard down.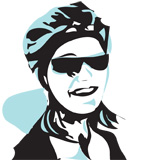 Luckily for us, Santa Barbara is full of these great novice bike rides.
Obern Trail It doesn't matter whether you are a student, a worker, or just looking for a real fine seven-mile bike ride for fun, the Obern Trail is the way to go between Goleta and downtown Santa Barbara. The trail meanders along the scenic Atascadero Creek, through quiet neighborhoods, along Goleta Beach (a great place to stop for a stretch) and then up to UCSB—or with a right turn you can quickly be at the airport or Old Town Goleta for a bite to eat. This gorgeous stretch of bike path is named in honor of George and Vie Obern. Vie Obern first proposed the idea in 1967 while she was reviewing plans for proposed subdivisions. She worked tirelessly for many years on the plans and eventually was able to leverage state funding to get it built.
During the day the trail is filled with students, commuters, and pleasure riders as well as runners and babies in strollers. The trail changes character after dark when the loudest sounds become croaking frogs and crickets. The rustling in the bushes along the trail may be a bunny rabbit or an owl hunting at night. Good front and rear lights are absolutely essential after dark, and you may want to ride in a group for added safety. The County of Santa Barbara is installing new solar-powered LED lights that are programmed to run at full brightness till 10 p.m., dim to 50 percent power overnight, and return to full power before dawn.
Cabrillo/Shoreline Beach Path It's not a route for the impatient, but the majesty of Chase Palm Park, East Beach, the Santa Barbara Harbor, and Shoreline Park will allow you "get your beach on." Start at the Andre Clark Bird Refuge and follow the meandering path to East Beach to get a great view of the volleyball courts, a sneak peak into the back of the Santa Barbara Zoo, and one of the most expansive parcels of Santa Barbara preservation, Chase Palm Park. Get out before 10 a.m. and you'll avoid the zoo—that is to say, the menagerie of meandering tourists that try their hardest to block the path for bicycles. You can ride through the harbor day-dreaming of the life aquatic, make it past the longboarders at Leadbetter Point, then ride up the last strip of protected bike path to enjoy the overlook back over your route.
Bonus mile: Start from Butterfly Beach instead to connect to the same route!
Another Tip: Invest $5 in a bell. Amazingly effective in warding off otherwise oblivious tourists.
More Mesa More Mesa is a cliff-top gem for riding on dirt trails that overlook the ocean, or/and the smaller trails that bisect the mesa. The 300 acres of More Mesa are accessed off the Obern trail at Patterson Avenue. A mountain bike is useful, but the main paths are easily ridden on a road bike. The smaller dirt paths that criss-cross More Mesa feature some great dirt jumps and are best navigated by mountain or BMX riders. In the spring, More Mesa is covered with tall stands of wild mustard that echo John Steinbeck's description of California's Salinas Valley in East of Eden: "When my grandfather came into the valley the mustard was so tall that a man on horseback showed only his head above the yellow flowers." You can also head down to the beach below the cliffs for a pleasant afternoon of beach walking and bike riding.
Mountain Drive I've been riding Mountain Drive by bike since I was a little girl, and it still evokes the same wonder (although less complaining about the "big hills," which now seem little more than gentle inclines, that my 8-year-old legs used to struggle over). This stretch of road has it all—gorgeous views, some flats, some hills, some twists and turns, and not a lot of traffic. The road now also has an added bonus for any of you who are architecture buffs: There are some fascinating new homes being built since the Tea Fire.
Note: Please do be conscious of noise and of riding on the correct side of the road while enjoying this route. Mountain Drive residents have made the plea to the bicycling community to be aware of how loudly voices carry through the canyon, and to keep to the right-hand side of their lane as much as possible.
Riding Wherever You Want What about finding bike-friendly routes somewhere near your home or where you already want to go? One of the best ways to discover better bike routes in your neck of the woods, and rides with relatively few cars, is to preplan your route with a Santa Barbara County Bike Map. It's full of great routes, tips, and trailheads, and it's free! If you don't have your own copy of this really helpful bicyclists' map, you can read it online, order a traditional paper map from Traffic Solutions (http://trafficsolutions.info/bikemap.htm), or pick it up at any of our many wonderful bikes shops.
This is only a small sampling of the many wonderful places to ride in Santa Barbara. If you are looking to join other folks who take on more athletically challenging rides, reach out to some of the many organized clubs in our area or find many other rides on a new Web site called Bike Santa Barbara, put together by one of our bicycling leaders, Ralph Fertig.
See you out on the trail!