News
Dr. Gus Frias Steps Down After Falling Down
Coordinator of the South Coast Task Force on Youth Violence Gone After Six Months on the Job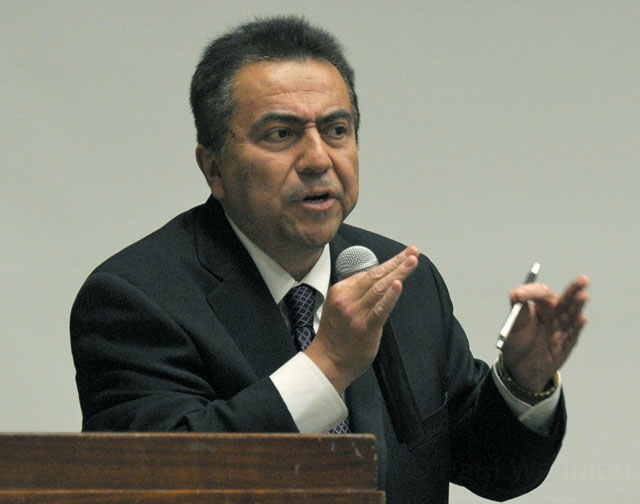 Dr. Gus Frias, coordinator of the South Coast Task Force on Youth Violence, has officially stepped down from the post two months after injuring himself falling down the stairs of his Santa Barbara dwelling. Frias was hired at the beginning of the year to the tune of about $100,000 and had been on the job six months when his accident occurred. Frias—who said he was on the way to a Toastmaster speaking engagement, as part of his job, when the accident occurred on June 21—seriously injured an arm and a wrist in the fall and sustained a concussion.
In a written note, Frias explained the injuries have precluded him from performing his job duties for the past two months. He said his recovery had been hampered because his health insurance carrier delayed authorizing treatment for three weeks. In Frias's absence, Marcelo Lopez, assistant administrator for the City of Santa Barbara, said that the task force work has continued. While it remains to be seen whether Frias will be replaced or not, Lopez vowed the work will continue.
Frias assumed the post of unofficial "gang czar" this January, roughly four years after the gang-related killing of a juvenile by a juvenile in front of Saks Fifth Avenue on State Street sparked a community consensus that the many governmental and nonprofit agencies dealing with various aspects of gang life in Santa Barbara were not collaborating nearly as well as they could. With such a short time on the job, it's hard to assess Frias's impact. A native of East Los Angeles, Frias brought an evangelical fervor and speaking style to his mission, which he backed up with a PhD in higher education from Harvard University. His task was to figure out how best to get services offered by about 200 nonprofits and an untold number of South Coast government agencies to about 160-200 teens enmeshed in the gang lifestyle, as well as about 500 on the fringes. It was also Frias's challenge to figure out which agencies actually served these specific populations—as opposed to youth in general—how well they did it, and how they could do it better.
By any reckoning it was an unwieldy challenge. According to Fran Forman, Frias's immediate boss at the Community Action Commission, the task force has just gotten the first draft of a Web page up, detailing all the various services available to at-risk teens and from which agencies and nonprofits. "I know it doesn't sound like much," Forman said, "but you have no idea." She said over 200 nonprofits had to be screened for what they did and how applicable their services were. Many helped kids in general, but when it came to dealing with the at-risk teens that have been targeted by the task force, Forman said there were closer to 10. One of Frias's other undertakings was to develop a system to evaluate these agencies for how well they do what they claim to do. Forman said that effort is still underway.
In previous public remarks, Frias had lamented the lack of useful data most nonprofits and service agencies compiled by which such evaluations could be made. In addition, Forman said, the task force has struggled to figure out how all the participating agencies could communicate with one another about gang-involved individuals without violating the strict confidentiality requirements adhering to minors. While that remains a challenge, Forman said real progress has been made. In addition, Forman said, two new federal grants have been secured that will ensure that everyone getting released from Los Prietos Boys Camp receives follow-up counseling and referral. "That's really new," she added.
By the time of Frias's injury, many public officials had grown impatient. They wanted more dramatic results and less sermonizing from Frias. County Supervisor Salud Carbajal, in particular, was outspoken in such remarks. Others have expressed concern that Frias had gotten lost in efforts to bolster school safety committees that related only indirectly to the target population. But according to Forman, Frias's main contribution was his perspective on where Santa Barbara was in the continuum of gang activity. "He brought the biggest, broadest picture that Santa Barbara remains a place where we can still do something about it," she said. "It's not out of control. It's not about drugs. It's not about the Mexican Mafia. Right now, it's still just about turf."