Film & TV
Bucky Larson: Born to Be a Star
Nick Swardson, Don Johnson, and Christina Ricci star in a film written by Allen Covert, Adam Sandler, and Swardson and directed by Tom Brady.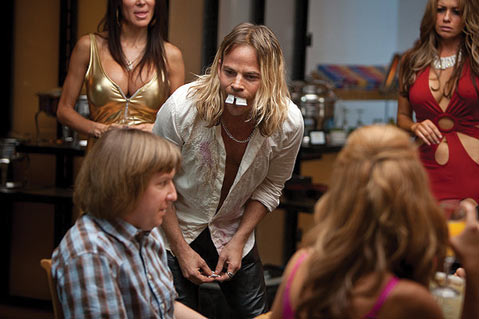 There's now a bunch of films that only got made because Adam Sandler loaned them his name and production company. Look back at the last five years, and you might even recall this string of second-rate farces with charmless premises and even more tepid production values. And you may have even laughed at some of these films — Grown Ups, Paul Blart: Mall Cop, or Deuce Bigalow: European Gigolo — but I doubt it.
There are no laughs in Bucky Larson: Born to Be a Star (why do all these dimwit movies have colons in their titles?), simply because the writers forgot to include good jokes or even provide for gags beyond instant gross-out stuff, like sperm on an old lady's shoulder, tiny-penis synonyms, or the idea of Don Johnson playing a sleazy washed-up porn producer (it's not a stretch).
The only good aspect of this unfunny cross between Pee-wee's Big Adventure and Boogie Nights is Christina Ricci, who comes across like a slumming angel in her role as a hapless waitress who befriends Bucky, the Midwestern rube who comes to Hollywood to make porn films.
Admittedly it is a promising premise, but Nick Swardson (who plays Bucky) and Adam Sandler (who co-wrote) don't play off the setup, reaching low for Farrelly Brothers-type excess rather than exploiting the world of sex exploitation for satire. In the late 1960s, a sardonic idea like this might have yielded a cult classic along the lines of Putney Swope or The President's Analyst. But Sandler's hold on comedy taste-making seems to represent a kind of stoner fatalism. The biggest joke is that, in a junk-fueled culture, this movie had a script approved, got studio money, won a distribution deal, and made it into Santa Barbara theaters. And that's sad.