Arts & Entertainment
Fleet Foxes at the Santa Barbara Bowl on September 13
Harmonies Reigned During the Seattle Band's Tuesday-Night Headlining Set
In a venue known for its epic and well-worn rock acts, Tuesday night's show at the Santa Barbara Bowl proved to be a breath of fresh, youth-imbued air. Better still, it confirmed that Fleet Foxes could, in fact, evoke a sense of intimacy in an amphitheatre setting — a feat that few seasoned veterans have even mastered.
As the night's openers, The Walkmen delivered a set that was equal parts subtle, brooding, and furious. Using this tour — and the Fleet Foxes' audience — to their advantage, the New Yorkers tapped into a wealth of quieter, more nuanced tunes, including "Woe Is Me" and "All Hands and the Cook." Early on in the set, frontman Hamilton Leithauser and drummer Matt Barrick expertly plunged into the beautiful and building "On the Water," making for one of the night's more stunning musical moments. Beginning with a quiet and steady guitar line, the instrumentation seemed to bubble to life behind Leithauser, slowly growing into a full-blown rock-out alongside his roaring vocals. Later, the quintet chose to exit with an as-yet-unnamed (at least to us) newbie, which found Leithauser throwing down some of the more memorable lines of the night. Crying out, "I'm not your heartbreaker," then dutifully belting through a chorus of, "It's not the singer, it's the song," Leithauser embodied the role of rock 'n' roll frontman, equal parts humble music maker and ground-shaking vocalist.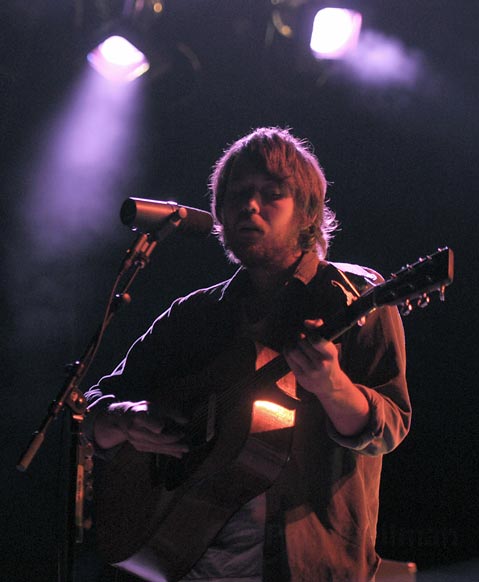 With a sizable crowd amassed and the cloud-dappled sky gone black, Fleet Foxes took to the stage and quietly launched into "The Plains/Bitter Dancer," off of the recently released Helplessness Blues. In terms of mood setting, the track worked to near-perfect effect, building from ethereal, lyric-less harmonizing exercise to gentle, flute-tinged folk number to driving and tambourine-heavy vocal showcase in just under six minutes. From there, fans were treated to a lengthy selection of new ("Battery Kinzie," "Bedouin Dress") and older ("Mykonos," "English House") cuts, each sounding as intricate and swelling as the one that came before. Among the highlights from the band's hour-and-a-half-long set list, "Sim Sala Bim" was a glorious showcase of frontman Robin Pecknold's strongest vocal leaps and finest finger-picking and drummer J. Tillman's dizzying ability to multitask from behind the kit. Later in the night, it was the twisted and expansive "The Shrine/An Argument" that brought the audience to eerie, awe-induced silence. In its first half, the band's signature four-part harmonies waxed and waned, giving Pecknold ample space to wail. In its second incarnation, the song found Pecknold furiously strumming — and expertly keeping pace — with Tillman's sizzling cymbals and pounding beats. And in its third form, the sextet broke things down yet again, then launched into a noisy, free-jazz–like jam, complete with atonal horns and plinking organ notes.
Throughout the night, it was this mix of soaring vocal harmonics and shape-shifting song forms that pushed the set along, giving fans plenty to sing along to and just enough sharp turns to keep them on their toes. Even more impressive, though, was the Foxes' ability to sustain the quality and warmth of their recordings in the live setting. Minus one late-set false start on "Sun It Rises," the vocal harmonies were pitch-perfect. And even with a maraca in one hand and a tambourine in another, Tillman held down every beat — and every bass vocal note — expertly. Stripped of their neo-hippie, Crosby, Stills & Nash–esque leanings, these six still proved themselves talented beyond their median years, and a prime example of a young band well worthy of both the Bowl and the hype.
Setlist:
1. "The Plains/Bitter Dancer"
2. "Mykonos"
3. "English House"
4. "Battery Kinzie"
5. "Bedouin Dress"
6. "Sim Sala Bim"
7. "Your Protector"
8. "White Winter Hymnal"
9. "Ragged Wood"
10. "Montezuma"
11. "He Doesn't Know Why"
12. "Lorelai"
13. "The Shrine/An Argument"
14. "Blue Spotted Tail"
15. "Grown Ocean"
Encore
16. "I Let You" (New)
17. "Sun It Rises"
18. "Blue Ridge Mountains"
19. "Helplessness Blues"