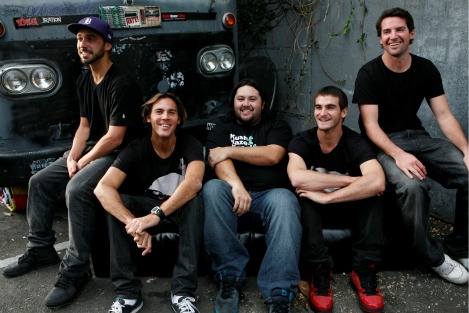 The band—who are getting ready to embark on their second annual Lei'd Back Tour this fall–will be performing a FREE ALL AGES show at VELVET JONES. Admission will be based on a first come, first serve basis. Doors are 9pm with a 10pm show time and there is a 2 drink minimum for those under 21.
The Hawaiian-bred band's latest EP FRESH GROUNDS–released earlier this year via their label 3 Prong Records and a partnership with INgrooves–debuted impressively on multiple charts. The five-song offering came in at the top spot: #1 on the Billboard Heatseekers chart, which compiles the week's top-selling albums by new or developing acts, and debuted at #147 on the Billboard Top 200. IRATION also appeared twice on the Billboard Reggae Albums chart with FRESH GROUNDS coming in at #3, while their widely-successful 2010 full-length album Time Bomb remained in the #8 spot after 40 weeks on the chart and peaking at #2. Both discs remain in the Top 30 on iTunes' Top Reggae Albums chart as radio support consistently grows. "Turn Around" off their Time Bomb album is currently in rotation at: San Diego's 91X, San Bernardino's KCXX, Santa Barbara's KJEE and Hawaii's KUCD; as well as streaming on Los Angeles' KROQ.
IRATION–Kai Rediske (Vocals/Percussion), Joe Dickens (Drums), Adam Taylor (Bass), Cayson Peterson (Keyboards), Micah Pueschel (Guitar/Vocals) and King (Dub Controls)–has proven to truly have an understanding of modern and traditional performance techniques that keep young and old fans' hands in the air and heads bobbing. The band recently performed at this year's Lollapalooza, a first for them, where Time Out Chicago caught the set and wrote, "The Hawaiians called in the Lolla faithful to the muddy pools fronting the Google+ stage with easy-going backbeat jam 'Electricity.' This sunnier side of reggae translates just as well here as in Iration's usual haunts…" (8/7/11). IRATION also recently performed their track "Time Bomb" on the season finale of VH1's "Audrina" show.